Qatar is an Islamic country where people dress very traditionally. First-time visitors are often confused about what clothes would be considered inappropriate. While it is expected that visitors dress in a manner that is sensitive to local culture, they are not expected to dress like the natives.
Whether you're wondering what to wear in Qatar as a foreign visitor or want to clarify your understanding of Qatar's dress code, we've got you covered!
Qatar Dress Code For Visitors
Visitors are not required or expected to wear the traditional Qatari attire or be fully covered. While there is no specific dress code for foreigners, everyone is encouraged to wear modest and conservative attire that is comfortable while not being too revealing.
Wearing t-shirts, polo shirts, team jerseys, and shirts are all acceptable for both men and women. Sweat pants, jeans and cargo pants are also normal. A cardigan or jacket can be handy as the tournament is held during the colder season.
We will explore the clothing options in more detail below:
NOTE: Most of the below tips are not part of any local law or announcement from authorities. These are only helpful pieces of advice from Qatar residents, which will help you to be sensitive to the local culture, and avoid unwanted attention or raised eyebrows.
Dress Code for Foreign Ladies in Qatar
Female visitors are expected to dress modestly and keep everything from shoulders to knees covered.
Women are not required to cover their heads.
Skirts and shorts are normal, but try not to wear anything too high or skimpy.
Wearing spaghetti straps, see-through blouses and transparent clothes is not normal.
Sleeveless tank tops and tight capris are not normal.
Whenever you feel that something might be too short, it's better to wear leggings underneath.
Caps/hats, sunscreen, and sunglasses are all essential packing items.
It is fine to wear an ordinary t-shirt or blouse, but clothing with a very low neckline, and showing your midriff or cleavage is not culturally acceptable.
Dress Code for Foreign Men in Qatar
If you are a male visitor, wearing shirts, t-shirts or polo shirts with light chinos or cargo trousers (full-length or three-quarter length) is a good idea. If you prefer shorts in the heat, make sure they are at least knee-length.
Avoid wearing sleeveless tank tops and slogan t-shirts that are offensive in any way.
Being topless in public is not recommended even for men. You may do so on a private beach or pool.
Men often wear sandals or flip-flops, depending on the season.
Make sure to carry your caps, sunscreen, and sunglasses.
Should you be worried if some of your clothes do not meet these guidelines? Not really. You will not be arrested in Qatar for wearing a short above the knee, or sleeveless top. Just make sure you make an effort to respect the local culture.
---
What Do Qataris Wear
Traditional Dress of Qatari Men
Qataris are proud of their traditional clothes, which they don every day with pride. Qatari men wear a long white shirt, known as a Thobe, over loose pants. This long robe covers the whole body from the ankles to the wrists.
Additionally, they wear a head scarf called Ghutra made out of white or red and white cloth that is attached to their heads with a black rope called Igal (Agal).
Traditional Dress of Qatari Women
Qatari women usually wear a long black dress called Abaya with a Shayla (head covering). Some women also use a Burqa which covers the face. Older and more traditional local ladies will wear a Niqab (full face covering except for the eyes), but it's not common anymore.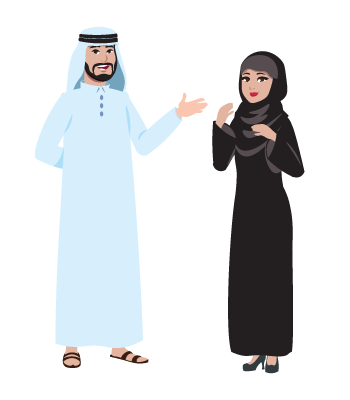 ---
How to Dress for Qatar Weather
In Qatar, summers are from May to September and are characterized by intense dry heat, with temperatures exceeding 45°C.
You can dress conservatively even in Qatar's heat if you think about the materials you wear and how much skin you cover. Silk, cotton, and linen are the most suitable materials to use. For females, a long skirt or maxi dress, along with three-quarter pants or culottes, is ideal during summer.
Even in the summer, you'll need a warm layer because the air conditioning in malls and indoor areas will make it cold!
November to February are typically cooler months. Typically temperatures can range between 15°C to 30°C. Dressing in layers would be a good idea as evenings can get very cold.
What To Wear in Qatar: Private Places vs Public Places
Qatar's dress code varies depending on the setting and whether you're in a private or public place. For example, if you are in a private beach resort, the rules are quite different from those in a shopping mall.
A place such as a mosque or the Museum of Islamic Arts (MIA) may have stricter rules, limiting entry without being fully covered.
Hotels and resorts allow you to dress exactly as you would at home. When visiting public places like shopping malls and souqs, in which people from different nationalities mix, it is important to observe the dress code.
Swimming Dress For Women
Swimming suits, including bikinis, are acceptable for women at private beaches or in hotel swimming pools. Two-piece bikinis and skimpy swimsuits are not commonly worn at public beaches. Once you are in a hotel or walking in a public place, it is polite again to cover up.
Some women prefer full-length burkinis at beaches and waterparks. Topless sunbathing is not permitted almost everywhere.
Signs will be posted at most pools and beaches specifying the minimum standard of dress. It is always a good idea to obey these rules and follow security personnel's instructions.
Workplace Attire in Qatar
For men, long-sleeved shirts and lightweight trousers are the standard office attire. Ties are worn in some offices, but not essential. It is rare for men to wear suits except during important business meetings or social events. Most Qatari men wear their traditional dress to the office.
For women, dresses, trousers, or skirts (below knee length), with a modest neckline, and at least half sleeves are normal In the workplace. Normally Qatari women wear their traditional Abaya to the office.
---
Frequently Asked Questions
---
Should women cover their heads in Qatar?
No, it is not legally required for women to cover their heads.
Are shorts allowed in Qatar?
Neither men nor women are prohibited from wearing shorts in Qatar. However, it is advisable to keep your shorts below knee length.
Can foreigners wear Qatari traditional dresses?
Foreigners are welcome to try traditional clothes such as abayas and thobes. Try to wear them correctly even if you are just wearing them for fun.
---
You May Also Like:
Copyright © DohaGuides.com – Full or partial reproduction of this article in any language is prohibited.
---