Qatar Distribution Company (QDC) is the sole authority in the State of Qatar for importing, distributing and retail selling alcohol and pork products. As Qatar has regulated the consumption of alcoholic beverages, residents require a license permit from QDC to buy alcohol products.
License holders are required to book a QDC appointment online before visiting the retail store. This article explains how to book an online appointment using the QDC website.
Since 16 June 2020, QDC license holders must book an online appointment to visit the store. The SMS appointment system which was in place is no more accepted.
Only license holders can visit the QDC store to purchase alcoholic beverages or pork. If you are not a license holder, please see our detailed guide on applying for a QDC Qatar license.
QDC Qatar Updates
01 SEPTEMBER 2023 UPDATE
Starting on September 1, 2023, QDC Abu Hamour will be open from 9:00 am to 9:00 pm (Saturday to Thursday) and from 1:00 pm to 9:00 pm on Fridays. Food sales for non-permit holders will occur every Friday from 9:00 am to 11:30 am
22 APRIL 2023 UPDATE: All QDC customers are now required to complete a one-time registration to continue to use the online services. You can do the one-time registration by visiting www.qdc.com.qa and clicking "Register Profile".
Next time, you can simply login with just your email address and password.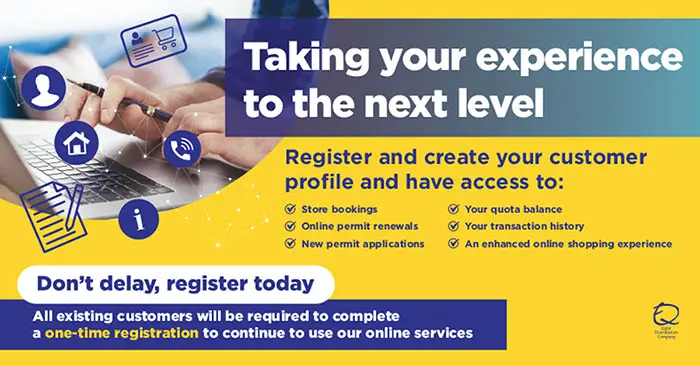 ---
05 OCTOBER 2022 UPDATE: QDC has opened a new branch at the West Bay Hotel Park. Visitors should enter through Sheraton Road, Hotel car park entrance (see the map below). Go to Basement Level 1. Park in the designated car park for QDC customers.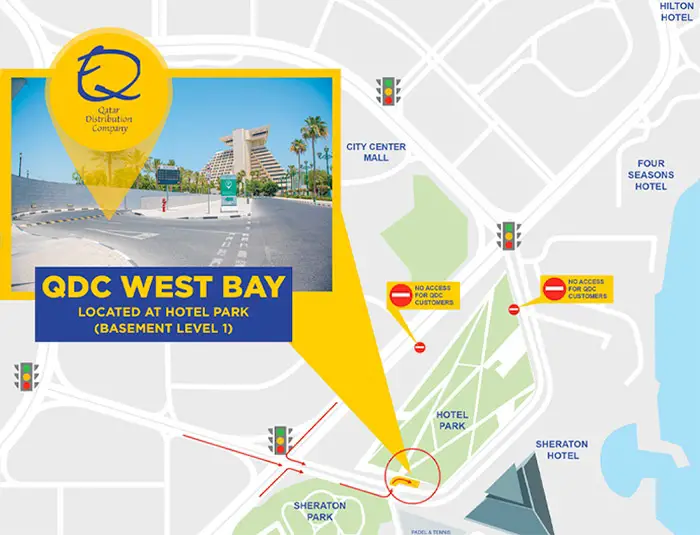 Please note that this branch is only accessible by vehicle. Pedestrians will not be given access to the location. The same rules for the QDC permit apply to the QDC West Bay branch.
QDC West Bay Purchase Limit
The following limits apply to purchases at QDC West Bay branch:
Beer – 3 cases only (per item)
Spirits – 6 bottles only (per item)
Wines – no limit
---
QDC Appointment Online For Store Visit
Follow the below steps to book an online appointment for a QDC store visit:
Step 2: Select "Store Visit" and click "Next"
You can see the options for "Store Visit", "Permit Renewal", and "New Permit". Select "Store Visit" for visiting the store.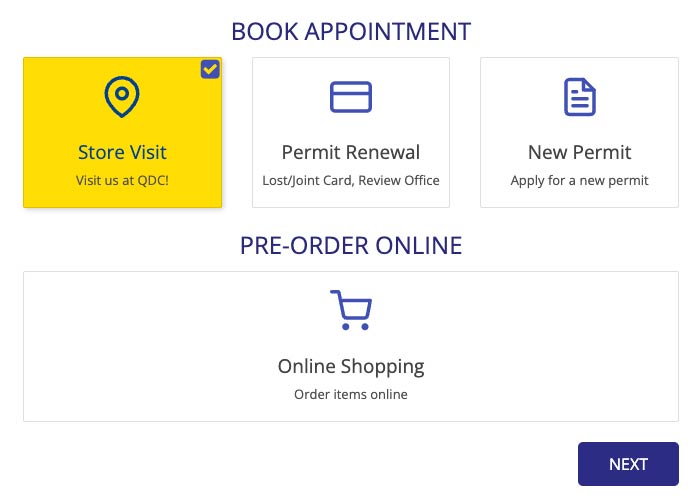 Step 3: Enter Permit Number, QID, Mobile Number and Email
The permit number refers to your QDC license number. The Qatar ID should be matching with the license holder's QID. The email address and mobile number are used for receiving the OTP and confirmation messages.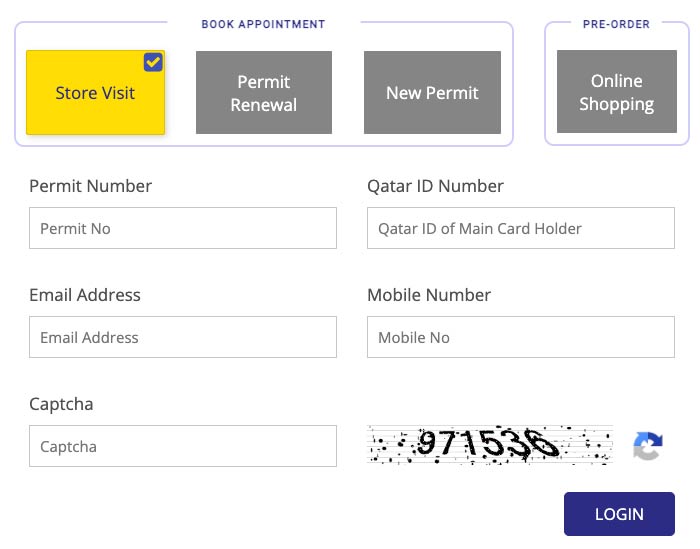 Step 4: Enter the captcha and click on "Login"
The captcha is the distorted number given as an image to verify the user is not a bot.
Step 5: Enter the OTP received in your email and click "Verify"

Step 6: Select the preferred date and time for the appointment
Only available slots are displayed for selection. Agree to the terms and conditions.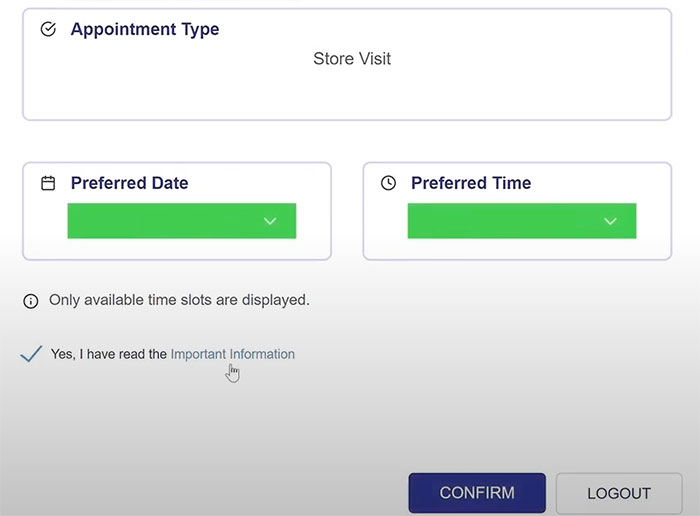 Step 7: Read the important information and click on the "Confirm" button
Now you will receive a confirmation on screen and in your email.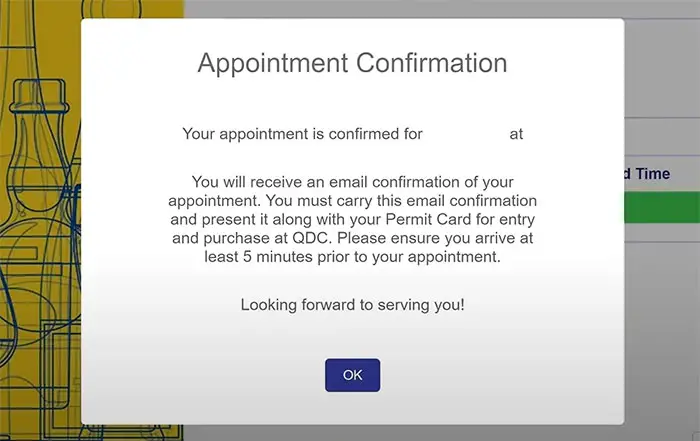 You can show the confirmation message on your phone while visiting the QDC store.
---
How To Do QDC Online Shopping
QDC has launched a Click & Collect option, where customs can pre-order online to pick up their order at a specific date and time.

Please note there is a minimum order requirement for the "Click & Collect" service. You can see this amount once you enter your permit details. Appointments are limited for this service.
Here is how to pre-order online before your store visit:
Step 2: Select "Online Shopping" and click "Next"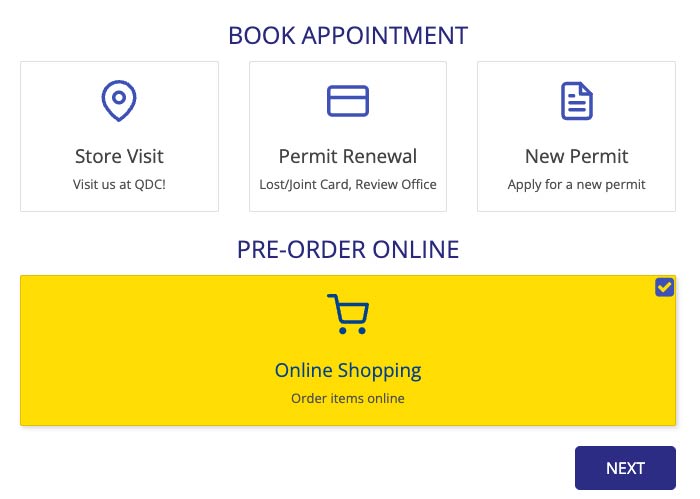 Step 3: Enter Permit Number, QID, Mobile Number and Email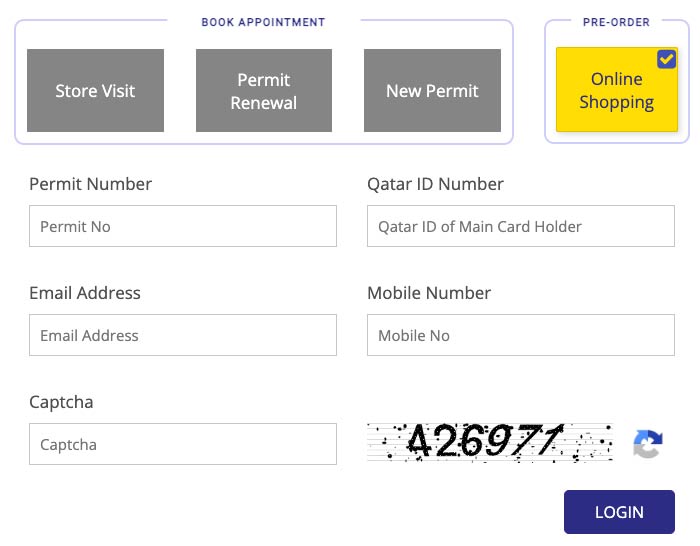 Step 4: Enter the captcha code and click on "Login"
Step 5: Enter the OTP received in your email and click "Verify"
Step 6: Select the date and time for pickup
If you want to change the date and time of your collection, you can do so up to 24 hours before the previously selected time and date.
Step 7: Add items to your cart
You can search for the required products and add them to your shopping cart. Your quota balance will be shown on the top right. You cannot select more than the monthly quota.
Step 8: Review your order and pay using a credit/debit card
Once the payment is completed, you will receive an order receipt by email.
Step 9: On the date of the appointment, visit QDC and collect your order
Show your order receipt at QDC to collect your items. On the QDC website, you can view your orders under the "My Orders" tab on the QDC website.
---
Important Points About QDC Online Shopping
Orders can be cancelled 24 hours before collection through the QDC Contact Us page. But orders cannot be changed.
A confirmation email will be sent to you once your order has been placed.
An order can only be collected by the main cardholder or a joint cardholder (linked to the main cardholder).
Missing your collection date & time will result in your order being cancelled, so you will need to place a new order.
Online shopping is not available for pork products.
---
QDC Retail Store Locations and Working Hours
The QDC retail store is located in Abu Hamour, off Wholesale Market Road (not far from Safari Mall). Click here to view QDC's Abu Hamour Google Map location. QDC's phone number is +974 4469 9412.
The new QDC West Bay branch is located at the West Bay Hotel Park car parking. You can find more details here.
QDC working hours are as follows:
| Day | Abu Hamour | Hotel Park |
| --- | --- | --- |
| Saturday to Thursday | 09:00 AM to 09:00 PM | 10:00 AM to 7:00 PM |
| Friday | 01:00 PM to 09:00 PM | 01:00 PM to 7:00 PM |
QDC Qatar Working Hours
READ NEXT: QDC Qatar License Application & Renewal Guide
---
FAQ on QDC Appointment Online
---
Can I visit QDC without an appointment?
No, starting from 16 June 2020, you need an appointment to visit QDC.
Can joint cardholders book retail store appointments?
Retail store visit appointments can be booked by joint cardholders using their permit number (without the J) and the QID of the main permit holder.
Can both cardholders visit using the same appointment?
Yes, the main and joint card holders can visit using the same appointment.
Can I use the permit for store visits after expiry?
For your convenience, you will be allowed one purchase within 30 days after the expiration date. To use the card within 30 days of expiration, you must have a confirmed appointment at a retail store before it expires.
---
Related Articles:
Copyright © DohaGuides.com – Unauthorized reproduction of this article in any language is prohibited.
---