Doha Guides Team regularly reviews this article to ensure the content is up-to-date and accurate. The last editorial review and update was on 02 October 2023.
The Doha Metro is a state-of-the-art, best-in-the-class automated rail network running underground and across the city of Doha.
This article covers Doha Metro Map, Stations, Timings, Ticket Prices, and everything you need to know about using the Metro service.
Doha Metro Recent Updates
02 OCTOBER 2023 UPDATE
You can easily reach the
Doha Expo 2023
venue by Doha Metro. The nearest station to the Expo's Cultural Zone is Al Bidda Station (Red & Green lines). The nearest station to the International Zone is Corniche Station (Red line).
24 SEPTEMBER 2023 UPDATE
Karwa announced that tapping in and out will be mandatory for metrolink services starting from October 1, 2023. Commuters can use Karwa Smartcard or Karwa Journey Planner App QR  code for this purpose. 
The service will continue to remain free of charge.
About Doha Metro
Completed in May 2019, Doha Metro is one of the fastest driverless trains in the world. Departures are frequent, it is very easy to navigate, and it connects with the most significant tourist attractions in Qatar (including the Corniche, Qatar National Museum, Katara Cultural Centre, and Shopping Malls) with dedicated ultra-modern stations.
On May 8, 2019, Qatar Rail started the preview service of Doha Metro with 13 stations on the Red Line, starting from Al Qassar station in the north to Al Wakra station in the south. The three metro lines that form the current network became fully operational by September 2020. 
The Doha Metro fleet consists of 110 trains, each of which consists of 3 cars that are regularly inspected, maintained, and monitored whilst in service. As of October 2022, train carriages running on Red Line have been increased from three to six. A Maintenance routine is carried out to ensure the highest performance levels are achieved.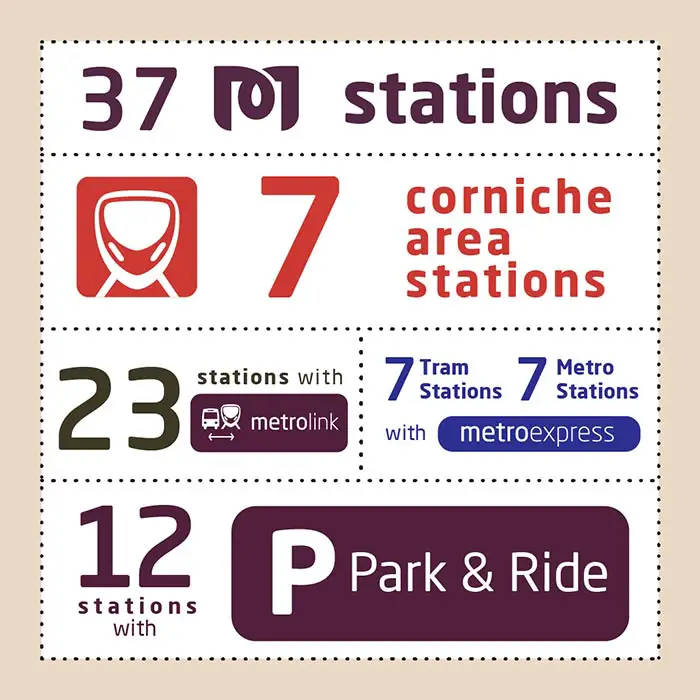 Doha Metro Network
Doha Metro network consists of three lines – Red, Green, and Gold, with 37 stations, including 2 interchange stations.

Doha Metro Red Line
The Red Line runs for 40 kilometres from Al Wakra in the south to Lusail in the north. This line also connects Hamad International Airport at Terminal 1 to the city's centre.
It has 17 active stations (Legtaifiya will open next year), notably West Bay QIC, Katara, and Qatar University. The Red Line has two interchange stations for the metro lines – Al Bidda and Msheireb.
Doha Metro Green Line
The Green Line runs east from Al Mansoura to Al Riffa in the west. It has eleven stations along the line, with notable stops at Education City, Hamad Hospital, Al Shaqab, and Qatar National Library.
Doha Metro Gold Line
The east-to-west Gold Line extends from Ras Bu Aboud to Al Aziziyah. Eleven stations run along the Gold Line, with stops at the Qatar National Museum, Souq Waqif, Sport City (for Khalifa International Stadium), and Al Aziziyah (for Villaggio Mall).
Doha Metro Map
Below is the latest map of the Doha Metro stations network as of 2022: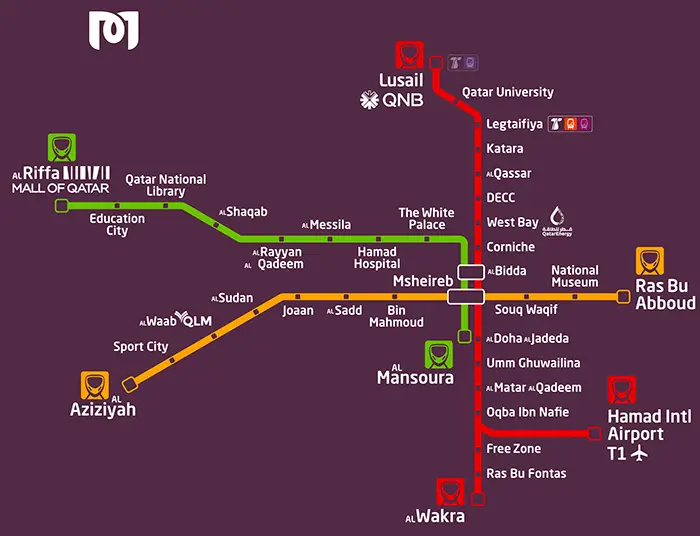 Here, you can download a high-resolution PDF of the Doha Metro Map:
Here is the geographic map of Doha Metro: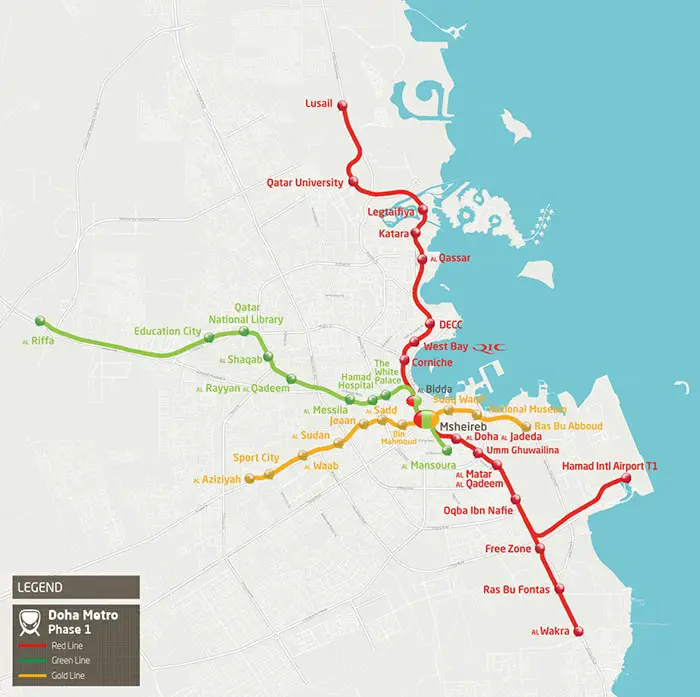 Walking Time Between Stations
Walking can be quick and easy to get around Metro stations, especially during busy times. This map shows you how much time it takes to walk between some stations.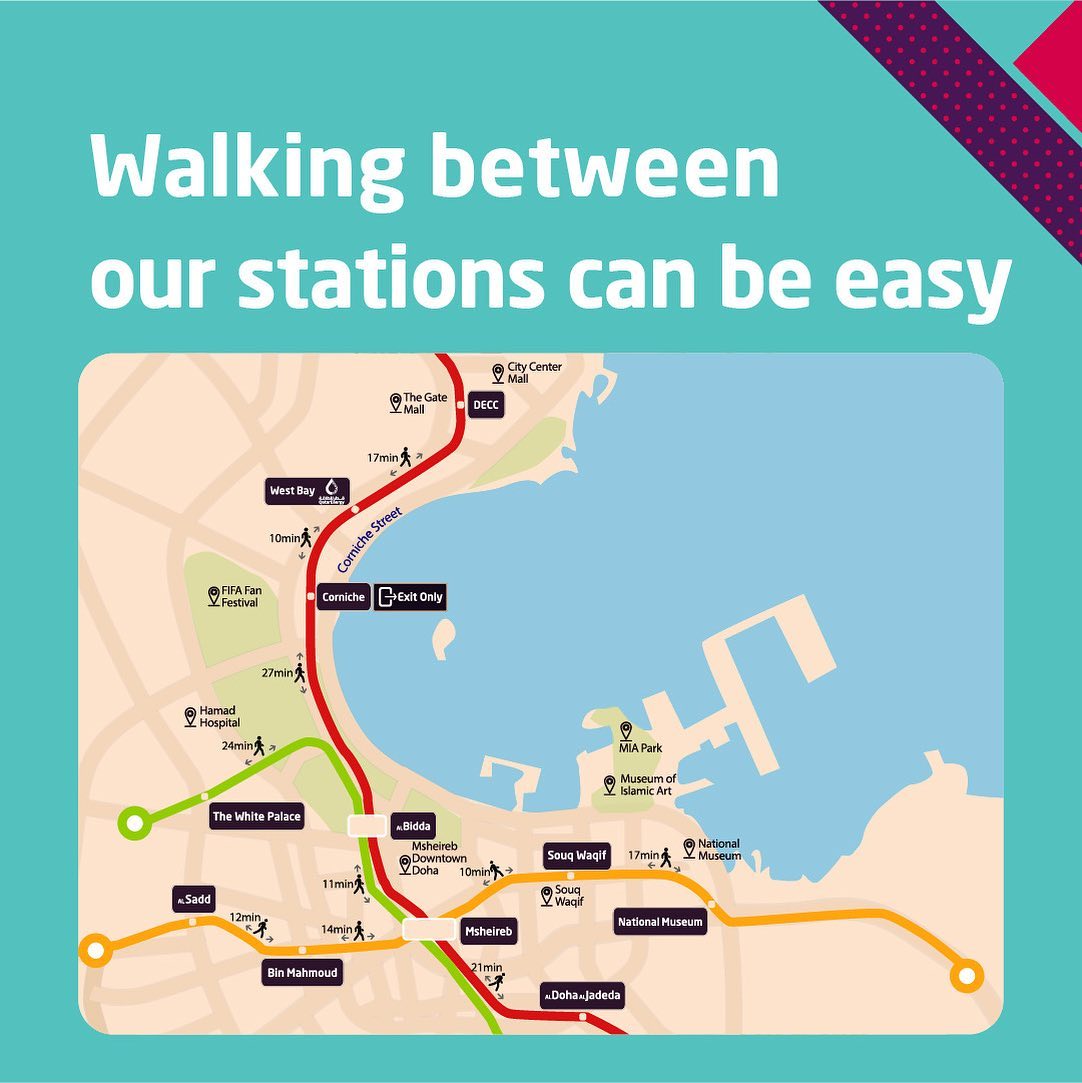 ---
Types of Travel Cards
To travel using the Doha metro, you must buy a travel card. There are two different types of travel cards available for Doha Metro:
Standard Travel Card – Rechargeable Plastic Cards; Costs QR 10 for the card; Use in Standard & Family class
Gold Club Travel Cards – Rechargeable Plastic Cards; Costs QR 100 for the card; Use in Gold class
You can see a comparison of the two types of cards here:
| Type of Card | Standard Card | Gold Club Card |
| --- | --- | --- |
| Class of Travel | Standard & Family | Gold Class |
| Single Journey Cost | QR 2 | QR 10 |
| Maximum Charge Per Day | QR 6 | QR 30 |
| Travel Card Cost | QR 10 | QR 100 |
| Reusable | Yes | Yes |
UPDATE: As part of its efforts to promote sustainability and preserve the environment, Doha Metro has suspended the limited use of paper tickets until further notice.
Standard Cards
These are rechargeable cards for travel in Standard Class & Family Class. The card costs QR 10 and needs to be topped up with the journey fare.
In the Standard & Family class, one journey costs QR 2, and the maximum daily charge is QR 6.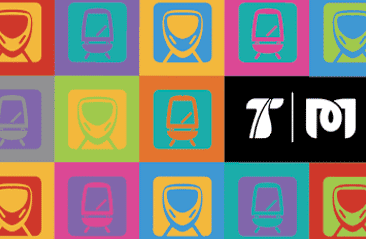 Gold Club Cards
These are rechargeable cards for travel in Gold Class which is more luxurious. The card costs QR 100 and needs to be topped up with the journey fare.
In the Gold class, one journey costs QR 10, and the maximum daily charge is QR 30.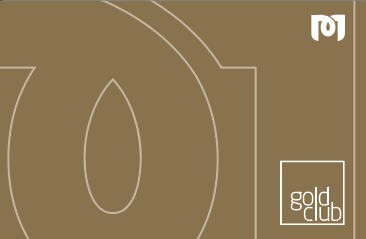 Where To Buy Doha Metro Travel Cards
Standard Cards can be purchased at all Metro stations (from Vending Machines) and licensed retailers like Al Meera, Lulu, Carrefour, Family Food Center, and Jumbo.
Gold Club cards can be purchased at Gold Club offices in all Metro stations.
These cards are valid on both Doha Metro and Lusail Tram. Note that Lusail Tram does not have Gold Class.
How To Top Up Doha Metro Travel Cards
Standard and Gold Club Cards can be recharged at station travel card vending machines, the Qatar Rail website, and the mobile app.
The Standard Cards available at licensed retailers are priced at QR 30, including travel credit for QR 20. However, retailers will not able to top up them for you. The cards can be recharged at vending machines, websites, or mobile app.
A rechargeable travel card can be used repeatedly as it is valid for five years. Hence these cards are more suitable for frequent users rather than occasional users.
Journey Rates
If you use a Rechargeable Card to travel in Standard or Family Class, the rate per journey is QR 2.
If you use a Rechargeable Card to travel in Gold Class, the rate per journey is QR 10.
The rate per journey is the same irrespective of the distance. The Travel Card will be scanned/punched twice during any journey: first while entering the platform and second time while exiting the platform.
Maximum Charge Per Day
If you travel multiple times during one day using Standard or Gold Club cards, there is a daily limit on the amount charged. The maximum is three times the normal journey rate. From the fourth ride onwards, the ride is free of charge.
That means you will pay no more than QR 6 a day (for Standard Card) and QR 30 a day (for Gold Club Card) no matter how many journeys you make in a single day.
NOTE: You don't need to tap out and in when changing stations. However, there is a 90-minute limit on travel throughout the network. You will be charged after spending 90 minutes on the network. 90 minutes is enough time to travel any possible route on the Doha Metro network and should not be an issue even if you are changing trains at an intersection.
---
Doha Metro Frequency
The trains on the Doha Metro network operate every 3 minutes, so you do not have to wait more than 3 minutes for the next train.
Travelling With Children
Anyone aged five and above needs a Travel Card to travel on Doha Metro. Children aged four and below do not need a Travel Card and must be accompanied by a fare-paying adult.
Adult and child fares are the same for any class.
A child must be nine years old or above to travel alone on the network. Younger kids should be accompanied by someone at least 16 years of age.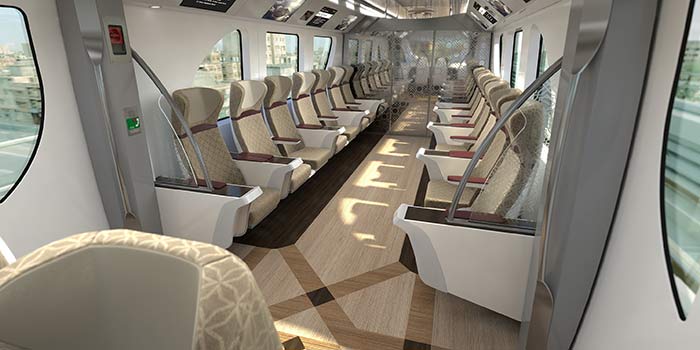 Doha Metro Timings
Below are the updated timings for Doha Metro from 24 April 2023:
| Days | Timing |
| --- | --- |
| Sunday to Wednesday | 05:30 AM to 11:59 PM |
| Thursday | 05:30 AM to 01:00 AM |
| Fridays | 02:00 PM to 01:00 AM |
| Saturday | 06:00 AM to 11:59 PM |
Doha Metro Timings
These timings were verified on 28 September 2023.
Free Shuttle Services
MetroLink

Mowasalat is running MetroLink feeder buses providing first and last-mile connectivity to Qatar Rail customers within a 2 to 5 km radius of the Doha Metro stations. Over three years, the MetroLink route network has grown to 50+ routes covering areas around 23 metro stations. 
The service is offered free of charge, however, all users need to download the free QR Code (available on the Karwa Journey Planner App) in their mobile phone and need to tap-in and tap-out this QR code each time when entering and exiting the metrolink buses.
Metrolink operate at the following times:
Sunday to Wednesday: 5:30 am to 11:59 pm
Thursday: 5:30 am to 1:00 am
Friday: 2:00 pm to 1:00 am
Saturday: 6:00 am to 11:59 pm
You can find the MetroLink route maps here.
MetroLink Recent Updates
From 16 August 2013, metrolink M149 will be extended to University of Doha for Science and Technology (UDST) campus.
The Doha Metro's metrolink will start service on a new route starting from Sunday, August 6. The new route will be the M129 from Ras Bu Fontas station, passing by both Barwa Village and Madinanta.
From 4 June 2023, Doha Metro will start a new Metrolink Route M303 from Bin Mahmoud station. The new route M303 starts from Bin Mahmoud station and will have 13 bus stops, including Al Khaleej Street, B-Ring Road (near Rawdat Al Khail Health Center), Al Betteel Street (near Dusit D2), C-Ring Road (one near Turkish Hospital), and The Westin Doha area.
MetroExpress

MetroExpress is a free ride-sharing service with a fleet of branded Mercedes Vito vans, seating seven people per vehicle.
Currently MetroExpress serves ten Metro stations (6 on Red Line, 2 on the Green Line and 2 on Gold Line) and seven Lusail tram stations.
MetroExpress service operates during the following times:
Sunday to Wednesday 05:30 am to 11:59 pm
Thursday 05:30 am to 01:00 am
Friday 02:00 pm to 01:00 am
Saturday 06:00 am to 11:59 pm
This service is provided strictly for Doha Metro customers registered with Qatar Rail and will be used only in conjunction with a metro journey. The Service can be booked through its mobile app.
Note that MetroExpress service is only be available through the Karwa Taxi app. To book a ride, download the Karwa Taxi app, click the MetroExpress tab, select the number of passengers travelling and request your ride. This service is free for Doha Metro and Lusail Tram passengers and must be used in conjunction with a Metro or Tram ride.
Doha Metro Park & Ride Facility
One convenient way to reach the metro network is to use any of the 'Park & Ride facilities available for the public at 12 stations across the Doha Metro network with around 12,000 parking spaces.
As part of this initiative, free parking spaces are provided to passengers who can park their vehicles and avail of Metro services to reach their destinations. It encourages vehicle owners to use modern public transportation systems while helping them save time and cost.
The Red Line Umm Ghuwailina station has a 'Park & Ride' facility with 2,500 parking spaces, Qatar University station has 3,800 parking spaces, and Al Messila station on the Green Line has 4,000 parking spaces. These will allow the public to park their cars and use the metro to reach their destination without worrying about traffic.
01 SEPTEMBER 2022 UPDATE: The Park & Ride facility at Ras Bu Fontas Metro station will be closed from 1 September 2022 until further notice. Please use the Park & Ride facility available at Free Zone (Entrance 2) or Al Wakra (Entrance 1).
How to Plan A Trip With Doha Metro
To travel using Doha Metro, you can use the Plan My Journey feature on the Qatar Rail website or download the Qatar Rail app from App Store or Google Play.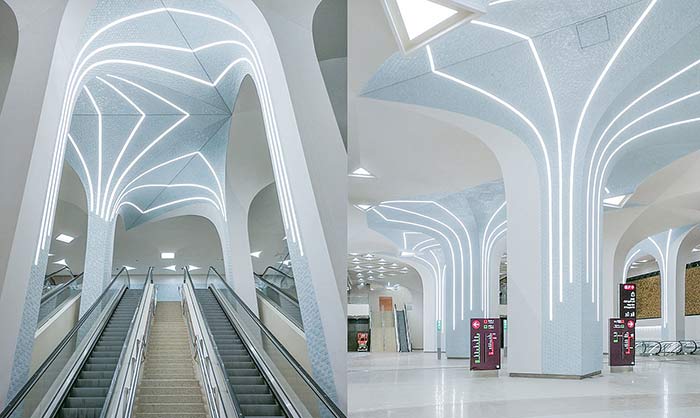 Free Wi-Fi Connectivity
Since September 2020, Qatar Rail is also providing seamless Wi-Fi for public use across all trains and lines (Red, Gold and Green) to Metro customers.
The Qatar Rail Wi-Fi offers users free connectivity for 30 minutes per day on limited bandwidth.
Customers can connect online as soon as they enter any station and until they leave. One-time registration will be required per user. They will be required to sign in using their mobile number, input a One Time Password (OTP) or use Facebook or email authentication before use.
To enjoy high-speed Internet services, customers can purchase a daily, weekly or monthly subscription plan under 'Add-Ons' on the easy-to-use Metro Wi-Fi screens. By using a subscription plan, customers can automatically connect to Qatar Rail's Wi-Fi services when in proximity of any station or on a journey.
Doha Metro Contact Number
Doha Metro has a 24×7 customer care helpline on 105 (inside Qatar) and +974 4429 3777 (outside Qatar).
READ NEXT: Complete Guide To Lusail Tram
---
FAQ on Doha Metro
---
Where can I buy Metro tickets in Qatar?
You can buy Standard Travel Cards at all Metro Stations and authorised retailers. Gold Club Cards can be bought at Metro Stations only.
How much do Doha Metro tickets cost?
The rate per journey in Standard and Family Class is QR 2. The rate in Gold Class is QR 10 per journey.
Should children have tickets for Doha Metro?
Children aged five and above need Travel Card to travel, while children aged four and below do not need a Travel Card.
How can I recharge Doha Metro Travel Cards?
Standard and Gold Club Cards can be recharged at Station Travel Card Vending Machines, the Qatar Rail website and the mobile app.
What are the timings for Doha Metro?
The updated timings of Doha Metro (from 24 April 2023) are Sunday to Wednesday: from 05:30 am to 11:59 pm; Thursday: from 05:30 am to 01:00 am; Friday: from 02:00 pm to 01:00 am; and Saturday from 06:00 am to 11:59 pm.
How many cars are there on Doha Metro trains?
On normal days Doha Metro trains operate with three cars. However, they may operate with six cars on special occasions.
What time does Doha Metro close?
From Saturday to Wednesday, Doha Metro stops service at 11.59 pm. On Thursday and Friday, the service is extended until 01.00 am.
When is the last Metro train from Hamad International Airport?
The last Doha Metro train from HIA is at 10:19 pm (Sat to Wed) and 11:19 pm (Thu-Fri).
---
Related Articles:
Copyright © DohaGuides.com – Full or partial reproduction of this article in any language is prohibited.
---