Doha Guides Team regularly reviews this article to ensure the content is up-to-date and accurate. The last editorial review and update were on 2 October 2023.
Trams are becoming an increasingly popular mode of transportation in cities around the world. They're efficient, environmentally friendly, and can help reduce traffic congestion.
The Lusail Tram is a new mode of transportation in Qatar that has been making headlines lately. This is the second tram system in the country after Education City Tram, providing an efficient and affordable way to travel around Lusail. Here's everything you need to know about the Lusail Tram, including map, stations, timings, and ticket prices.
Recent Updates
Lusail Tram New Timings
Starting from April 24, 2023, Doha Metro and Lusail Tram service will be available from 5:30 am on weekdays. Following are the new hours:
Sunday To Wednesday: 5:30 am to 11:59 p
Thursday: 5:30 am to 01:00 am
Friday: 02:00 pm to 01:00 am
Saturday: 06:00 am to 11:59 pm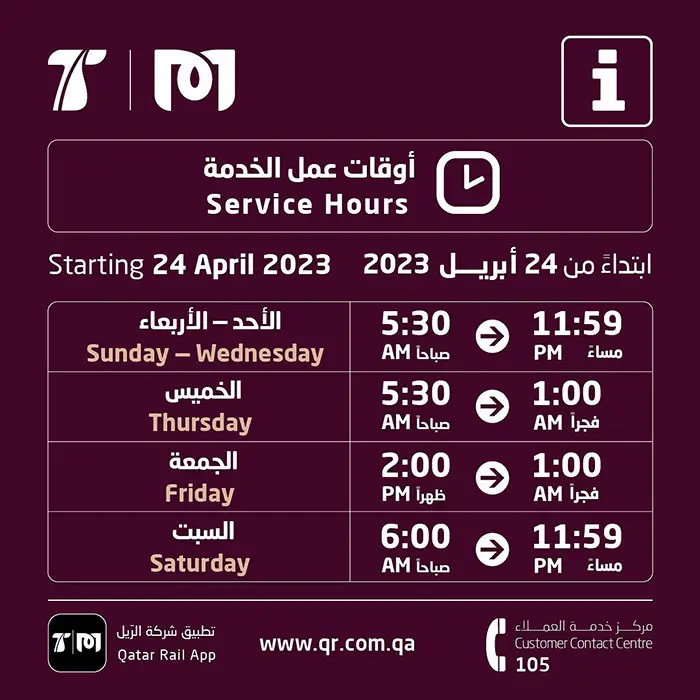 ---
Lusail: City of the Future
Lusail is a new planned city in Qatar located about 23 kilometres north of Doha city centre. Designed to be self-sustaining and environmentally friendly, the city will include a variety of residential and commercial developments, including schools, medical centres, and shopping malls.
Located on 38 square kilometres, Lusail includes four exclusive islands as well as 19 residential, mixed-use, entertainment, and commercial districts. With 22 hotels having international star ratings, Lusail is expected to be a booming hub for tourism, hospitality, and investments in Qatar.
It is also home to one of the seven venues of the FIFA World Cup Qatar 2022.
About Lusail Tram
Lusail Tram, formerly called the Lusail LRT, is a light rail network being developed as part of the Lusail urban development project.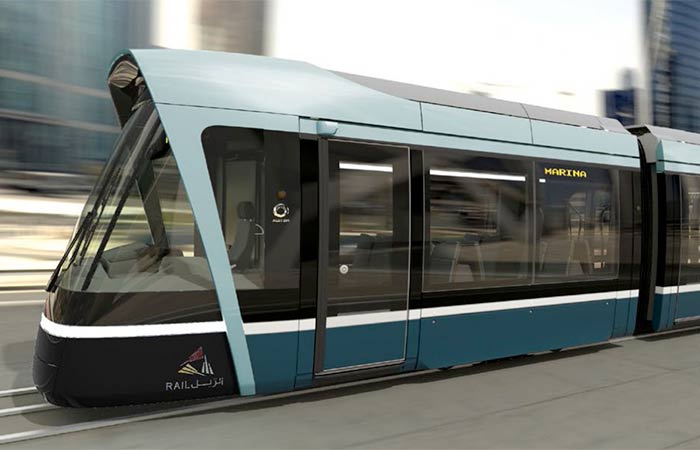 Lusail Tram offers convenient transportation within the new city of Lusail, with four lines and 25 underground and aboveground stations. Residents and visitors will find it easier to get around Lusail city with the Lusail Tram.
Once Covid-19 restrictions are lifted, trams can accommodate up to 209 passengers in both Standard and Family classes. Unlike Doha Metro, Lusail Trams are operated by drivers.
Lusail Tram Map
Below is the map of the planned Lusail Tram network as of 2022.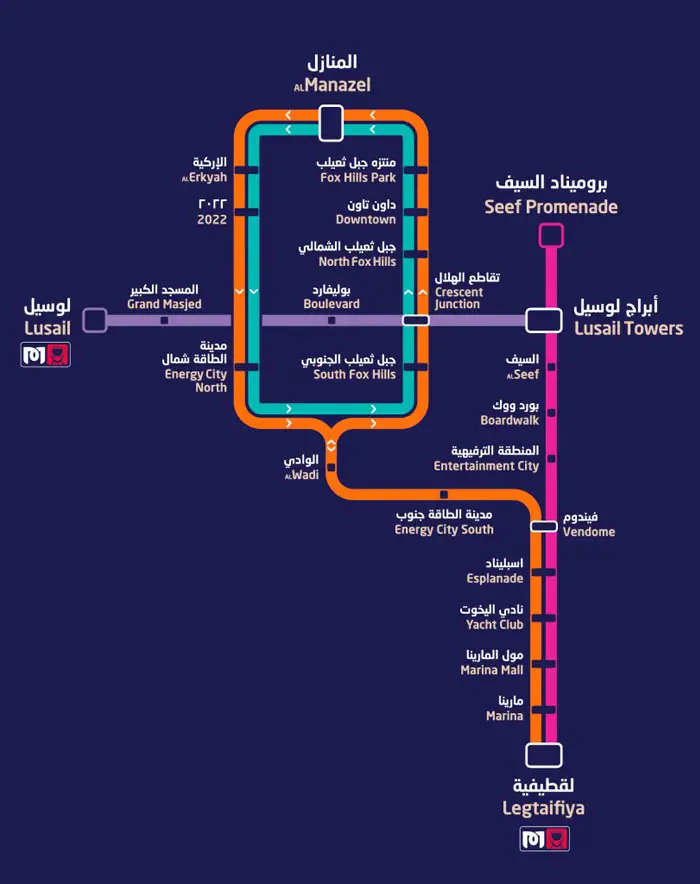 Lusail Tram Lines
The four lines of the Lusail Tram are:
Orange Line
Purple Line
Pink Line
Turquoise Line
Opening The First Phase of the Lusail Tram
A six-station network on the Lusail Tram's Orange Line was opened to the public on 1st January 2022, marking the beginning of the entire tram network's operation. A seventh station, the Lusail Central, was opened to the public on 9th April 2022.
As Lusail develops, the rest of the network will be opened to the public in phases. Once completed, the 28 km transportation system will be the largest tramway system project in the Gulf region.
Lusail Tram Stations
Currently, the Orange Line serves seven stations:
Legtaifiya
Marina
Marina Promenade
Yacht Club
Esplanade
Lusail Central
Energy City South

How To Reach Lusail Tram From Doha
Doha Metro's Red Line connects travellers from Al Wakra in the South to Lusail in the North, with stops along key destinations on the way. Currently, Legtaifiya is the connecting station for Lusail Tram.
Travellers can use the Doha Metro service to connect with Lusail Tram by following the below steps:
Step 1: Travel on Doha Metro's Red Line
You will need to tap Doha Metro travel cards while entering the station.
Step 2: Get down at Legtaifiya Station
Tap out of the station with the travel cards.
Step 3: Follow the directions to Lusail Tram
You can use the same Doha Metro travel cards for Lusail Tram without any additional fee. For using the tram, the card has to be tapped on the validator near the tram door while entering and exiting.
Lusail Tram stops can also be reached by Metroexpress service which offers free ride-sharing service between the nearby areas and tram stops.
Lusail Tram Timing
Below are the updated timings for Lusail Tram from 24 April 2023:
| Days | Timing |
| --- | --- |
| Sunday to Wednesday | 05:30 AM to 11:59 AM |
| Thursday | 05:30 AM to 01:00 AM |
| Fridays | 02:00 PM to 01:00 AM |
| Saturday | 06:00 AM to 11:59 AM |
Lusail Tram Timing From 24 April 2023
Lusail Tram will run seven days a week at an interval of 5 minutes.
Lusail Tram Ticket Price
The ticket price on the Lusail Tram is QR 2 per single journey. You can also buy a day pass which costs QR 6. The day pass can be used for unlimited journeys around Doha Metro and the Lusail Tram network.
To travel using the Lusail Tram, you will need to buy a travel card, which is a rechargeable plastic card.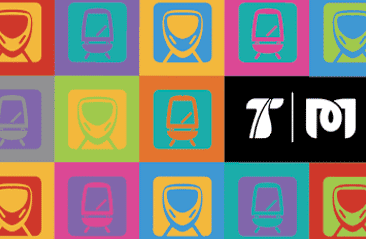 You can use the same Travel Card on both the Metro and the Tram with no additional charges. Unlike Doha Metro, there is no Gold Club on Lusail Tram.
| Description | Standard Card |
| --- | --- |
| Class of Travel | Standard & Family on Metro and Tram |
| Single Journey Cost | QR 2 |
| Maximum Charge Per Day | QR 6 |
| Travel Card Cost | QR 10 |
| Reusable | Yes |
Please note that it is mandatory for Lusail Tram users to tap in and tap out using the validators on the tram to avoid any additional charges.
The service will be free for Hayya Card holders from 10 November to 23 December 2022.
Where To Buy Lusail Tram Travel Cards
Standard Cards can be purchased at all Metro stations (from Vending Machines) and licensed retailers like Al Meera, Lulu, Carrefour, Family Food Center and Jumbo. These cards are valid on both Doha Metro and Lusail Tram.
The Travel Cards can be recharged at station travel card vending machines, the Qatar Rail website and the mobile app.
Lusail Tram Etiquettes
It is permissible to take photographs and videos for personal use. However, photography and videography should comply with Qatar's rules and not include other people without their permission.
The Tram allows beverage consumption from a sealable container, but eating food is not allowed for your fellow passengers' comfort.
Animals other than assistance dogs are not allowed on the network, even if they're in cages.
READ NEXT: Complete Guide To Doha Metro
---
FAQ on Lusail Tram
---
Is Lusail Tram open?
A part of the Lusail Tram network's Orange Line (7 stations) is currently open for preview service.
Can children travel alone on the tram?
Travel on the network is allowed for children nine years old and older. Those under this age must be accompanied by a person over 16 years old.
How often does Lusail Tram run?
Lusail Tram operates at an interval of 5 minutes.
---
Related Articles:
Copyright © DohaGuides.com – Full or partial reproduction of this article is prohibited.
---