Philippine workers represent the fourth-largest group of foreign workers in Qatar. In addition to the quarter million Filipino expatriates who live here, thousands of Filipinos visit Qatar every year. The number of Filipino travellers visiting Qatar is on the rise, especially after the success of FIFA World Cup Qatar 2022.
In contrast to Indian and Pakistani expatriates, Filipinos cannot obtain a visa on arrival in Qatar. This leaves Filipino tourists often confused as to what kind of visa they can apply for.
In this article, we will discuss different types of Qatar visas for Filipino visitors in 2023. The eligibility requirements, required documents, visa costs, and length of stay will also be examined.
Qatar Visa For Filipino: Visa Types
The following is a list of the various visas issued by Qatar, as well as their status in 2023:
1) Qatar Family Visit Visa For Filipino
If you have a close family member who is a resident of Qatar, he/she can apply for a family visit visa for you. The visa can be applied for online using the Metrash mobile app.
To sponsor the spouse and children of a Qatari resident, the applicant must earn a salary of at least QR 5,000 a month. Similarly, the salary should be QR 10,000 for sponsoring other close relatives.
Required documents include:
Visitor's passport
Proof of the relationship
Round trip flight tickets
Health insurance
The visa costs QR 200 per month, while health insurance costs QR 50 per month.
Visitors are allowed to stay for up to three months per visit. In some cases, the visa can be extended for up to six months.
You can find more about Qatar Family Visit Visa here.
2) Qatar Tourist Visa
Qatar offers an online visa service that allows nationals of 242 countries to apply for a tourist visa. Philippine citizens can apply for Tourist Visa online using the Hayya platform.
Here you can find more information about the Qatar Tourist Visa.
3) Hayya With Me Visa For Filipino
In 2023, this is the easiest type of visa if you already have a Hayya Card. As the Qatar Government has extended the validity of Hayya Cards, visitors who received a Hayya Card during the FIFA World Cup can stay in Qatar up to 24 January 2024.
An international fan who had a Hayya Card in 2022 can bring up to 3 friends or family members by giving them the voucher codes. In other words, if you know someone who got a Hayya Card in 2022, they can help you visit Qatar.
The documents required are:
Passport with 3 months validity
Hayya Entry Permit
Round trip flight tickets
Health insurance
Proof of accommodation (hotel or host details)
This visa is free of charge, and you can stay until 24 January 2024 or visit multiple times within that period.
Here you can find more about visiting Qatar with the Hayya Card.
4) GCC Residents Visit Visa For Filipino
Filipinos who are residents of other GCC countries (UAE, Saudi Arabia, Oman, Kuwait and Bahrain) may be eligible for a GCC Residents Visit Visa to Qatar. You can apply for this visa in advance through the Hayya platform or get visa on arrival (if profession is eligible).
The documents required are:
Passport with 6 months validity
GCC Residence Permit with 6 months validity
Round trip flight tickets
Health insurance
Proof of accommodation
The visa costs QR 100 and is valid for 30 days. This can be further extended for three more months by paying QR 100 per month.
Here you can find more information about the GCC Residents Visit Visa.
5) Qatar Transit Visa For Filipino
Transit visas for Qatar are available during layovers in Doha, allowing you to stay for up to 96 hours. However, the online service for Qatar Transit Visas has been suspended for many months.
According to Qatar Government Helpline, eligible passengers can get Transit Visas subject to Immigration Official's discretion. Please note that this may not always work in your favour and there is a risk of being denied check-in by airlines.
If you are travelling by Qatar Airways, you can check with your local Qatar Airways office about issuing a transit visa.
Here you can find more information about the Qatar Transit Visa.
6) Qatar ETA Visa for Filipino
Filipinos with a valid Schengen, US, UK, Canada, Australia or New Zealand visa or residency are eligible for an Electronic Travel Authorization (ETA) Visa in Qatar. The ETA application should be submitted online in advance using Hayya portal.
Here you can find more information about the Qatar ETA Visa.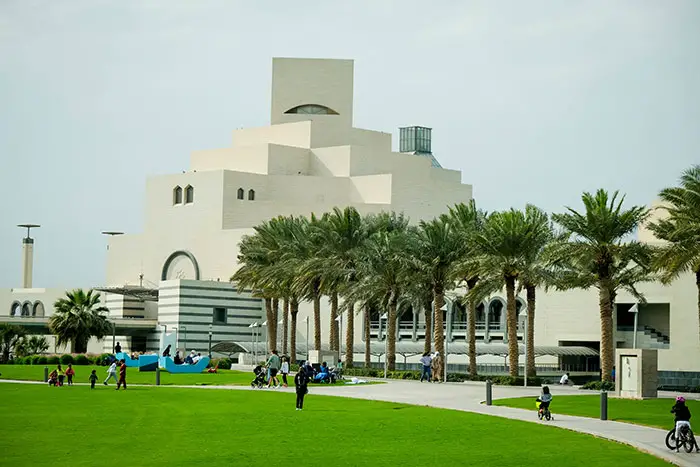 7) Qatar Visa On Arrival
Qatar offers visas on arrival for citizens of more than 90 countries. However, as of February 2023, citizens of the Philippines are not eligible for Qatar Visa on Arrival.
8) Qatar Business Visa
Business Visas allow companies registered in Qatar to bring foreign professionals for short-term employment or business services. A potential employer in Qatar may be able to assist you in acquiring a short-term business visa.
---

Make your family's trip to Qatar unforgettable! Check the latest offers from Qatar Airways, Qatar's own 5-star airline, rated as one of the best in the world.  With its reputation for luxury, comfort, and a wide-reaching global network, booking with Qatar Airways ensures an extraordinary travel experience.
---
Other Types of Qatar Visas
In addition to the short-term visitor visas, there are couple of visa types that allow long-term stay in Qatar:
Qatar Family Residence Visa For Filipino
If your spouse or parent is employed in Qatar, they may be able to sponsor you for a long-term residence permit. In the current requirement for Family Residence Visa, the salary must be QR 15,000 and the profession must not be labour-type.
Qatar Working Visa For Filipino
A Qatari employer may bring you to Qatar on an employment visa if you've been offered a job there. It is the employer's responsibility to pay and complete the procedures in accordance with the law.
Qatar Government Helpline
If you have questions about Qatar Visa for Filipino, please contact the Qatar Government Helpline at +974-44069999 or [email protected].
---
Frequently Asked Questions
---
Does Filipino need a visa to Qatar?
Yes, Filipino residents are required to have a visa to travel to the State of Qatar.
Do Filipinos require the Covid vaccine to visit Qatar?
As of 2023, Covid vaccination is not a requirement for travellers to Qatar.
Do Filipinos require the RT-PCR test to visit Qatar?
As of 2023, RT-PCR test is not a requirement for travellers to Qatar.
---
Related Articles:
Copyright © DohaGuides.com – Full or partial reproduction of this article in any language is prohibited.
---