Immunizations protect children from preventable illnesses, and the Ministry of Public Health (MoPH) offers several vaccines that are given at an early age. Each vaccine has a specific timing to ensure its effectiveness.
Qatar follows the World Health Organisation's vaccine schedule and is in accordance with the child's age. The vaccination schedule for children in Qatar is uniform across the country and in all hospitals and clinics.
NOTE: This article is about mandatory vaccinations for all children. If you are looking for COVID-19 vaccinations for children, please check this link.
Why you should vaccinate your child on time?
Vaccinations are considered one of the most successful interventions in the field of public health. Vaccinations contribute to strengthening the immune system in the child's body very effectively and thus provide him with protection from infectious diseases that may lead to serious diseases, results and complications that may amount to disability and death.
The main vaccinations are given at an early age, and the vaccine must be given within a certain period to ensure its effectiveness since each vaccine has a specific time; for example, the measles, rubella and mumps (MMR) vaccine is not usually given before the first year of the child's life in order to be effective in combating the disease.
Accordingly, the Department of Health Protection and Communicable Disease Control and the expanded immunization program in the State of Qatar have developed an advanced and modern child immunization program.
The National Vaccination Committee is also constantly reviewing and making adjustments to the vaccination schedule in accordance with the trends in disease prevention in the country.
What all diseases are vaccinated for in Qatar
A total of 12 different vaccines (Bacille Calmette-Guerin – BCG, Hepatitis B, Hexavalent, Pentavalent, Hepatitis B, Poliomyelitis and Haemophilus Influenza Type b, Rotavirus, Oral Polio, Pneumococcal, MMR, Varicella, Hepatitis A, Influenza and Meningococcal) are scheduled for children aged zero to 12 years to protect them against 14 diseases:
Tuberculosis or tuberculosis
Diphtheria
Tetanus
Whooping cough
Paralysis
Haemophilus influenza (hemorrhagic influenza B)
Measles
Mumps
Rubella
Hepatitis B
Hepatitis A
Pneumonia
Rotavirus
Chickenpox
In addition to this list, there is a group of vaccines that are offered optionally, for example, a seasonal influenza vaccine or vaccines that are offered based on the presence of certain conditions, such as vaccines that are given to travellers to some endemic areas around the world.
Vaccination Schedule for Children in Qatar
Following is the vaccination schedule for children in Qatar: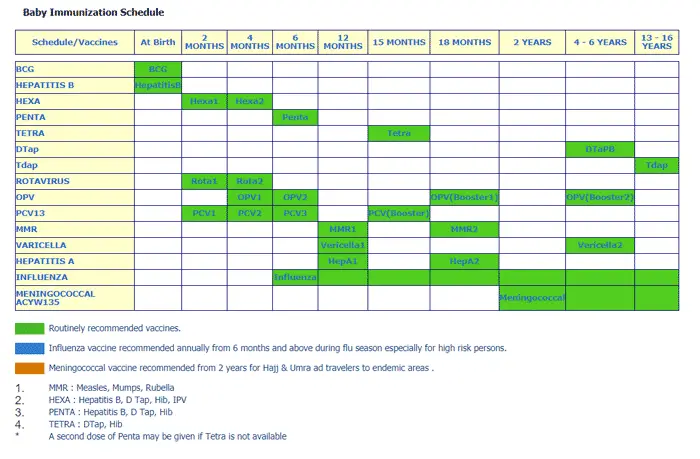 Routinely Recommended Vaccines
BCG and HEPATITIS B: Given at birth
HEXA1, ROTA1, PCV1: at 2 months
HEXA2, ROTA2, PCV2: at 4 months
OPV1, Penta, PCV3: at 6 months
MMR1, Vericella1: at 12 months
OPV2, MMR2, Tetra: at 18 months
OPV3, Vericella2, DTaPB: at 4-6 years
Tdap: at 13-18 years
Influenza vaccines recommended annually from 6 months and above during flu season, especially for high-risk persons
Influenza: at 6 months, 12 months, 18 months, 2 years, 4-6 years and 13-18 years
Meningococcal vaccines recommended from 2 years for Hajj and Umra ad travellers to endemic areas
Meningococcal: 2 years, 4-6 years and 13-18 years
Two doses of Hepatitis A vaccine are recommended for children and adolescents with frequent travel to high-risk countries
Hepatitis A: 12 months, 18 months, 2 years, 4-6 years and 13-18 years
How to check immunization status online
As a resident of Qatar with Hamad Health Card, you have the option of checking your child's immunization status online. Here is how you can do that:
Go to the E-Services page on the MoPH website
Enter the HMC/HC number, the PHC number or the QID number of your child to inquire about his/her immunization status.
Important information about vaccination
You should be aware of the exact date of each vaccine in order not to be late for any vaccination. It is important to understand the importance of timely vaccinations to protect your child from life-threatening diseases.
The green card for children's vaccinations has been laid off, and the Primary Health Care Corporation has issued an improved booklet that includes all the information related to child health. This booklet is available in all health centres, and customers can get it from the health centre where they are registered.
You may view the baby immunization schedule and a list of the immunization centres on the MoPH website.
If you need an immunization certificate for school/college admission, you can get them at the Communicable Disease Control, and Vaccine Surveillance Section counters on the ground floor of the MoPH building.
Recently Qatar has made it mandatory for students seeking school admission to undergo a medical examination at Government Health Center and submit a Fit To Join School certificate.
---
Related Articles:
Copyright © DohaGuides.com – Full or partial reproduction of this article in any language is prohibited.
---