Doha Guides Team regularly reviews this article to ensure the content is up-to-date and accurate. The last editorial review and update were on 9 September 2023.
Nearly two million expatriates from around the world are working in Qatar, building the infrastructure and providing the services behind the country's rapid economic expansion. Even with strict regulations in place, there are some private employers who do not pay salaries on time or provide the necessary facilities to their employees.
The Government of Qatar has established several support centres and helplines to protect such vulnerable employees. This article explains the different ways in which an employee can lodge an official labour complaint against his/her employer.
What To Do If Your Employer Is Not Paying Your Salary?
Qatar Government places the utmost importance on strengthening the rights of its guest workers and ensuring that all companies respect these rights and adhere to Qatar's labour laws.
The Wage Protection System (WPS) has been established to ensure that workers' wages are paid on time, and those wage arrears are systematically settled.
According to Labor Law No. 14 of 2014 and the accompanying Ministerial resolution, salaries should be paid up within a maximum of seven (7) days from the due date.
If an employer does not transfer payments using the WPS within seven days of their due date, the Minister can suspend the issuance of new work permits to the employer and/or suspend all dealings with the Ministry. This is subject to suspension, not including the authentication of any job contracts.
How To File A Labour Complaint Against Employer
An employee who does not receive his salary on time can make an official complaint to the Ministry of Labour (formerly known as MADLSA) through various channels explained below and the Ministry will process it in due time.
1. Labour Complaint Through Unified Platform for Complaints and Whistleblowers
This Unified Platform for Complaints and Whistleblowers platform, was launched in mid-2021 to help employees file complaints.
Through the platform, the user can file a complaint, report a violation, follow up on complaints, and review his personal data registered in the Ministry's database. He can also update his contact data from a mobile number and an email.
The steps to submit a labour complaint on the Ministry of Labour Complaints Portal is as below:
Click on "Submit A Complaint (Login As Individual)"
On the next page, you can log in using your QID / Visa Number + Mobile Number
Click on "Request OTP"
Enter the OTP you received on your mobile and proceed as instructed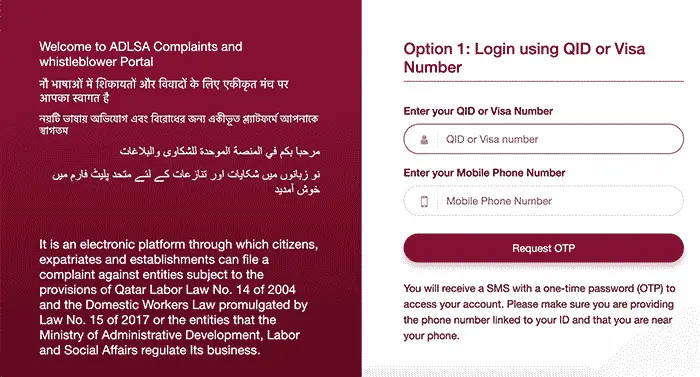 Another option is to log in using your National Authentication System (NAS) username and password. Either way, you will be redirected to the same page.
The concerned department will review the complaints and disputes after receiving them and will communicate with the complainant through SMS and e-mail.
The complaint can be against entities subject to the provisions of Qatar Labor Law No. 14 of 2004 and the Domestic Workers Law promulgated by Law No. 15 of 2017 or the entities that the Ministry of Administrative Development, Labor and Social Affairs regulate Its business.
You can also use this portal to raise a complaint as a whistleblower (third party complaint).
2. Labour Complaint By SMS To Ministry of Labour Hotline Number
Qatar's Ministry of Labour has an SMS service launched to communicate with workers about their problems. The hotline is available 24 hours and in several languages.
The steps to submit a labour complaint as SMS on the Ministry of Labour Hotline Number 92727 is as below:
Open your phone's text message (SMS) option
Type 5 then Qatar ID Number or Visa Number
Send the SMS to 92727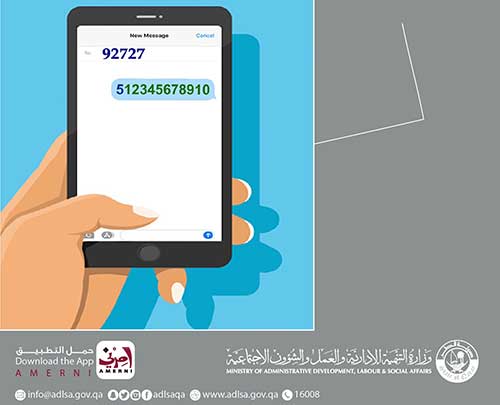 This procedure enables workers who would not be able to go directly to the Ministry, to submit their complaints while ensuring that the confidentiality of those complaints is maintained.
3. Labour Complaint By Calling Ministry of Labour Hotline Number
Workers can call the Ministry of Labour Hotline number 16008 to raise a complaint.
To report violations regarding workers' accommodation conditions, one should call on 40280660.
4. Labour Complaint By Sending E-mail
Another option is to send an e-mail to the Ministry of Labour: [email protected]
5. Labour Complaint Through Amerni Mobile App
2023 Update: The Amerni mobile app is currently not working.
Workers can also submit their complaints online via the "Amerni Qatar" application for smartphones, which provides electronic services in 33 languages.
The steps to submit a labour complaint on Amerni Mobile App is as below:
Download and Install the "Amerni Qatar" app from Google Play Store or Apple App Store
Log in using your Tawtheeq (NAS) account
Complete the initial setup (Read the Amerni Mobile App User Guide)
On the home page, click on the "Submit Labour Complaint" icon
Select the language and enter the complaint details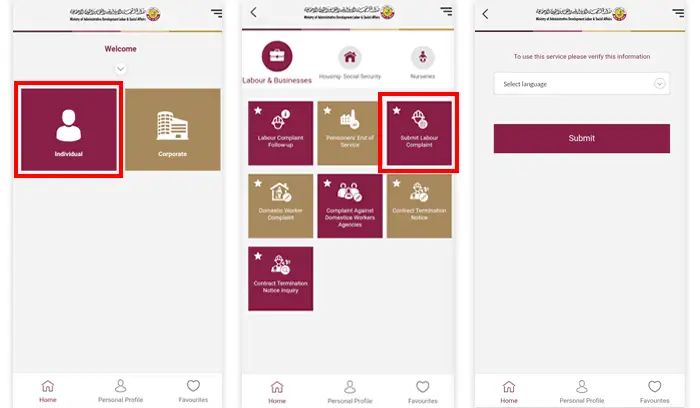 The Amerni Mobile App also has a separate "Domestic Worker Complaint" option.
Related: How to Create Tawtheeq Qatar Account
6. Labour Complaint Through Minstry's Self-service Kiosks
Workers can also submit their complaints anonymously through Minstry's self-service kiosks around Qatar. These kiosks offer services in 10 languages, including Arabic, English, Nepalese, Hindi, Bengali, Urdu, Tamil etc.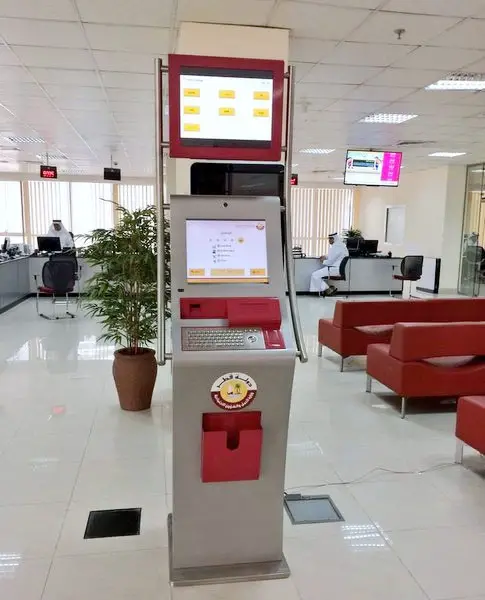 A worker can lodge his complaint in his native language in a simple form requiring three steps. He can then take a printout of the complaint with all relevant data and submit it to the labour affairs department, where the dispute will be resolved amicably.
7. Labour Complaint Through Ministry of Labour Offices
Instead of going directly to Labour Court, nowadays, workers have to approach the Ministry of Labour offices, where there is a section to register such complaints.
Workers can visit the Labour Department Offices in Industrial Area (location map) and Al-Shahaniya (location map) to raise a complaint in person.
The Labour Office's operating hours are Sunday to Thursday from 7:30 AM to 12:30 PM.
Below are the steps to make a direct complaint with the Ministry of Labour office:
Note down the full name of the company and location
Get the contact number of the company's manager or the number of Mandoob
Take a copy of your Passport and Qatar ID
Go to the Labour Department office
On reaching the office, fill up the complaint form
Submit the form to the labour inspector
Explain your complaint and provide any documents if you got
After investigating the complaint, the Labour Department will try its best to resolve the issue without referring it to court. The Department will contact the employer and request proof and documents if necessary. The case will be referred to Labour Court if a resolution cannot be reached.
8. Labour Complaint Through Ministry Website Form
Employees can also submit their complaints and suggestions using the contact form on the Ministry of Labour website.
The steps to submit a labour complaint on the Ministry of Labour website is as below:
Choose the type as "Suggestion" or "Query".
Enter your name, e-mail, phone number and Qatar ID number.
Provide the details of your complaint in description box.
Click on "Submit".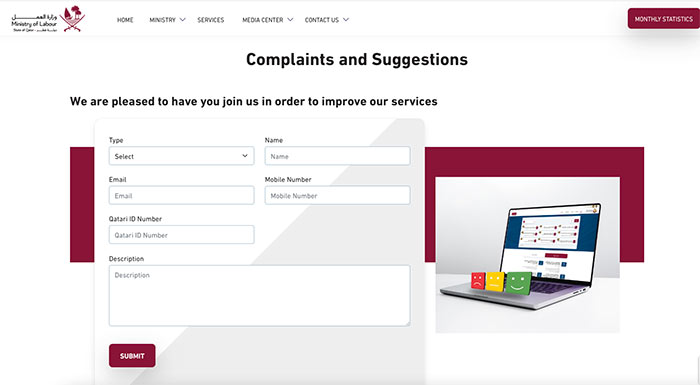 ---
How to A Submit Labour Complaint to NHRC
Another option is to complain to the National Human Rights Committee (NHRC).
NHRC is established for the protection and promotion of human rights for everyone, subject to the jurisdiction of the State of Qatar (citizens, residents, and transit travellers). Those who feel their rights are violated may file a complaint to the NHRC to take necessary action.
You can make a complaint to NHRC using the below options:
1. Labour Complaint Through NHRC Website
Step 1: Go to NHRC Website's Complaint Form Page
Step 2: If you don't have an account click on "Create Account"
Step 3: Register with details like Name, QID/Passport, Phone Number, E-mail etc.
Step 4: Once registration is completed, login to submit the complaint form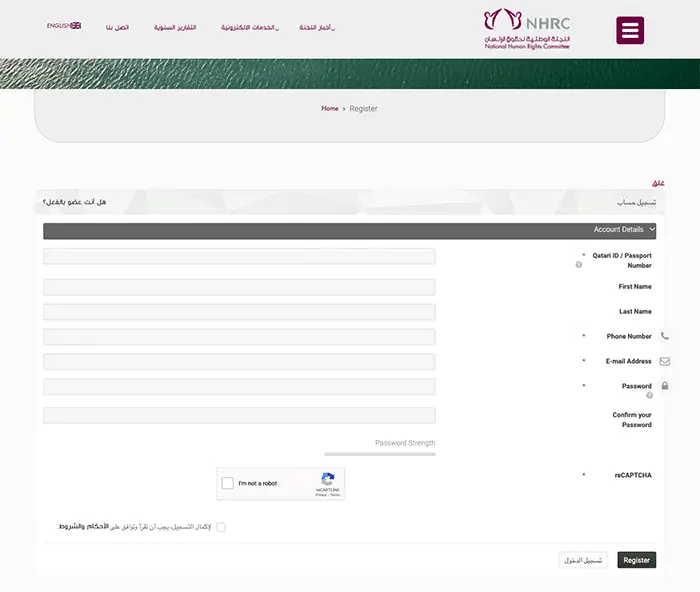 2. Labour Complaint Through NHRC E-mail or Fax
A worker can also send the complaint form to NHRC via e-mail or fax. Here are the steps:
Step 1: Download the Complaint Form from the NHRC website
Step 2: Take a printout of the form
Step 3: Complete the form with contact information
Step 4: Attach a copy of your ID card (for Qataris) and a copy of your passport or visa (for non-Qataris)
Step 5: Attach any related documents to support your complaint
Step 6: Send your complaint via fax or e-mail address
| | |
| --- | --- |
| NHRC Telephone: | 00974-44048844, 50000313, 60073333 |
| NHRC Hotline | 8002222 |
| NHRC E-mail: | [email protected] |
| NHRC Fax: | 00974-44444013 |
3. Labour Complaint Through NHRC Office
Workers can visit the office of the National Human Rights Commission directly to submit the printed complaint form, document copies and any supporting document (as explained in the previous option).
NHRC Office is located in Fereej Abdulaziz (Nasser Bin Khalid intersection, Behind Doha Petrol Station, Otabi Tower) Here is the NHRC Location Map.
---
How To Check The Status Of A Labour Complaint?
Once you have made a complaint and received the reference number, you can check the status on the Ministry of Labour website or the Amerni mobile app.
Option 1: Checking The Status On Ministry Website
Below are the steps to check the labour complaint status on the Ministry website
Step 1: Go to the Ministry of Labour website complaint status page
Step 2: Enter the establishment registration number (field 1)
Step 3: Enter the complaint number (field 2)
Step 4: Select the year from the drop-down menu
Step 5: Press the "Submit" button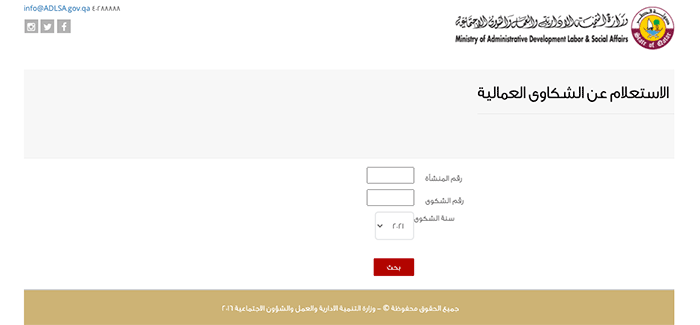 Option 2: Checking The Status on Amerni Mobile App
You can also check the status of your labour complaint using the Amerni mobile app.
Step 1: Open the Amerni mobile app
Step 2: Sign in using Tawtheeq (NAS) username and password
Step 3: Select "Individual"
Step 4: Click on "Labour Complaint Follow-up"
Step 5: Select the year
Step 6: Follow the instructions
---
Labour Dispute Settlement Committees
Qatar has established Labour Dispute Settlement Committees to improve workers' access to justice.
When a dispute arises, workers and employers first present the dispute to the Labour Ministry, which will take the necessary measures to resolve the issue amicably and examine the dispute raised within a period not exceeding seven days.
When a complaint is raised to the Labour Dispute Settlement Committee, the Committee arbitrates all disputes and its decision is issued with immediate enforcement within a period that does not exceed three weeks.
Complaints can also be raised through workers' representatives who meet regularity with Ministry of Labour.
---
How The Labour Dispute Resolution System Works
Scenario 1: I think my employer has breached my contract and/or broke Qatar labour law.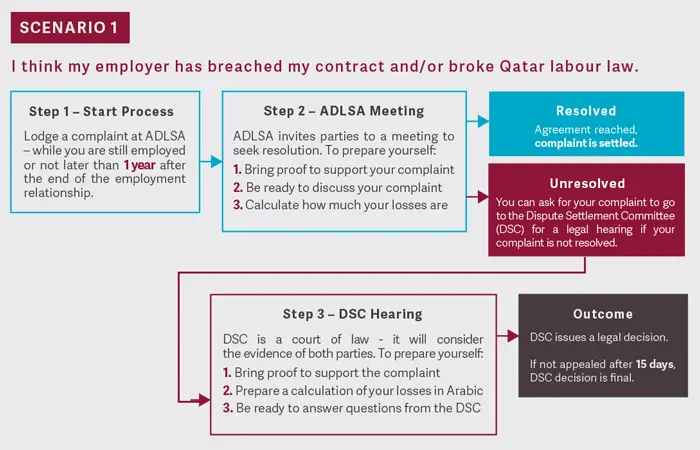 Step 1 – Start Process
Lodge a complaint at Ministry of Labour – while you are still employed or not later than one year after the end of the employment relationship.
Step 2 – Ministry of Labour Meeting
Ministry invites parties to a meeting to seek resolution. To prepare yourself:
1. Bring proof to support your complaint.
2. Be ready to discuss your complaint.
3. Calculate how much your losses are.
If the issue is unresolved: You can ask for your complaint to go to the Dispute Settlement Committee (DSC) for a legal hearing if your complaint is not resolved.
Step 3 – DSC Hearing
DSC is a court of law – it will consider the evidence of both parties. To prepare yourself:
1. Bring proof to support the complaint.
2. Prepare a calculation of your losses in Arabic.
3. Be ready to answer questions from the DSC.
Outcome: DSC issues a legal decision. If not appealed a­fter 15 days, DSC's decision is final.
---
Scenario 2: I want to challenge my employer's decision to discipline me.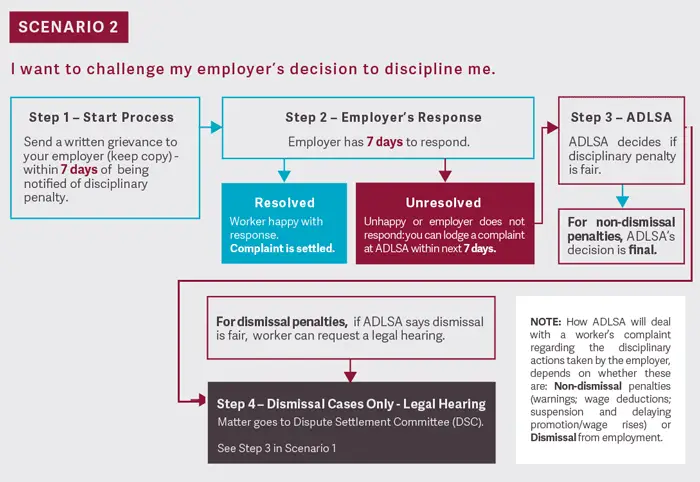 Step 1 – Start Process
Send a written grievance to your employer (keep a copy) – within seven days of being notified of the disciplinary penalty.
Step 2 – Employer's Response
The employer has seven days to respond.
If the issue is unresolved: If you are unhappy or the employer does not respond, you can complain to the Ministry within the next seven days.
Step 3 – Ministry of Labour
Ministry decides if the disciplinary penalty is fair.
For non-dismissal penalties, the Ministry's decision is final.
For dismissal penalties, if the Ministry says dismissal is fair, the worker can request a legal hearing.
Step 4 – Dismissal Cases Only – Legal Hearing
The matter goes to Dispute Settlement Committee (DSC). See Step 3 in Scenario 1.
NOTE: How the Ministry will deal with a worker's complaint regarding the disciplinary actions taken by the employer depends on whether these are: Non-dismissal penalties (warnings; wage deductions; suspension and delaying promotion/wage rises) or Dismissal from employment.
---
Scenario 3: My employer has accused me of deliberately causing damage and has or is going to deduct my wages.

Step 1: Lodge complaint at the Ministry of Labour – within 7 days of notification of deduction.
Step 2: Ministry of Labour will decide to either cancel, reduce or agree with the deduction. Ministry of Labour's decision is final.
---
Workers' Support and Insurance Fund
Qatar has also established a Workers' Support and Insurance Fund which will ensure and provide care for workers, guarantee their rights and provide a healthy and safe working environment.
The fund's purpose is to secure workers' financial payments awarded by Labour Dispute Settlement Committees when a company becomes insolvent and cannot pay workers.
Changing Employer After Labour Complaint
If the Labour Department or Labour Court finds that the employer has defaulted in paying the salary, they would be ordered to settle the salary within a specified time period. If the worker wishes to resign from the company and move to another employer, the Labour Department would also assist.
Always remember, you have your legal rights, and the Qatar government is there to help. So stand up and speak for your rights.
READ NEXT: How to Change Job in Qatar Without NOC
Images Courtesy: Ministry of Labour
---
FAQ on Labour Complaints in Qatar
---
What can I do if my salary is not paid?
If your salary is not paid on time or your employer mistreats you, you can file an official complaint with Qatar's Ministry of Labour.
How can I complain to Labour in Qatar?
An employee can complain to the Ministry of Labour through various channels like calling the hotline number, SMS, e-mail, website, Amerni mobile app, Kiosks etc.
Do I need a lawyer to file a complaint?
No, in most cases, employees can directly contact Qatar's Ministry of Labour to file a complaint without using a lawyer.
Will I be deported if I file a complaint against my employer?
If you secure a new job offer during the period of dispute, Qatar's Labour Department will help you to change employer.
Is my employer allowed to keep my passport?
No, employers in Qatar are not allowed to keep the passport of an employee unless for official requirements like visa procedure, renewal etc.
---
Related Posts:
Copyright © DohaGuides.com – Full or partial reproduction of this article is prohibited.
---