This article explains how people vaccinated outside Qatar can get their Ehteraz Gold Frame (vaccinated status) on their Ehteraz mobile app.
20 MARCH 2022 UPDATE: Ehteraz website has been updated with a service that allows users to submit vaccination certificates from outside of Qatar. This has been added as Option 1 below:
What is Ehteraz app?
Ehteraz app is a contract-tracing app developed by Qatar's Ministry of Interior as part of the measures to combat the COVID-19 pandemic.
The app works with Bluetooth and geo-location technologies in such a way that if a user comes in contact with an infected person or a person in quarantine, he/she will immediately receive a notification through the app.
Ehteraz app will also show the infection status of a person through coloured QR codes. The app will also show the vaccination details including dates and type of Covid-19 vaccine taken.
Ehteraz app also has additional helpful features such as informing users on the latest developments and official statistics regarding COVID-19 and allowing users to receive awareness and precautionary instructions from the health authorities.
28 DECEMBER 2021 UPDATE: With effect from 1 February 2022, individuals whose second Covid-19 vaccine dose was more than 9 months ago will be considered unvaccinated and will lose their Gold Frame (immunized) status on Ehteraz. Receiving a booster vaccine dose will reinstate their Gold Frame status for a further 9 months.
Starting May 2020, citizens and residents have been required to have the Ehteraz contact-tracing app installed on mobile devices when leaving their homes.
According to the Ministry, all passengers travelling to Qatar must download the Ehteraz app and activate it on arrival at Qatar's entry ports.
Ehteraz Gold Frame for Vaccinated Users
The Heath Status on the Ehteraz mobile app for fully vaccinated persons in Qatar will remain green with a Gold Frame to indicate that they are excluded from quarantine if the result of the PCR test is negative and that they have completed 14 days from the date of the prescribed doses of the vaccine.
According to MoPH, the Golden Frame will appear around the QR code in the app after 7 days since the second dose of the vaccine.
The Health Status for citizens and residents who have received the vaccine outside Qatar will remain green without a golden frame until their vaccine data is updated in the system.
Ehteraz Gold Frame For Those Vaccinated Outside Qatar
The Health Status on the Ehteraz app for visitors who have received the vaccine outside Qatar will remain green without a golden frame until their vaccine data is updated in the system.
---
How To Update Vaccine Details If Vaccinated Outside Qatar
If you are a resident or visitor who has been vaccinated outside Qatar, you can send your vaccination details to MOPH to update the details on the Ehteraz app and activate the Golden Frame around the QR code. There are two ways to do this:
Option 1: Uploading vaccination details through Ehteraz website
Ehteraz website has been updated with an option to submit the vaccination details directly to MOPH. Here is how you can do it:
Step 2: Click on "Register new vaccination abroad"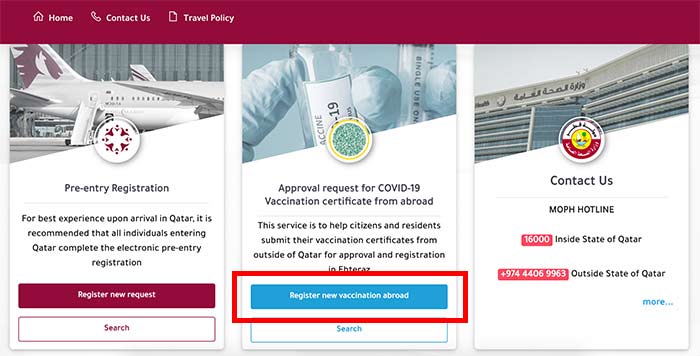 Step 3: Login using Ehteraz username and password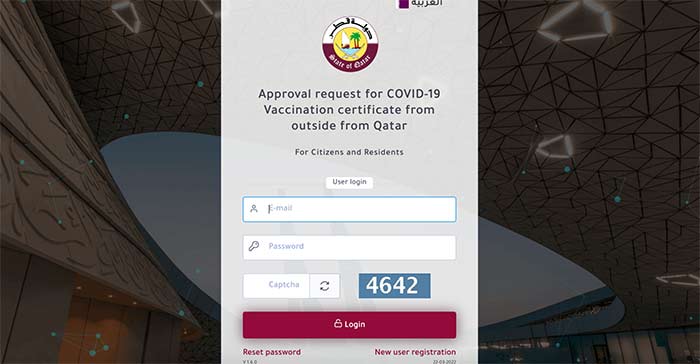 Step 4: Enter the required details and click on "Retrieve"
Fill up your QID number / Passport number, Date of Birth and captcha code. Click on the "Retrieve" button.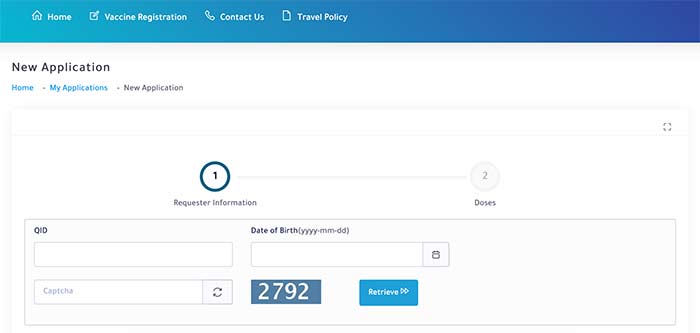 Step 5: Enter missing details and click "Save & Continue"
You may be required to enter your mobile number.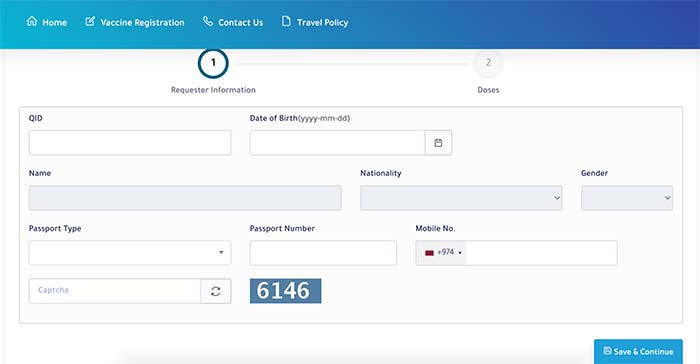 Step 6: Enter the vaccine details as per your certificate
On this screen, you have to select the dose, vaccine type, vaccine date and the country of vaccination.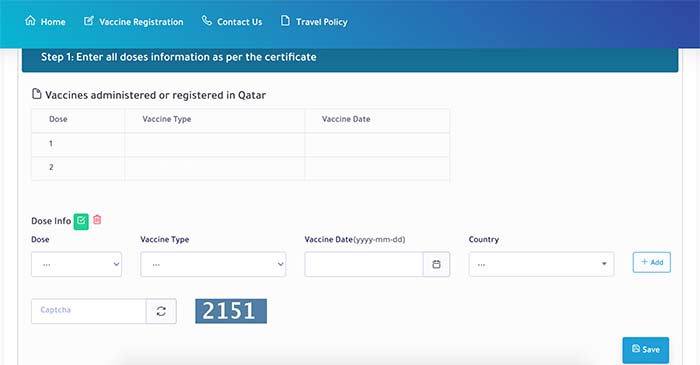 Step 7: Upload vaccine certificates
Attach a clear copy of vaccination certificate(s) received from abroad. Allowed attachment extensions are jpg, jpeg or pdf. The attachment size cannot be more than 2MB.
Serology Antibody Result: Please attach a copy of the serology antibody test result in case the last vaccine is conditionally approved.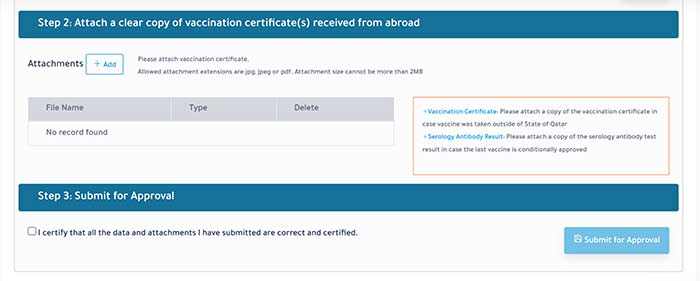 Step 8: Click on declaration and submit for approval
You will receive a confirmation once the form has been submitted.
You can check the status of your request by going to "My Applications" on the top of the page.
---
Option 2: Sending vaccination details via email to MOPH
In order to get your details updated, you can also send an email to [email protected] with your official vaccination card or certificate.
In the subject line of the email, you can write "Request to update vaccination certificate for Ehteraz App".
In the email body, write the following details:
Name
ID number / Passport number / Visa Number number (residents have to mention QID number)
Mobile Number (number used for Ehteraz registration)
First dose vaccination date
Second date vaccinationdate
Vaccination location outside Qatar (the country from where you took the vaccine)
Email address
Here is a sample of the email you can use: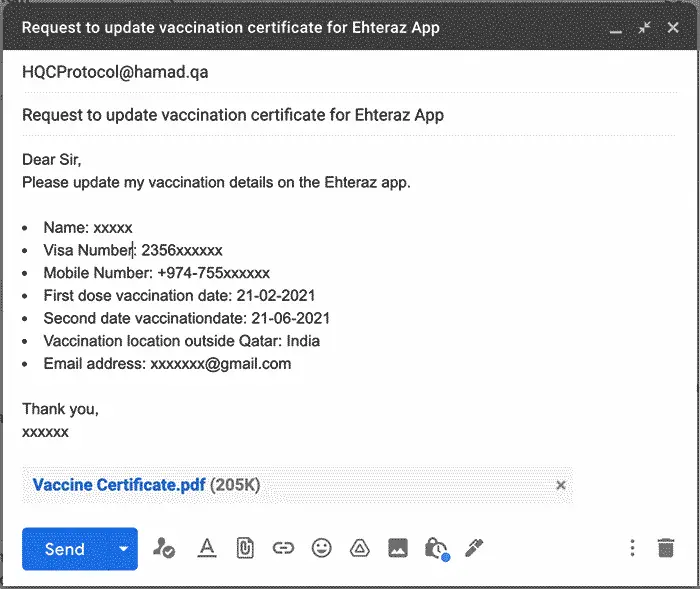 Make sure to attach a clear scan of the vaccination certificate or vaccination card with the following details:
Name of the recipient
Date of vaccination by each dose
Type of the vaccine
Batch number of the vaccine
Official logo and/or official stamp of the vaccination authority 
NOTE: If you have separate vaccination certificates for both does, attach both the certificates.
After you send the email, your vaccination details would be updated on the Ehteraz app and you can get the Golden Frame in a few days.
As this is a manual process, sometimes this may need some follow up after a few days. You can resend the email or call customer care on 16000 to check if you don't see any update after several days. You can also contact the Government Contact Center.
Even if the details are updated in the system, often this may not immediately show on your app. You may have to try restarting the mobile or clearing the app cache. You can find more solutions in the next article:
READ NEXT: Ehteraz App Not Updating: What You Can Do
Copyright © DohaGuides.com – Full or partial reproduction of this article in any language is prohibited.
---
FAQ On Ehteraz App Gold Frame
---
Can I get Ehteraz Gold Frame if I am vaccinated outside Qatar?
Yes, you can get your vaccination details updated on the MOPH system to get Ehteraz Gold Frame on the Ehteraz app.
How can I update my vaccine details on the Ehteraz app if I am vaccinated from outside Qatar?
You can get your vaccine details updated via the Ehteraz website or by sending your scanned vaccine certificate to [email protected] with your personal details.
---
You May Also Like:
---