Doha Guides Team regularly reviews this article to ensure the content is up-to-date and accurate. The last editorial review and update was on 9 September 2023.
Qatar has well-defined labour laws concerning paid sick leaves for workers. In the case of female employees, the law has also included provisions for maternity leave. This article will cover the following important sections of the Qatar Labour Law on sick leave and maternity leave.
What is Sick Leave?
Sick leave is traditionally a paid time off from work provided voluntarily by an organization to its employees. Often this can be beneficial to both the employer and the sick employee. Sick people coming to work pose a risk of spreading disease to others. Offering paid sick leave can help prevent the spread and keep employees productive.
Qatar Labour Law on Sick Leave
Article 82 of Qatar Labour Law discusses workers' sick leave and related topics. According to the article, a worker shall be entitled to sick leave with pay for every year of the years of his service.
The following are the conditions for granting sick leave:
Sick leave shall only be granted after three months have passed since the first day of work.
A medical report from a competent physician approved by the employer should be provided.
As a general practice, when a worker is absent due to illness, he or she must notify the employer as soon as possible, either by himself or another person.
Salary During Sick Leave
The payment of wages during sick leave will be as follows:
The worker shall receive his full salary if the sick leave is less than two (2) weeks.
The worker shall receive half his wage for the next four (4) weeks if the sick leave continues.
Any further extensions will be without pay until the worker returns to work, resigns, or is terminated for health reasons.
| Sick Leave Period | Salary Payable |
| --- | --- |
| Up to 2 weeks | Full salary |
| Week 3 to week 6 | Half salary |
| Week 7 onwards | No salary |
Salary payable during sick leave
Termination Due To Sickness
At the end of the twelfth (12) week of sick leave, the worker's service may be terminated if it is determined by a competent physician that he is unable to resume his duties.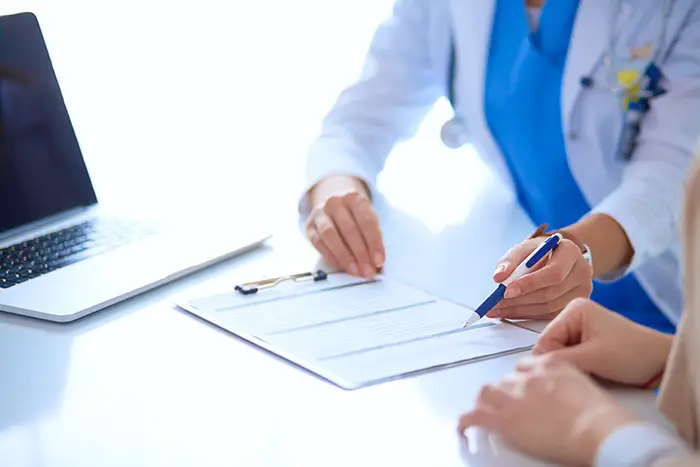 Resignation Due To Sickness
If the worker resigns from work because of sickness (with the approval of a competent physician) before the end of six weeks to which he is entitled to sick leave with pay, the employer shall pay the worker the balance of his entitlement.
Death Due To Sickness
Similarly, if the worker dies due to sickness before the end of six weeks to which he is entitled to sick leave with pay, the employer shall pay the worker's family the balance of his entitlement.
Effect on End of Service Benefits
Termination, resignation or death due to sickness shall not affect the worker's end-of-service benefits. A worker taking sick leave for a period of twelve weeks shall not be deemed to constitute an interruption of his continuous service.
---
Qatar Labour Law: Maternity Leave
According to Article 96, a female worker who has spent a whole year in service with the employer shall be entitled to maternity leave with remuneration for a period of fifty (50) days.
A medical report from a licensed physician stating the expected delivery date is required before leave can be granted.
These 50 days include the prenatal (before delivery) and postnatal (after delivery) period, provided that the postnatal period is not less than thirty-five (35) days.
If the remaining leave period after delivery is less than thirty days, the female Worker may be granted a complementary leave from her annual leave. Otherwise, the complementary period will be leave without pay.
Note: Availing of maternity leave shall not prevent the female worker from entitlement to any other leave.
Salary During Maternity Leave
A pregnant female worker is entitled to her full salary during her maternity leave.
What if a woman cannot return back to work after delivery?
A woman unable to return to work following delivery is considered to be on leave without remuneration if her health conditions do not permit them to do so.
In this case, she may not be absent for more than sixty (60) consecutive or interrupted days. She must also present a medical certificate from a licensed physician confirming her medical condition.
Please note that the Qatar Labour Law rules do not apply to domestic workers and those under personal sponsorship. The rules for employees at public sector companies and government workers are also not covered under the Labour Law.
---
Frequently Asked Questions
---
How many days of sick leave are allowed in Qatar?
A worker who has completed three months of service can get up to two weeks of sick leave with full salary. He can also get another four weeks of sick leave with half salary. A medical certificate is required in either case.
How many days of maternity leave can a woman get in Qatar?
Pregnant female employees can get 50 days of maternity leave with full pay. Out of this, the postnatal period should not be less than 35 days.
Disclaimer: The information posted above should only be used as a reference. For more updated guidelines, please contact Qatar Labour and the appropriate authorities.
---
Related Articles:
Copyright © DohaGuides.com – Unauthorized reproduction of this article in any language is prohibited.
Reference: Qatar Legal Portal
---