Qatar's Government Communications Office (GCO), in cooperation with the Ministry of Administrative Development Labour & Social Affairs, has launched an automated WhatsApp messaging service to clarify Qatar's labour laws and regulations for employers and employees.
Whatsapp Service for Qatar Labour Law
The new, free service is a helpful source of up-to-date, reliable information for employers and expatriate workers about their rights, Qatar Visa Centres, and answers to the most frequently asked questions about Qatar Labor Law.
This 24-hour information service is an automated chatbot in six languages: Arabic, English, Urdu, Hindi, Nepali, and Malayalam.
How to Subscribe to Whatsapp Service for Qatar Labour Law
You can subscribe to this free service by adding the WhatsApp number +974 6006 0601 in your phone contacts, and then sending " Hi " as a WhatsApp message.
The service can also be easily activated by clicking on this link: https://wa.me/97460060601?text=Hi
Once you activate the service by sending a Hi, it will allow you to select from six languages.
1 Arabic
2 English
3 Urdu
4 Hindi
5 Nepali
6 Malayalam
Choose one of the following options by typing the number in front of it. For instance, type 2 for the English language.
Next, you will get the option to choose from relevant topics like:
Know your rights
Apply through Qatar Visa Centre
Application status
Key Question & Answers  
Important numbers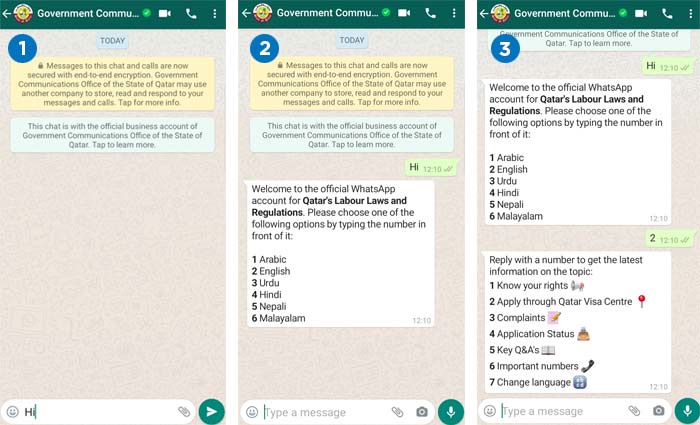 For example, if you want to select the option "Know your rights", type 1 and send the message. It would show the following options:
1 Full removal of exit permits for expatriates
5 COVID-19 regulations
6 Restriction on summer working hours between 15th June and 31st August
7 New measures to prevent passport confiscation
8 Joint committees
9 Labour inspection Policy and occupational safety and health
10 Shelters
Further, if you type 1 and send the message, you will receive a brief explanation about the removal of exit permits:
Full removal of exit permits for expatriates
Exit permits were removed in 2018 and expanded to include all workers in 2020.
The only exceptions include members of the armed forces and a number of the company's workforce in special roles.
To protect the rights of both employers and domestic workers, they must notify employers at least 72 hours before their departure.
The law states that expatriates have the right to leave the country temporarily or to depart from the country permanently during the validity of the labour contract and without first obtaining permission from their employers.
The employer also has the right to submit a prior reasoned request to the Ministry of Administrative Development, Labour, and Social Affairs, including the names of those whom they deem necessary to obtain prior approval before leaving the country due to the nature of their work, provided that it does not exceed 5% of employees.
You can go back to the previous menu by typing 0.
The below video from Qatar Government Communications Office has a brief introduction to the WhatsApp Service for Qatar labour law:
"An automated WhatsApp messaging service has been launched today by Qatar's Government Communications Office (GCO) in cooperation with Ministry of Administrative Development Labour & Social Affairs, to provide clarity for employers and employees regarding Qatar's labour laws and regulations," GCO tweeted.
"We were encouraged by the high numbers of people using the GCO's Coronavirus Information Service on WhatsApp and saw an opportunity to do something similar for our labour reform program," the GCO said.
"We recognize how important it is to raise awareness of our labour laws and regulations using various channels. By providing this information on a popular platform in multiple languages, we believe the WhatsApp service will become another useful resource to keep people informed across the country," added the GCO.
READ NEXT: How To Change Jobs in Qatar
---
Related Articles:
Copyright © DohaGuides.com – Full or partial reproduction of this article in any language is prohibited.
---