Qatar's Ministry of Education and Higher Education now requires all students to obtain a "Fit to Join School Certificate" for enrolling in school. This article explains step by step process of how to do the medical test for school admission.
What is Fit to Join School Certificate?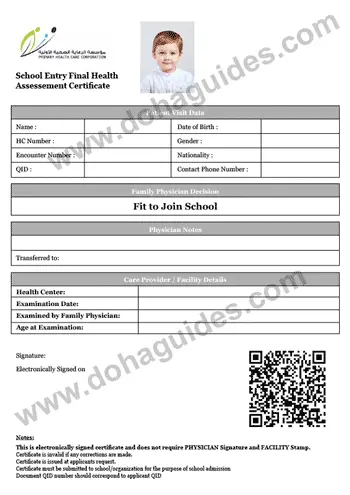 Fit To Join School certificate (School Entry Health Assessment Certificate) is an official document confirming that a child is physically fit to join the school.
The certificate is issued by Government Health Centers across Qatar that fall under the Primary Health Care Corporation (PHCC).
Medical assessments including physician's examination, dental checkup and a blood test would be required to obtain this certificate.
The Fit To Join certificate is now mandatory for students transferring within Qatar as well as all new students who are coming from overseas.
If you are a parent, please check with your child's school to know if "Fit To Join School Certificate" is required.
Documents Required
The following documents of the child are required to do the medical test for school admission:
How To Do Medical Test For School Admission
Step 1: Call 107 to fix an appointment
You would be asked to provide the Health Card number and Health Center. You can choose your convenient date and time from the available slots.
Step 2: Visit Heath Center
On the appointment date, the child and parent has to visit the Heath Center with the required documents.
Step 3: Register at the Reception
You would have to provide all the documents mentioned above. They would prepare a file and advise you on the next steps.
Step 4: Go for Nursing Assessment
At the Assessment Room, the nurse will check your child's height, weight and vital signs. A vision test would be conducted. All vaccination records would be reviewed. A Social Worker or the nurse will ask the parent some questions about the child's development.
Step 5: Go for Blood Checkup
At the Laboratory Room, the child's blood sample would be taken. The blood results would be ready in 15-30 minutes.
Step 6: Go for Dental Checkup
At the Dental Clinic, the Dentist would examine the child's dental health and oral hygiene. You would be advised if any further treatment is needed.
Step 7: Go to Family Physician
The family physician would conduct a physical examination of the child. He would also check the nurse's assessment, social worker's evaluation and blood test results. He would advise you if the child needs any further checkups or treatment.
Step 8: Collect SEHA Certificate and Student Health Record
Once the Family Physician's assessment is completed you can collect the Fit To Join School Certificate (also known as Fit For School Certificate) and Student Health Record from the Main Reception.
The Student Health Record is a useful document with detailed results of all the assessments done on the day.
Step 9: Visit Nursing Assessment Room to affix photographs
The nurse will fix the child's photographs on the certificates and stamp them. The whole process takes around two hours.
You can submit this Fit To Join certificate at your child's school. PHCC will communicate the results of this medical assessment with the Ministry of Education and Higher Education through an online portal.
The health record of the student is valid for enrolment for two years from the date of issuing the final health report for the examination.
PHCC has confirmed that all health centres are ready to receive students and parents to facilitate all required procedures, and called on all parents and visitors to adhere to all precautions to ensure their safety and that of students.
The Corporation's team has developed mechanisms and procedures for medical examination to register in schools so that examination procedures are carried out through only one visit and according to specific dates to reduce students attendance to health centres in order to ensure their safety while applying all precautionary measures.
Copyright © DohaGuides.com – Full or partial reproduction of this article in any language is prohibited.
---
You May Also Like:
---