Doha Guides Team regularly reviews this article to ensure the content is up-to-date and accurate. The last editorial review and update were on 11 October 2023.
In September 2022, Saudi Arabia announced new regulations that enable GCC residents the option to apply for an eVisa. The ministerial decree signed by the Minister of Tourism Ahmed Al-Khateeb has made it quicker, easier and more accessible to visit Saudi Arabia.
The new decree means that Qatar residents can now apply for a Saudi visa, without having to visit the Saudi Embassy in Doha. In this article, we will be explaining the requirements, fees and step-by-step instructions on how to apply online for a Saudi visa for Qatar residents.
Recent Updates
09 MARCH 2023 UPDATE: Saudi Arabia has announced that all expatriate residents in GCC countries, irrespective of their profession, will be allowed to obtain a tourist visa.
The decision was announced by the Ministry of Tourism. "Expatriate residents in GCC countries by applying through the "Visit Saudi" platform to obtain an electronic tourism visa, provided that the residence permit is valid for no less than three months.
---
Saudi Visa For Qatar Residents: Eligibility Requirements
The passport should be valid for at least 6 months.
Qatar ID should be valid for at least 3 months.
Health insurance must be applied through the eVisa application platform.
For children under 18, the parent is required to apply first.
Visa Validity
The multiple-entry visa is valid for one year (365 days) from the issue date. You can stay for up to 90 days (total) during this one year.
To stay in Saudi Arabia for more than 3 months, or for other travel purposes, a visa must be obtained through the embassy.
Required Documents
The following should be ready before you start applying:
Recent passport-sized photo with a white background, taken in formal/modest clothing
Scanned Passport
Scanned Qatar ID card
Credit/debit card for online payment
Email address to receive the approved eVisa
Saudi Visa For Qatar Residents: Cost
The total cost for a Saudi Visa for Qatar Residents (including service charges) is around QAR 329. Medical insurance must be obtained from the visa platform and costs extra.
Below is a breakdown of the costs:
| Fees | Cost (QAR) | Cost (USD) |
| --- | --- | --- |
| Visa Fee (Saudi Riyal 300) | 290.61 | 79.85 |
| Electronic Visa Processing Fee | 36.40 | 10 |
| Banking Service Fee | 1.82 | 0.5 |
| Health Insurance | Extra | Extra |
---
How To Apply For Saudi Visa For Qatar Residents
The visa application process will be entirely online on the Saudi Government's Unified National Visa Platform. Qatari residents must apply for the e-visa at least 5 days before going to Saudi Arabia. Travellers are advised to allow extra time in case of unexpected delays.
Step 1: Go to the Saudi Visa Platform Website
The link is https://visa.mofa.gov.sa/
If you see the Arabic page, click on the "E" icon (blue circle) on the top left to change to English.
Step 2: Click on "Login" and select "Individuals Login"
You can see the option on the top right of the page.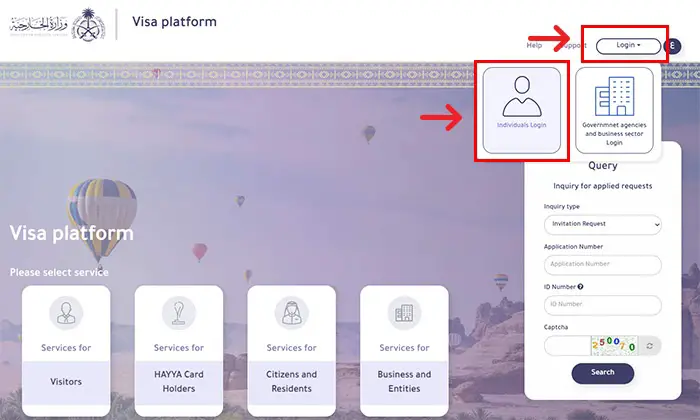 Step 3: Log in or Register on the platform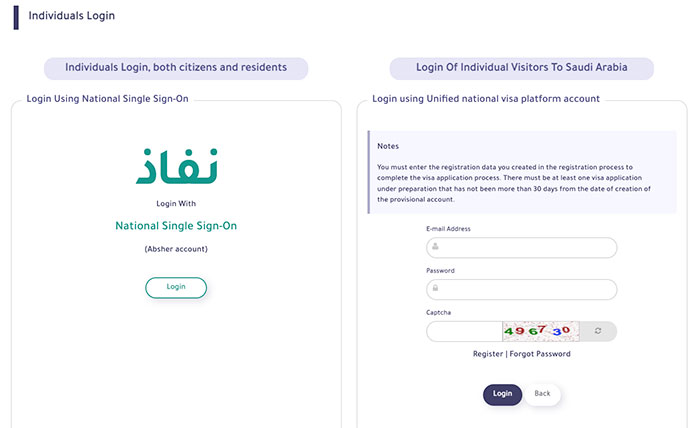 If this is your first time, click the "Register" link. You can register using your email address.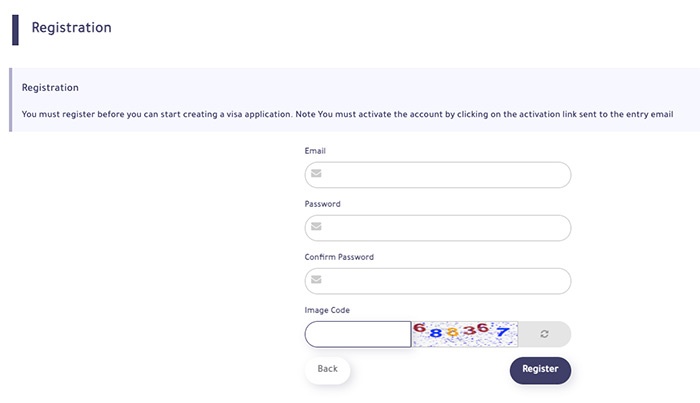 You will receive an email for activation. Click on "Activate".
Once registered, you can log in using your email and password.
Step 4: Click on "Add New Application"
You can find this on the right side of the dashboard.

Step 5: Click "Agree" to the terms and conditions
Read the Online e-Payment Services Agreement and click "Agree".
Read the Agreement and click "Agree".
Step 6: Fill up the application details and upload a photo

Visa Type: Select "Tourism Visit". Even if you select Tourism Visit, you can do Umrah.
Transport Mode: Select Air, Land, or Sea. When you choose the type of transport, it does not mean that you have to come" through it. So please choose the expected transport.
Country of Residence: Non-Qatari
Saudi Mission: Select "Doha".

Enter your personal information. First Name and Last Name are mandatory. You can leave other fields blank.
Upload your photo. The photo must have a white background and be with uniform lighting.
Step 7: Select Nationality and "GCC Residence" option
Once you enter your nationality, you can see a question with some choices.

For GCC Residents' Visit Visa, select "A valid residence for a period of no less than three months in the countries of the Cooperation Council for the Gulf Countries, including domestic workers who come with their sponsors".
Step 8: Enter QID details and upload documents
Residence Or Visa Number: Enter your Qatar ID number
Residence Or Visa Expiry Date: Enter your Qatar ID expiry
Issuing Country: Qatar
Upload your passport and Qatar ID copy. The files can be in JPG or PNG format, with a maximum size of 1 MB.
Step 9: Enter passport details and address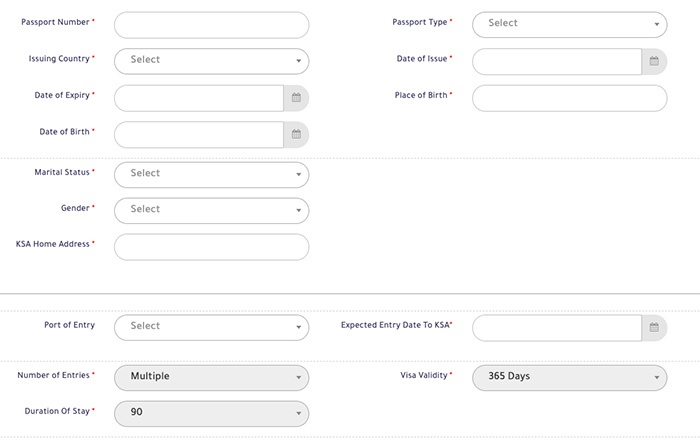 Enter your passport number, passport type, issuing country, date of issue, date of expiry, place of birth, date of birth, marital status, gender, and address in Saudi Arabia (KSA Home Address).
You must also give travel details like port of entry and expected entry date to KSA. If travelling by air, enter your airport city. If travelling by land, you may choose "Dammam" or "Dhahran" as your port of entry.
You have to select if you want to perform Umrah. Choosing to perform Umrah is to facilitate the services provided to you and does not require any additional requirements, also it does not negatively affect the result of the request, and it enables you to perform Umrah during the year except the Hajj season.
You should also give your travel history for the past five years (country, purpose and dates).
Review your details and click "Save".
Step 10: Purchase medical insurance
You may be required to purchase medical insurance from the visa platform.
On this page, you must enter medical insurance information, including entry date, address, mobile number and some basic health questions.
Step 11: You will receive updates in your email
Your visa application will be reviewed, and status updates will be sent to you by email. Usually, the process takes less than 24-48 hours.
On approval, applicants receive the Saudi Arabia visa by email. They should print the visa ready to present to immigration officials at the border.
The Saudi Visa documentation is uploaded digitally. Travellers do not need to present paperwork at a Saudi Arabia embassy or consulate.
Applying For Dependents
For children under 18 years, parents must apply for their eVisa first, and then reapply for minors.
Take note that if you are applying for your spouse, children, or any other first-degree relatives who are unemployed, you must input the same occupation you used for yourself.
Airport For eVisa Holders
Visitors with a Saudi eVisa can fly from Doha to the following Saudi Arabian airports:
King Khalid International Airport (RUH), Riyadh
King Abdulaziz International Airport (JED), Jeddah
King Fahd International Airport (DMM) Dammam
Prince Mohammed Bin Abdulaziz International Airport (MED), Medina
Other Notes
Qatari passport holders (and other GCC citizens) do not need a visa for Saudi Arabia.
All other foreign visitors must have a visa to enter Saudi Arabia, even for short stays.
GCC residents with any passport/nationality can apply for an eVisa.
This visa will also allow you to perform Umrah.
In case the visa gets rejected, the processing charges are non-refundable.
Saudi Visa Helpline
For more information on Saudi Visa, you can call the Saudi Tourism helpline for Qatar at: 00800101091
For technical support in case of any error, please call +966 920011114.
You can also contact using email [email protected]
READ NEXT: Tasheer Saudi Visa Service Center in Qatar: Complete Guide
---
Frequently Asked Questions
---
Do Qatar residents need visas for Saudi Arabia?
Yes, Just like all expatriates living in GCC countries, Qatar residents should also apply for a visa to enter Saudi Arabia.
How much is the fee for a Saudi Visa for Qatar Residents?
The visa application will cost 300 Saudi riyals ($80), excluding the health insurance fee.
How long is the Saudi visa for Qatar residents valid?
The multiple-entry Saudi eVisa is valid for a year, with the total period of stay in the kingdom allowed up to 90 days.
---
Related Articles:
Copyright © DohaGuides.com – Full or partial reproduction of this article in any language is prohibited.
---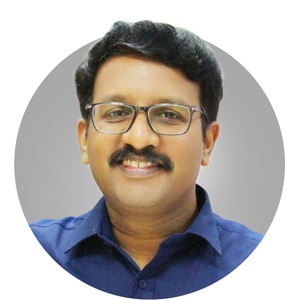 Aneesh, the Founder & Editor of DG Pixels, holds a Master's Degree in Communication & Journalism, and has two decades of experience living in the Middle East. Since 2014, he and his team have been sharing helpful content on travel, visa rules, and expatriate affairs.