Being one of the most visited cities in the world, Dubai offers visitors the perfect mix of a cosmopolitan city with traditional aspects of the local culture. Citizens of all GCC countries can travel to UAE without a visa. However, expatriates who are residing in GCC countries like Qatar should apply for a tourist visa to visit Dubai or other emirates in the UAE.
You can either apply for a UAE visit visa yourself through the Federal Authority for Identity, Citizenship, Customs and Port Security (ICP Smart Services) or the General Directorate of Residency and Foreigners Affairs (GDRFA Dubai). Another option is to be sponsored by a UAE resident.
In this article, we will explain the requirements and step-by-step process to apply Dubai Visa for Qatar Residents using the Dubai Government's GDRFA website.
Dubai Visa For Qatar Residents: Eligibility Requirements
The passport must be valid for at least 6 months after the arrival date.
The Qatar ID must be valid for at least 3 months from the arrival date
The profession should be mentioned on the Qatar ID.
The visitor should be arriving from a GCC country.
The visitor should not have any restrictions preventing his/her entry to the UAE.
Although it is not stated, some blue-collar professions (such as labour, cleaner, etc.) may not be eligible without a sponsor. The approved list of professions is not publicly available.
Dubai Visa Requirements For Qatar Residents
The following are the requirements to apply for a Dubai visa for Qatar residents:
Passport
Qatar ID
A credit/debit card to pay the entry fee
Dubai Tourist Visa Fee
The total cost for Dubai Visa for Qatar Residents (including all charges) will be AED 252.50. The breakdown is as follows:
| | |
| --- | --- |
| Application Fee | 100 |
| Issuance Fee | 100 |
| Service Fee | 50 |
| Service Fee (VAT) | 2.50 |
| TOTAL | AED 252.50 |
Qatar Residents Dubai Visa Validity
The entry permit issued to Qatar residents is valid for 30 days from the date of issue, and they are allowed to stay for 30 days. Visas are extendable once for a period of 30 days
How To Apply Online Dubai Visa For Qatar Residents
Step 1: Go to the GDRFAD website
The website link is: www.gdrfad.gov.ae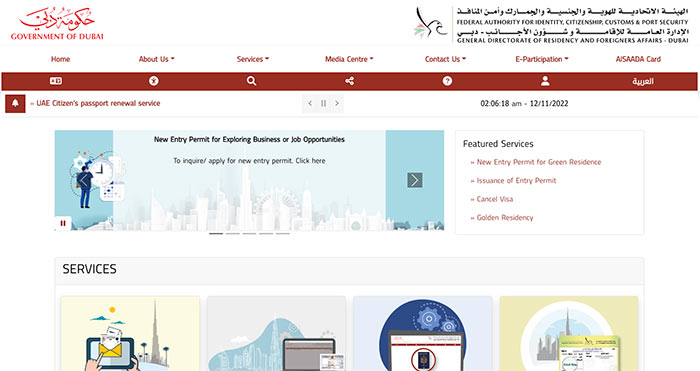 Step 2: Click on the "face icon"
You can find this below the "E-Participation" link.

Step 3: Click on the "Individuals" tab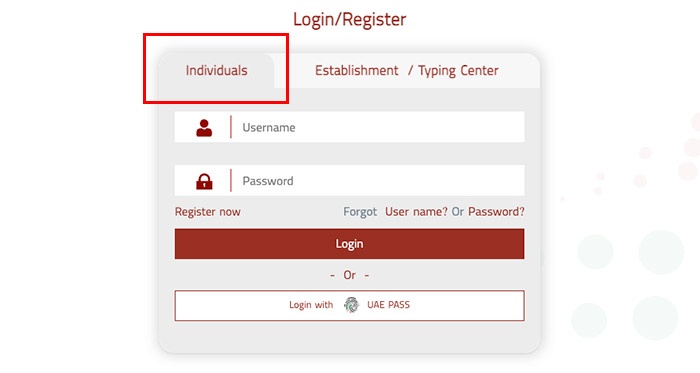 Step 4: Click on "Register Now"
If you are a first-time user, click on "Register Now". Or else you can login using your account credentials.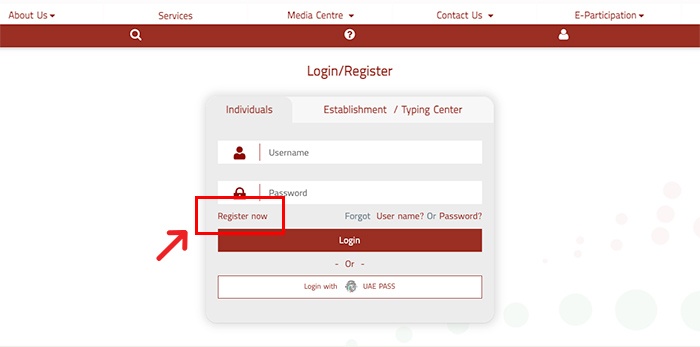 Step 5: Register as a New User
Select the "Email" tab, as you will register using your email ID.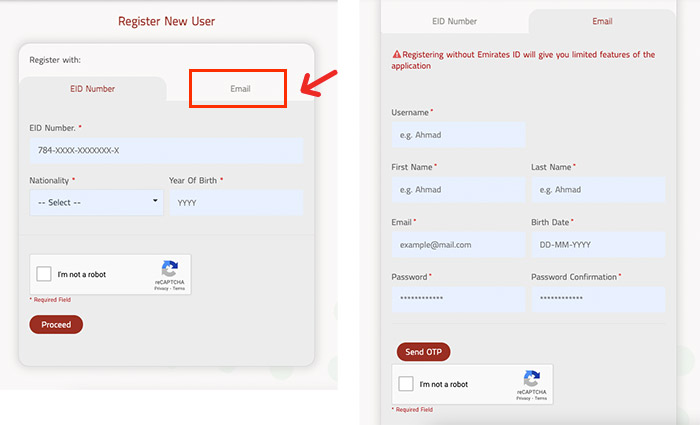 Choose a username, and enter your first name, last name, email, date of birth and password.
Click on "Send OTP".
You will receive a verification code in your email.
Enter that OTP and click "Register".
Now log in using your username and password. Make sure to choose the "Individuals" tab as "Establishment / Typing Center" would be selected by default.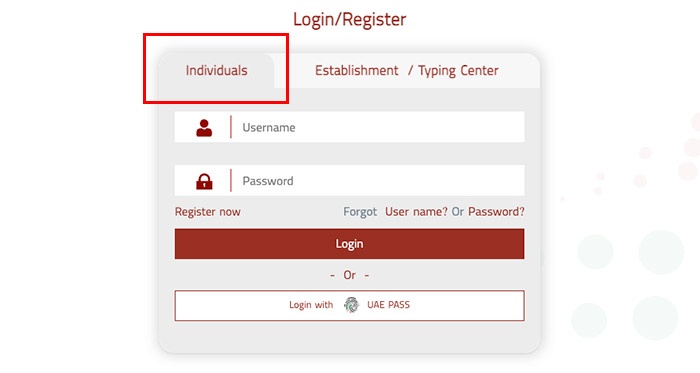 Agree to the terms and conditions by clicking "OK".
NOTE: If you see any error, click on your username and select "Dashboard"
Step 6: Click on "New Application"
You can see this as a green button on your dashboard.

Step 7: Select "New GCC Entry Permit"
Select the "New GCC Entry Permit" option from the drop-down. Click on "Apply".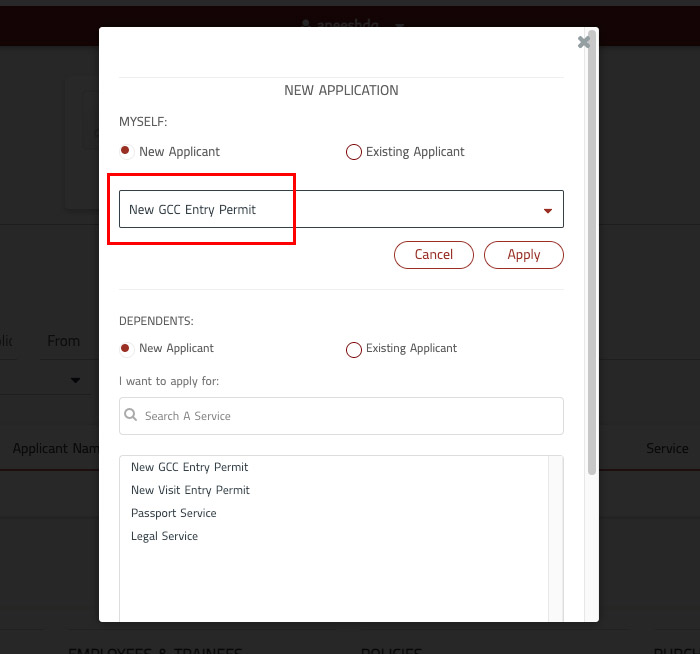 Step 8: Enter your details in the application form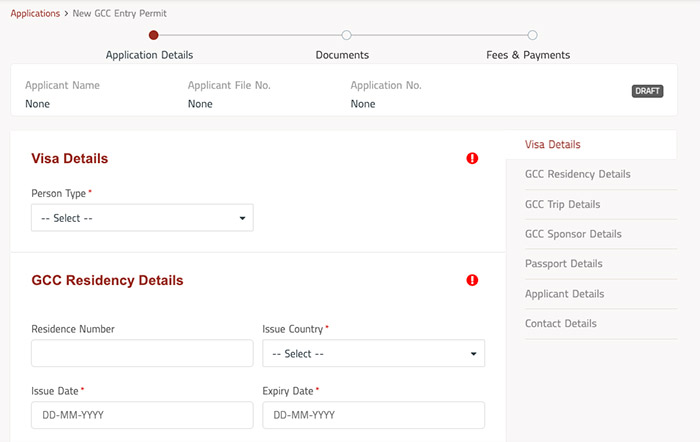 Visa Details: The Person Type will be "GCC Residents".
GCC Residency Details: The Residence Number will be your QID number. For Issue Country, select "109-Qatar". Enter the Qatar ID issue date and expiry date.
GCC Trip Details: Enter your travel details like the port of arrival, date of arrival, arrival from, and booking reference number (flight ticket reference number).
GCC Sponsor Details: Enter your Qatari sponsor details like sponsor type, sponsor name, and address.
Passport Details: Enter your passport details like type, number, current nationality and previous nationality. Click on "Search Data". If no data is found, you will need to manually enter the data.
Note that for a UAE visa, you must enter three names, including the name of your father. Arabic names will automatically be filled in. If not, click on the English to Arabic symbol.
Applicant Details: Enter your personal details like your mother's name, marital status, religion, faith, education, profession and first language.
Contact Details: Enter your contact details like email, mobile number, and address inside UAE. If you are staying in a hotel, give the hotel's address.
Click on "Continue".
Step 9: Upload your documents
You will need to upload the following:
Personal Photo: Passport size photo
Sponsored GCC Residency: Qatar ID front and back
Sponsored Passport Page 1: First page of your passport
The file types allowed are JPG, PNG and PDF. The maximum size of each file is 100 KB.
If you have more documents, you can upload them as "Others".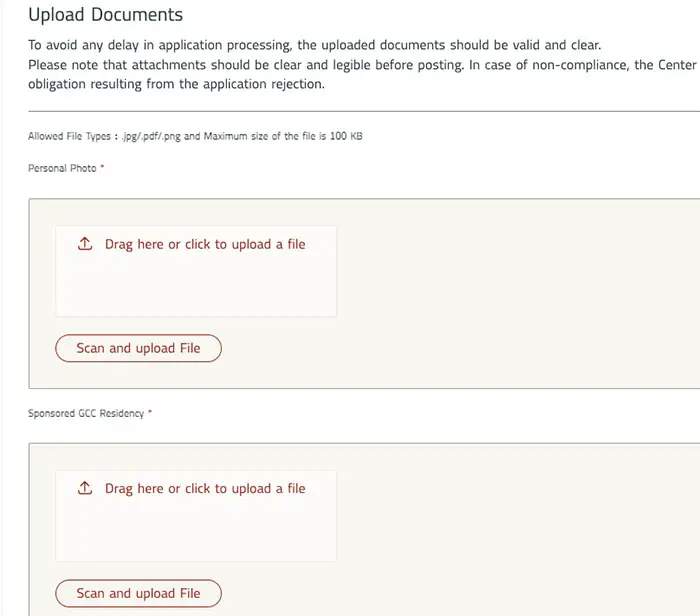 To avoid any delay in application processing, make sure the uploaded documents are valid and clear.
Step 10: Pay the required fee
The final step is to pay the visa fee using a bank card (credit or debit). The total fee is AED 252.50.
You will receive the updates by email. Once your application has been approved, the electronic visa will be sent to your registered email address.
Processing Times
Usually, the process takes 24 to 72 hours from the time of submitting the application and completing the payment of the fee.
How To Track The Visa Status
You can track the status of your application by going to your dashboard and clicking on "Status Inquiry".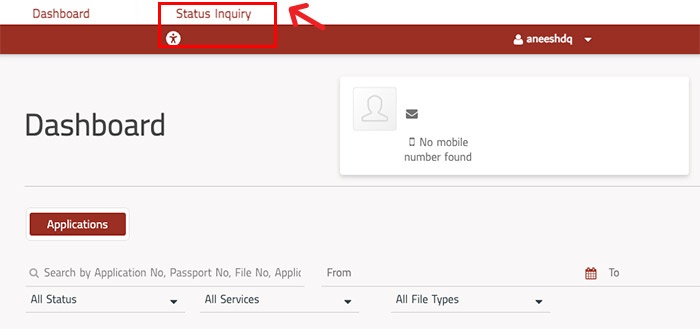 How To Apply Dubai Visa For Dependents
Once the main applicant's visa is approved, you can apply for dependents using the same account.
From the dashboard, click on "New Application".
Under Myself, select "Existing Application".
Under Dependents, select "New Applicant".
Follow the same process. For GCC Sponsor details, provide your details.
---

Make your trip to Dubai unforgettable! Check the latest offers from Qatar Airways, Qatar's own 5-star airline, rated as one of the best in the world.  With its reputation for luxury, comfort, and a wide-reaching global network, booking with Qatar Airways ensures an extraordinary travel experience.
---
Fine For Dubai Visa Overstay
Fine for overstaying a Dubai visit visa is AED 100 per day plus AED 200 for an outpass.
In case the overstaying is less than 30 days, you can pay either at Dubai Airports while exiting the country or at GDRFAD Headquarters.  In case if it is more than 30 days, you can pay only at GDRFAD Headquarters.
Countries Eligible For Dubai Visa On Arrival
Please note that citizens of the following countries are eligible for a Dubai visa on arrival and do not need to apply:
30-day visa-free entry requirement
Passport holders of the below countries do not require any pre-arranged visas. Your passport will be stamped with a free of charge, 30-day visit visa after arriving at the Dubai International airport.
Andorra
Australia
Brunei
Canada
China
Hong Kong, China
Japan
Kazakhstan
Macau, China
Malaysia
Mauritius
Monaco
New Zealand
The Republic of Ireland
San Marino
Singapore
Ukraine
The United Kingdom of Great Britain and Northern Ireland
The United States of America
Vatican City
90-day visit visa requirement
Passport holders of the below country will be stamped with a multiple entry 90-day visit visa which will be valid for 6 months from the date of issue and for a total stay of 90 days.
*Citizens of the below European countries will also be eligible to apply for a pre-arranged visit visa if their 90-day visa on arrival has been fully utilized.
| | | |
| --- | --- | --- |
| Argentina | Austria* | Bahamas Islands |
| Barbados | Belgium* | Brazil |
| Bulgaria* | Chile | Colombia |
| Costa Rica | Croatia* | Cyprus |
| The Czech Republic* | Denmark* | El Salvador |
| Estonia | Finland* | France* |
| Germany* | Greece* | Honduras |
| Hungary* | Iceland* | Italy* |
| Kiribati | Latvia | Liechtenstein* |
| Lithuania | Luxembourg* | The Maldives |
| Malta* | Montenegro | Nauru |
| The Netherlands* | Norway* | Paraguay |
| Peru | Poland* | Portugal* |
| Romania* | The Russian Federation | Saint Vincent and the Grenadines |
| San Marino | Serbia | Seychelles |
| Slovakia* | Slovenia* | Solomon Islands |
| South Korea | Spain* | Sweden* |
| Switzerland* | Uruguay | Israel |
180-day visit eligibility
If you hold a Mexican passport, you're eligible for a multiple entry 180-day visit visa that's valid for 6 months from the date of issue and for a stay of 180 days in total.
Source: Fly Dubai
Important Notes:
A Qatar resident whose profession has changed after receiving his entry permit will not be allowed entry.
In the event the Qatar ID is expired or cancelled upon arrival, the visa holder will not be granted entry to the UAE.
Visitors not holding return/onward tickets could be refused entry.
Passengers accompanying a "GCC Resident" or a "GCC Citizen" must travel with the sponsor in order to use the e-visa. This includes children, housemaids and unemployed applicants.
---
Frequently Asked Questions
---
Do Qatar residents need visas for Dubai?
Yes, Just like all expatriates living in GCC countries, Qatar residents should also apply for a visa to enter Dubai.
How much is the fee for Dubai Visa for Qatar Residents?
The total fee including all charges is AED 252.50.
---
Related Articles:
Copyright © DohaGuides.com – Unauthorized reproduction of this article in any language is prohibited.
---