Amerni Qatar is a mobile application launched by the Ministry of Administrative Development, Labour and Social Affairs (MADLSA) for providing its services online. It aims to provide citizens and residents of Qatar access to the services of the Ministry of Administrative Development, Labor and Social Affairs in an easy and accessible manner.
The application allows them to avoid phone calls, to go to the Ministry's offices and to remotely access the information requested through:
Personal services such as those related to housing, security or family affairs.
Corporate services such as those related to employment or establishment data.
2023 UPDATE: The app seems to be discontinued as it is missing from Google Play Store and App Store. For related services please check the Ministry of Labour website or call government helpline on 109.
Who Can Use The Amerni App?
Amerni application can be used by all segments of society. It is aimed at serving citizens as well as residents who work in the private sector and labourers and includes drivers and domestic workers. The application is also useful for owners and representatives of private-sector establishments.
Users will now be able to file complaints against violating manpower recruitment offices, domestic workers can also file labour complaints, in addition to other services provided by the Labour Relations Department.
How To Register Amerni Qatar Mobile App
The app is available in the Arabic and English languages in App Store and Google Play.
To log in to the Amerni app, you would first need to register for Tawtheeq National Authentication System (NAS). Here is our detailed User Guide to Tawtheeq. You would use the same username and password to log in to the Amerni app.
Below are the steps to log in to the Amerni app:
Download the "Amerni Qatar" app from Google Play Store or Apple App Store
Change the default language if you want to (English is available on the top left)
Sign in with your Tawteeq (National Authentical System) account
Check if the information is correct and proceed
You can activate fingerprint if needed or else click Cancel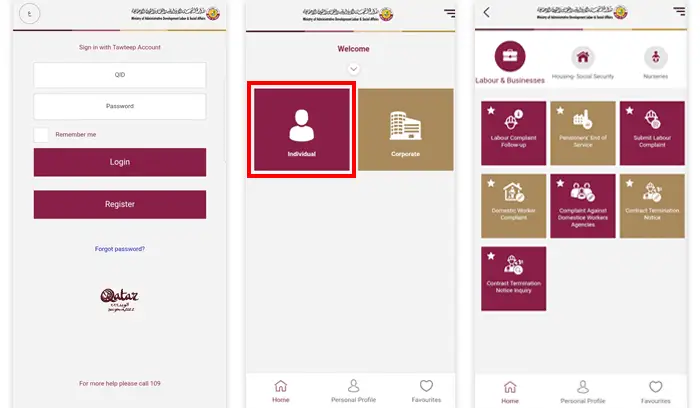 What Services Are Available on Amerni App?
Currently, there are more than 30 services available on the Amerni app. Services are divided into services targeting individuals and services targeting establishments.
Some of the services available on Amerni app are as below: 
Housing Application Follow Up
Rent Allowance Follow Up
House Purchase – Ownership Request
Title Deed Request
Instalment Exemptions Request
Labor Approval Request
Labor Residency Extension
Establishment Transactions Suspension Follow Up
Establishment's Inclusive Statistics
Labor complaint follow up – individual
Labor Complaint Follow Up – Corporate
Job Nomination Follow Up
Job Seeker's Registration Certificate
Nursery Location
Report Violation of Nurseries
House Loan Request
House Request for People in Need
Senior Staff Loan Variance Disbursement
Social Security Follow-Up
Social Security Documents
Labour approval Details Follow-Up
Inclusive Statistics Approvals
Updating Establishment Official's Data
Updating Establishment Branches' Data
House Keeping Complaint Request
Complaint against Labor Office
E-Notice Apply
E-Notice Inquiry
E-Notice Apply (Corporate)
E-Notice Inquiry (Corporate)
For full list of services, click here to see Mobile Application Guide.
---
FAQ On Amerni Mobile App
---
What is Amerni mobile app?
Amerni is a mobile app launched by Qatar's Ministry of Administrative Development, Labour and Social Affairs (MADLSA) to give citizens and residents access to their services.
How can I register for Amerni app?
You can login to Amerni app using the Tawtheeq (National Authentication Service) username and password.
How can I report an issue with Amerni app?
If you are facing any technical issue with Amerni app, you can call the government hotline on 109.
---
Related Posts:
Copyright © DohaGuides.com – Unauthorized reproduction of this article in any language is prohibited.
---