Qatar, a rapidly developing country in the heart of the Middle East, has invested heavily in its healthcare infrastructure in recent years. As a result, it boasts a comprehensive network of modern hospitals and healthcare facilities that cater to the diverse healthcare needs of its residents and expatriate population.
If you are a new resident of Qatar, you don't have to worry about the healthcare as Qatar has a robust healthcare system with many hospitals and medical centers available to its residents. Whether you need general medical care or specialized treatments, there are many options to choose from.
In this article, we will provide you with a detailed list of hospitals in Qatar, with a brief description of their services and contact details.
Government Hospitals In Qatar
Hamad Medical Corporation (HMC), which operates under the Ministry of Public Health, is the largest healthcare provider in Qatar, operating several hospitals across the country. Public hospitals under the Hamad Medical Corporation (HMC) offer excellent healthcare at reasonable rates.
Let's see these hospitals in detail:
Hamad General Hospital
Hamad General Hospital (HGH) stands as a contemporary healthcare institution, boasting a substantial capacity of 600+ beds, and it is dedicated to delivering highly specialized and intricate medical services to the residents of Qatar.
The hospital offers an extensive array of medical treatments and clinical services, encompassing trauma care, emergency medicine, pediatrics, critical care, specialized and sub-specialized surgical procedures, specialized medical treatments, laboratory medicine, diagnostic imaging, and adult rehabilitation services.
Having commenced operations in 1982, this hospital is renowned for its adept inpatient care, encompassing a sizable Outpatient Department housing more than 65 specialty clinics, a well-established Emergency Department, five intensive care units, eight state-of-the-art operating theaters, and a substantial pharmacy.
Contact: (+974) 4439 4444 from 7am to 3pm, Sunday to Thursday
HGH Website
---
Al Wakra Hospital
Al Wakra Hospital stands as an impressive general healthcare institution meticulously designed, constructed, and staffed to meet the evolving needs and expectations of the burgeoning community in Qatar's southern region.
Established in 2012 to serve the rapidly growing towns of Al Wakra and Mesaieed, Al Wakra Hospital initially operated as a general hospital. Today the hospital has a capacity for 325 beds, including 248 designated for general and acute patients and 77 reserved for critical care, high dependency, and burns patients. An additional 77 observation/day beds are also available.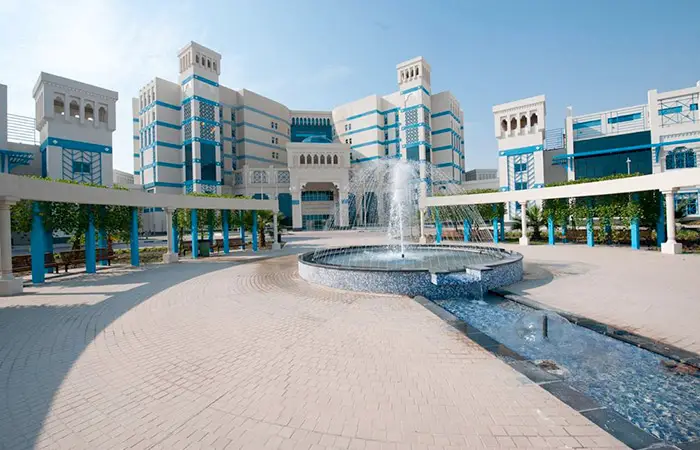 With a workforce of nearly 3,000 employees, including 200+ doctors across various medical specialties, and more professionals expected to join in the future, Al Wakra Hospital offers an impressive array of diagnostic and treatment services for outpatients, inpatients, and day stay patients of all age groups.
Contact: (+974) 4011 4422 from 7am to 3pm, Sunday to Thursday
Al Wakra Hospital Website
---
Rumailah Hospital
Rumailah Hospital is a comprehensive medical facility, offering a diverse range of medical, surgical, and long-term care services to the residents of Qatar. As an integral part of Hamad Medical Corporation (HMC), it places a strong emphasis on fostering a compassionate and curative atmosphere, prioritizing safe and high-quality patient-centered care.
Spanning seven different locations, Rumailah Hospital boasts an impressive capacity of 600+ beds and boasts a diverse workforce of 2,800+ employees hailing from various nationalities, working together to provide exceptional healthcare services.
Contact: (+974) 4439 3333
Rumailah Hospital Website
---
Al Khor Hospital
Al Khor Hospital, established in 2005, is a 115-bed general hospital affiliated with Hamad Medical Corporation (HMC). It serves as one of HMC's community hospitals, dedicated to delivering top-tier specialized healthcare to the population residing outside of Doha.
With a steadfast commitment to the well-being of the diverse and expanding community in northern Qatar, Al Khor Hospital seamlessly integrates medical care, education, and research into its core mission.
Contact: (+974) 4474 5555
Al Khor Hospital Website
---
Women's Wellness and Research Center
Women's Wellness and Research Center (WWRC) is an integral component of the Hamad bin Khalifa Medical City, a purposefully designed campus strategically situated in the heart of Doha.
As the nation's most extensive women's tertiary hospital, the WWRC boasts an impressive array of amenities. These include a spacious Emergency Department, complete with an expanded visitor waiting area, along with seven state-of-the-art Operating Theatres.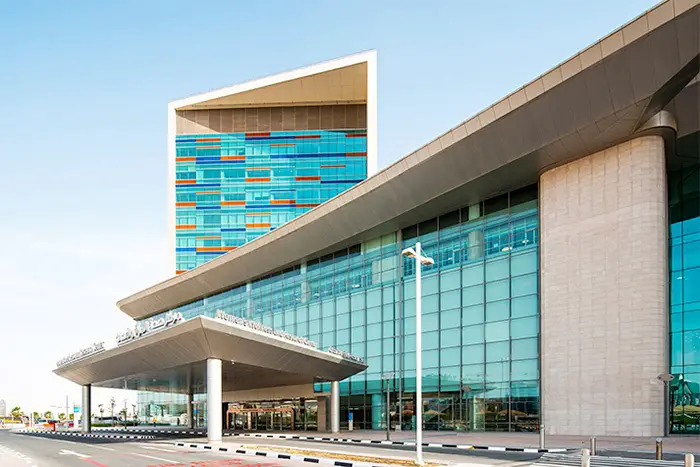 Furthermore, the hospital features a total of 26 Labor and Delivery rooms, ensuring comprehensive maternity care. For inpatient stays, WWRC provides 240 private rooms, each equipped with its own bathroom. Additionally, the facility houses several specialized outpatient clinics dedicated to Obstetrics and Gynecology.
This exceptional medical center is staffed by a dedicated team of over 2,000 highly trained clinicians.
Contact: Nesma'ak – 16060 (24 hours a day, seven days a week)
WWRC Website
---
The Cuban Hospital
Situated in Dukhan, The Cuban Hospital had its official inauguration on January 10, 2012. This institution stands as a collaborative endeavor between the government of the State of Qatar and the government of the Republic of Cuba.
The hospital boasts a dedicated and skilled workforce comprising over 400 Cuban medical professionals, including doctors, nurses, and technicians specializing in various disciplines such as rehabilitation, dentistry, pathology, biomedicine, and radiology. The efforts of this medical team are further complemented by local staff and contracted personnel.
Contact: (+974) 40247777
Cuban Hospital Website
---
Hazm Mebaireek General Hospital
Hazm Mebaireek General Hospital (HMGH) represents a cutting-edge community general hospital specifically designed to cater to the healthcare needs of our adult male patients. It stands as our latest healthcare facility, fully committed to delivering the highest standards of care and services to the local community it serves.
As an integral part of the Hamad Medical Corporation's extensive network of hospitals, this newly established hospital is poised to offer a comprehensive range of medical services, encompassing both inpatient and outpatient care. In addition, the hospital will handle select surgical cases, including general surgery, as well as less complex procedures in orthopedics, plastics, and urology.
Contact: (+974) 44395777
HMGH Website
---
Aisha Bint Hamad Al Attiyah Hospital
Aisha Bint Hamad Al Attiyah Hospital (AAH) is a community hospital under the Hamad Medical Corporation, situated in the northern region of Qatar, just south of Al Khor.
AAH commenced its operations in November 2022 by receiving its first outpatients. Its full operational rollout is scheduled to occur in a phased manner, with completion expected in the middle of 2023. Upon reaching full operational capacity, the hospital will offer 300 single-occupancy inpatient beds, with 232 allocated for general and acute care patients and the remaining 68 designated for critical care patients.
AAH played a key role in supporting the healthcare sector's delivery of healthcare services during the FIFA World Cup Qatar 2022. It was one of four HMC hospitals with designated urgent care units for fans.
This comprehensive medical facility boasts a wide range of services, including an emergency department, surgical theaters, obstetrics and gynecology services, neonatal intensive care, outpatient clinics, a state-of-the-art robotic pharmacy, laboratory services, and purpose-built VIP inpatient and critical care rooms.
Contact: Nesma'ak – 16060 (24 hours a day, seven days a week)
AAH Website
Speciality Clinics Under HMC
In addition to the above hospitals, HMC also has the following speciality clinics:
National Center For Cancer Care & Research
Heart Hospital
Communicable Disease Center
Enaya Specialized Care Center 
Qatar Rehabilitation Institute
Qatar Metabolic Institute (QMI)
Ambulatory Care Center
---
Private Hospitals in Qatar
In addition to these government hospitals, there are a number of private hospitals in Qatar. Some of the best ranked hospitals in Qatar are as below:
General Private Hospitals In Qatar
Al-Ahli Hospital
Al Emadi Hospital
Aman Hospital
Aster Hospital
Doha Clinic Hospital
Turkish Hospital
The View Hospital
Speciality Private Hospitals In Qatar
We have created a detailed article with details about each private hospital. Here is our guide to the best private hospital in Qatar.
Qatar's healthcare system boasts a mix of government and private hospitals, all dedicated to providing high-quality medical services. These institutions, both public and private, collectively contribute to making Qatar a hub for advanced healthcare and medical innovation in the Middle East.
---
You May Also Like:
Copyright © DohaGuides.com – Full or partial reproduction of this article in any language is prohibited.
---