When it comes to healthcare, Qatar has been steadily making strides in establishing itself as a global destination for top-tier medical services. The country continues to shine in the realm of private healthcare, with a diverse array of hospitals that are setting new standards for excellence.
To assist you in navigating the healthcare landscape, we've compiled a comprehensive list of the best private hospitals in Qatar, focusing exclusively on hospitals that offer in-patient admission facilities.
Our selection criteria ensures that the hospitals featured in our list are equipped not only to provide exceptional medical care but also to accommodate patients requiring extended stays and specialized treatments.
General Private Hospitals In Qatar
Al-Ahli Hospital
Al-Ahli Hospital is a private hospital that offers a wide range of medical services, including surgery, cardiology, and pediatrics.
It is a 250-bed private general hospital that offers not only excellent healthcare services but also a luxurious and soothing environment reminiscent of a five-star hotel. The hospital's officially commenced healthcare services to the public in November 2004.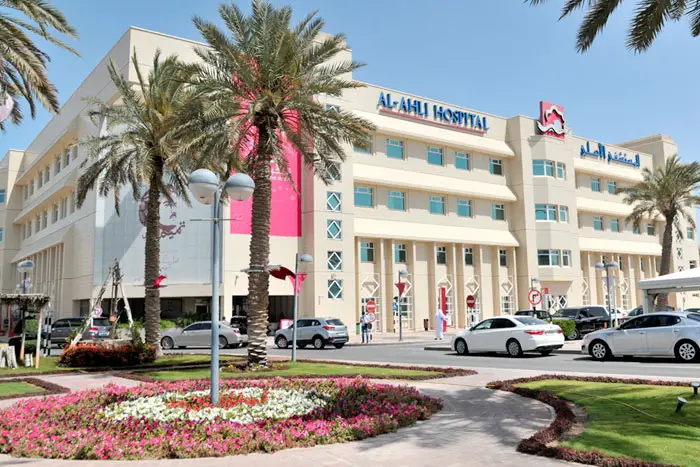 The Outpatient Clinics operates nearly 28 specialties, welcoming over 2000 guests per day. The high-tech facility will not only provide world-class patient care but will also help build Qatar's scientific expertise and resources.
Ahmed Bin Ali Street, Doha
Contact: (+974) 4489 8888
Email: [email protected]
Website: www.ahlihospital.com
---
Al Emadi Hospital
Al Emadi Hospital is a private hospital that provides general medical services, including emergency care, surgery, and laboratory services.
Al Emadi Hospital, established in 1998, has a team of renowned consultants, highly qualified physicians, and skilled technicians who harness cutting-edge medical technologies to provide accurate diagnoses and ensure patient safety.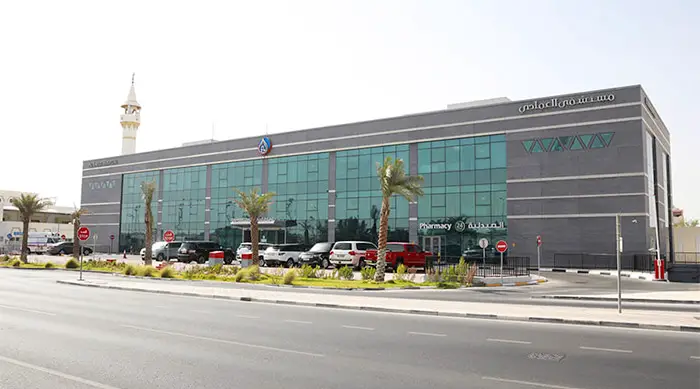 The hospital's core strength lies in its exceptional roster of consultants and doctors, representing a wide spectrum of medical specializations. They are not only the cornerstone of the hospital but also its key to success, contributing to the institution's rich experience built over more than two and a half decades.
Al Emadi Hospital has earned the distinction of being the first private hospital in Qatar to receive the "Platinum Level" accreditation from Accreditation Canada International (ACI).
Al Hilal West, Doha
Contact: (+974) 4477 6444
Email: [email protected]
Website: https://alemadihospital.com.qa
---
Aman Hospital
Aman Hospital stands as a prestigious healthcare establishment in Doha, Qatar, and is under the ownership of Jaidah Holdings. This state-of-the-art hospital, with over 100 beds, represents the future of healthcare delivery in Qatar and the broader region.
Aman Hospital offers an extensive array of medical services encompassing over 20 specialties. These include cardiology, respiratory medicine, gastroenterology, endocrinology, infectious diseases, rheumatology, general surgery, urology, ENT, ophthalmology, neurosurgery, spine surgery, orthopedics, sports surgery, plastic surgery, pediatrics, obstetrics and gynecology, IVF, dentistry (including cosmetic and pediatric dentistry), dermatology, emergency services, radiology, and a fully automated laboratory.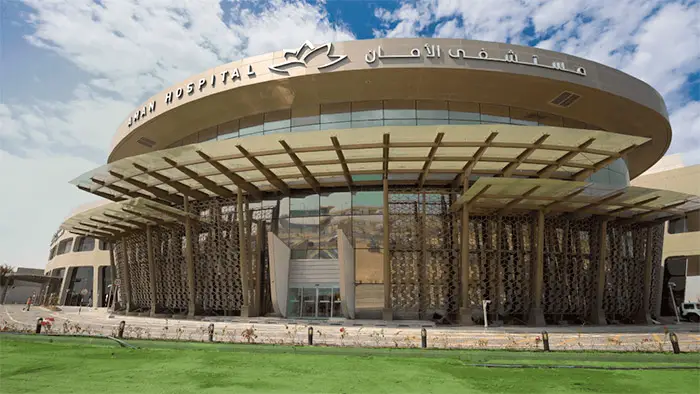 Additionally, Aman Hospital has established five centers of excellence that offer exceptional care in a One-Stop-Shop model. These centers bring together multiple health service providers in a single location, creating a unique and comprehensive healthcare destination.
This approach ensures that patients receive the finest healthcare services in a luxurious and welcoming atmosphere.
F Ring Rd, Building 412, Doha
Contact: +974 4400 4400
Email: [email protected]
Website: https://amanhospital.org/
---
Aster Hospital
Aster Hospital Qatar is a 50 bedded specialty hospital, which is designed keeping in mind the comfort of its patients. Located on Old Airport Road, this facility is equipped with advanced medical technologies and offers emergency services to deliver high-quality healthcare.
The hospital's spacious interiors, advanced facilities, and a team of healthcare experts aim to foster a healing-friendly environment.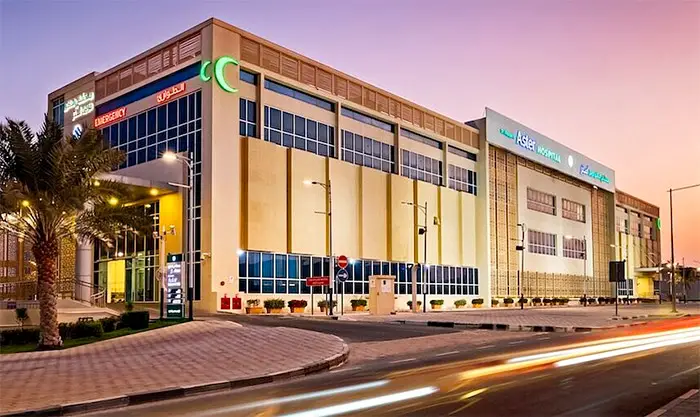 Aster Medical Centres and Aster Hospital in Qatar are integral components of Aster DM Healthcare, the largest private healthcare provider in the region.
These facilities offer a comprehensive spectrum of medical services, ranging from General Medicine, Pediatrics, Gynecology, ENT, and Dentistry to specialized fields such as Cardiology, Neurology, Gastroenterology, General & Laparoscopic Surgery, and Urology, among others.
Old Airport Area (Behind FFC), Doha
Contact: (+974) 44440499
Website: https://aster.qa/
---
Doha Clinic Hospital
Doha Clinic Hospital (DCH) holds the distinction of being Qatar's pioneer fully integrated private hospital, with its inception dating back to 2001. Accredited by Accreditation Canada, DCH operates as a 57-bed inpatient facility and offers a diverse range of healthcare services.
These encompass medical, surgical, orthopedic, neuro-skeletal, ENT, plastic surgery, pediatrics, and round-the-clock emergency services. DCH offers 24/7 on-site coverage for OBGYN services, ensuring that the patients receive timely and high-quality care for each patient.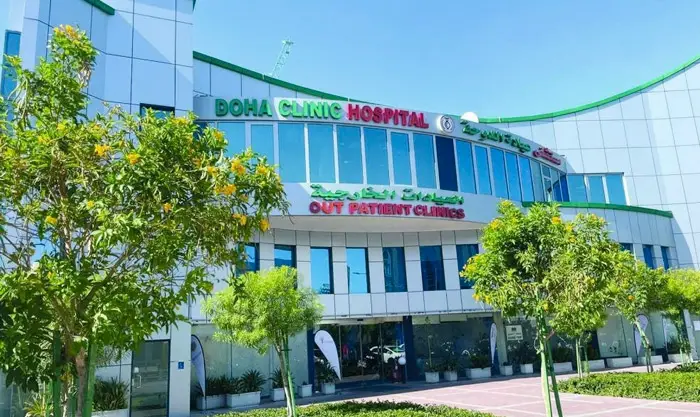 The hospital is committed to providing comprehensive care, with outpatient services available from Saturday to Thursday between 8:00 AM and 10:00 PM, as well as on Fridays from 4:00 PM to 9:00 PM.
Furthermore, pediatric services are extended on Fridays from 1:00 PM to 9:00 PM, ensuring accessible and quality healthcare for the community. DCH is a subsidiary of Mohammed bin Hamad Holding Group, established more than 20 years ago as the first integrated private hospital in Qatar.
New Al Mirqab Street, Fereej Al Nasr, Doha
Contact: +974 4438 4333
Email: [email protected]
Website: https://dohaclinichospital.com/
---
Turkish Hospital
The Turkish Hospital in Qatar is the product of a collaborative effort between the Turkish Ruzgar Group and the Qatari Taleb Group. It is renowned for its cadre of highly experienced and skilled healthcare professionals, backed by state-of-the-art medical equipment and advanced technology, all working together to ensure the highest quality of patient care and outcomes.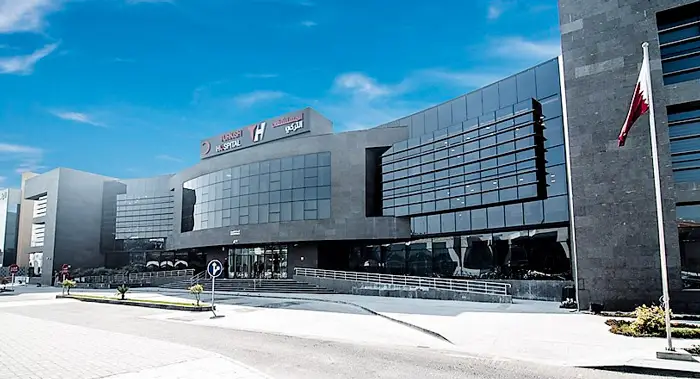 This hospital has gained a reputation for providing care in a professional and compassionate manner, and it specializes in various medical disciplines, including pediatric care, pulmonology, cardiology, gastroenterology, and more.
Through its commitment to excellence and dedication to the well-being of its patients, The Turkish Hospital in Qatar strives to bring world-class healthcare to the local community.
C Ring Road, Building 325, New Salata
Contact: (+974) 4499 2444
Email: [email protected]
Turkish Hospitals Website
---
The View Hospital
The View Hospital stands as a contemporary healthcare institution with a steadfast commitment to delivering world-class clinical excellence. Through a strategic international partnership with Cedars-Sinai, The View Hospital leverages its clinical excellence to provide exceptional healthcare services, facilitated by highly experienced multidisciplinary professional teams and cutting-edge systems.
Patients at The View Hospital can expect a quality of care that matches or surpasses that of the world's leading hospitals. With 240 individual private suites, 10 state-of-the-art operating rooms, and 23 Intensive Care beds, the hospital offers a comprehensive range of healthcare services spanning primary, secondary, and tertiary care.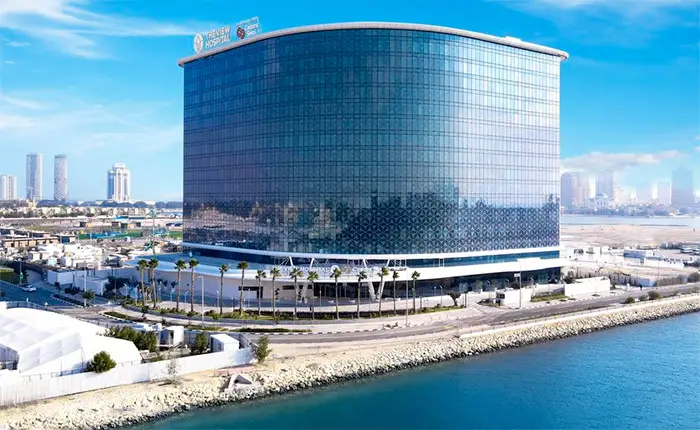 The operating rooms are equipped with advanced technology, enabling minimally invasive surgery and real-time imaging during procedures. Additionally, The View Hospital boasts the Da Vinci and Artis pheno robotic equipment, renowned for their precision, facilitating faster surgeries with fewer complications and expedited recoveries.
The View Hospital was developed by Elegancia Healthcare, a subsidiary of Estithmar Holding, Q.P.S.C., a publicly listed entity. This establishment embodies a commitment to excellence, with the aim of providing unparalleled healthcare services to its valued patients.
Legtaifiya, Doha, Qatar
Contact: (+974) 8000 777
Email: [email protected]
Website: https://theviewhospital.com/
---
Speciality Private Hospitals In Qatar
In addition to these general private hospitals, Qatar is also home to some of the world-renowned speciality hospitals.
Aspetar
Aspetar is a renowned orthopaedic and sports medicine hospital, serving as a pioneering institution in the Middle East since 2007. This state-of-the-art facility is dedicated to providing comprehensive medical treatment to athletes, boasting a world-class team of experts and setting international standards in sports medicine.
As a member organization of the Aspire Zone Foundation, Aspetar plays a vital role in Qatar's sports and healthy lifestyle initiatives. Notably, during the FIFA World Cup 2022, Aspetar was the exclusive sports medicine healthcare provider for all 32 visiting teams, team delegations, and FIFA VIPs.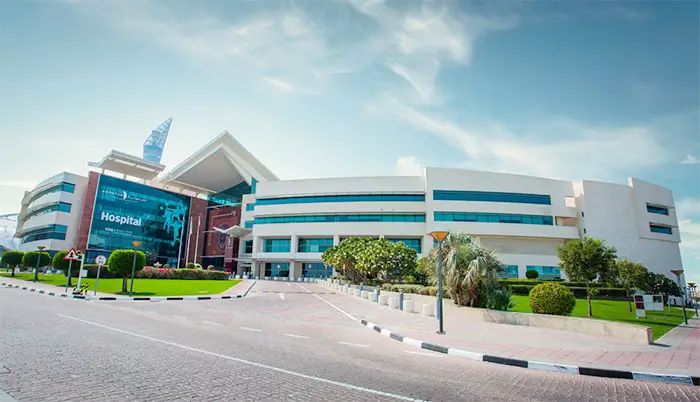 Over the years, Aspetar has achieved several significant milestones, including accreditation as a "FIFA Medical Centre of Excellence" by F-MARC in 2009.
The institution is globally recognized by the International Olympic Committee (IOC) for its contributions to athletes' health and injury prevention, and this accreditation has been extended for an additional four years. Aspetar's dedication to helping athletes reach their full potential positions it among the top institutions in sports medicine research.
Aspetar's commitment to sports medicine research is evident through its numerous scientific publications, averaging 150 research studies annually since establishing its research division in 2008.
Sport City Street, Near Khalifa Stadium, Doha
Contact: (+974) 4413 2000
Website: https://www.aspetar.com/
Sidra Medicine
Sidra Medicine stands as a prominent institution in Doha, Qatar, encompassing a 400-bed hospital specialized in women's and children's healthcare, as well as serving as a hub for medical education and cutting-edge biomedical research. The hospital embarked on its journey by opening its outpatient facility in 2016, followed by the inauguration of its inpatient hospital in January 2018.
Strategically located within Education City, an ambitious initiative spearheaded by Qatar Foundation, Sidra Medicine is deeply integrated into a vibrant research and education ecosystem.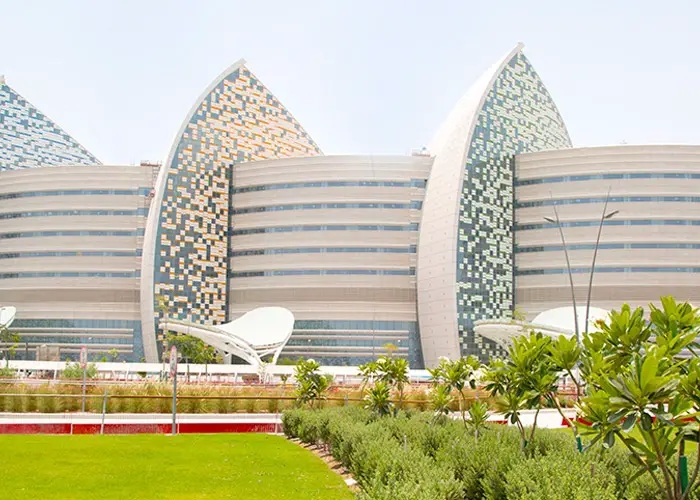 Sidra Medicine, operating as an entity under the Qatar Foundation for Education, Science, and Community Development (QF), reflects the visionary leadership of Her Highness Sheikha Moza bint Nasser, who serves as its Chairperson.
This state-of-the-art facility represents the convergence of world-class patient care, scientific excellence, and educational resources, all aimed at fulfilling its mission to enhance healthcare, research, and education.
Al Gharrafa Street, Ar-Rayyan, Doha
Contact: (+974) 4003 3333
Website: https://www.sidra.org/
From cutting-edge technology to highly skilled medical professionals and a commitment to patient-centric care, these hospitals exemplify the pinnacle of healthcare excellence in Qatar. Note that in addition to these private hospitals, there are also several private medical centers and clinics in Qatar.
Whether you are seeking general medical services or specialized treatments, this list will serve as your trusted guide to the finest private healthcare institutions that Qatar has to offer.
---
You May Also Like:
Copyright © DohaGuides.com – Full or partial reproduction of this article in any language is prohibited.
---