As the FIFA World Cup Qatar 2022™ gets underway, tens of thousands of fans are expected to flock to Qatar's stadiums in the coming days. Since outside food is not permitted in World Cup stadiums, many fans will be wondering what food options are available in the stadium and how much it will cost.
So, here are the details of the FIFA World Cup Qatar 2022™ stadium food menu and prices:
Food Options Available At Stadiums
Our team visited Al Bayt Stadium for the opening match and checked out the available food options and their prices. There are many food and beverage stalls offering a variety of hot and cold food, as well as beverages.
The food and beverages menu available at Qatar 2022 World Cup stadiums include both local and international cuisine.
You can get regional dishes like fatayer and luqaimat, as well as international dishes like hot dogs, veggie sticks, veggie rolls etc. If you prefer savoury snacks, you can indulge in mixed nuts, popcorn and potato chips. Popular cold drinks, mineral water, and Bud Zero are also available.
We found that almost all food stalls around the stadium sold the same menu.
World Cup Stadium Food Prices
So are they expensive? Anyone who has visited a major tournament knows that big events will not be cheap when it comes to food. The prices at the World Cup stadiums are definitely not on the cheaper side.
Be prepared to pay something in the range of what you would find at a high-end multiplex or an international airport. You can find the prices of each item below.
World Cup Stadium Food Menu
The hot meals menu consists of fatayer and hot dogs. If you haven't tasted a fatayer before, they are Middle-Eastern savoury pies that are stuffed with meat, spinach or cheese. The fatayers available at stadiums cost QAR 15 while hot dogs cost QAR 25.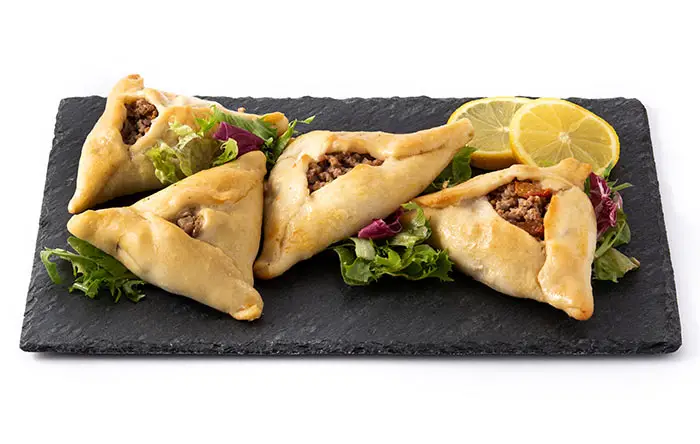 The cold meal options include veggie sticks (QAR 17) and veggie rolls (QAR 25). Another option is the cold cut & cheese roll, which is priced at QAR 45.
You can get snacks such as mixed nuts (QAR 25) and popcorn (QAR 10). Potato chips, priced at QAR 10, are available with a choice of tomato ketchup or French cheese.
If you are craving something sweet, you can order luqaimat for QAR 17. Luqaimat is a popular Middle Eastern sweet dish prepared with yeast-leavened dough that is deep-fried and drizzled with date syrup.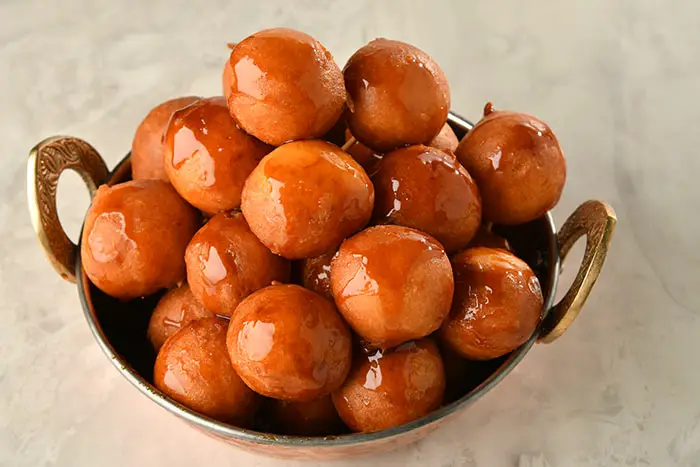 At World Cup Stadiums you could be looking at paying QAR 15 for a 500 ml bottle of soft drinks (Coca-Cola, Coke Zero, Sprite, or Fanta). A 500 ml bottle of mineral water will cost you QAR 10.
Even though FIFA has announced a ban on the sale of alcoholic beverages, Bud Zero (the zero-alcohol, zero-sugar, beer from Budweiser) is available for sale at all stadiums. A 500 ml can of Bud Zero costs you QAR 30.
| Items | Price (QAR) | Approx. USD |
| --- | --- | --- |
| Fatayer with Spinach or Meat | 15 | 4.10 |
| Fatayer with Cheese | 15 | 4.10 |
| Hot Dog | 25 | 6.85 |
| Veggie Sticks | 17 | 4.65 |
| Veggie Roll | 25 | 6.85 |
| Cold Cut & Cheese Roll | 45 | 12.30 |
| Mixed Nuts | 25 | 6.85 |
| Popcorn | 10 | 2.75 |
| Potato Chips | 10 | 2.75 |
| Luqaimat (Sweet) | 17 | 4.65 |
| Soft Drinks (Coca-Cola, Coke Zero, Sprite, Fanta) | 15 | 4.10 |
| Water | 10 | 2.75 |
| Budweiser Zero (500 ml) | 30 | 8.20 |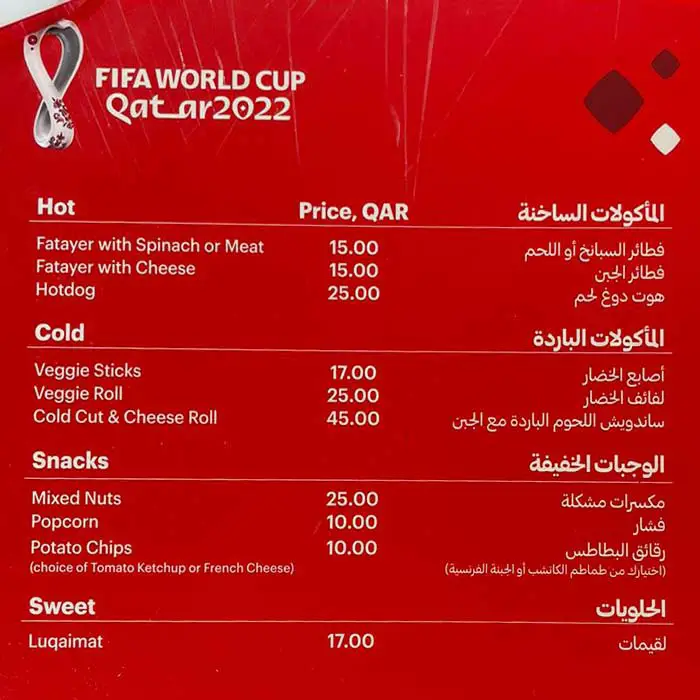 Food & Beverages in Accessible Seating Areas
Food and beverage concessions located close to accessible seating areas have a low-level counter and/ or a priority lane. Trained volunteers are available to help with access.
Apart from these options, there are premium food menus for VIP lounges and FIFA Hospitality Packages. A delicious range of dining options is available depending on the hospitality product purchased.
Needless to say, they come with a premium cost (starting at USD 950 inclusive of match tickets) and are not accessible to regular match ticket holders.
---
To sum it up, the World Cup stadiums will offer a limited number of food and beverage options. It's understandable since thousands of people need to be served by food stalls during a short period.
Don't be disheartened though. There are more than 3,000 restaurants serving hundreds of cuisines in Doha. So a trip to the city will be a culinary and football experience like no other.
---
Frequently Asked Questions
---
Can I bring outside food to the stadium?
Food and beverages, or any liquids larger than 100 ml are not allowed to be taken inside the stadium.
Do I need cash to pay for food at World Cup Stadium?
All food and beverage outlets accept card payment options as well as cash.
READ NEXT: List of Items Prohibited in World Cup Stadiums
---
You May Also Like:
---