The Qatar International Food Festival (QIFF) 2023 is a Qatar Tourism initiative celebrating the country's diverse food, beverage and hospitality offerings.
The festival offers a unique opportunity to explore the culinary traditions of Qatar and the world, against the backdrop of a picturesque outdoor venue.
Here is everything you need to know about Qatar International Food Festival (QIFF) 2023 including dates, timing, location, how to reach, major attractions and entry requirements.
About Qatar International Food Festival
Qatar International Food Festival (QIFF) is a celebration of diverse culinary traditions from around the world. From high-end cuisine to street food, the festival features a wide range of cuisines that are sure to tantalize the taste buds of visitors.
The country's biggest culinary celebration also presents various workshops and daily entertainment for the whole family, along with live cooking classes by award-winning chefs.
QIFF 2023 Dates, Location & Timings
The 12th edition of Qatar International Food Festival (QIFF) 2023 is being held from from Saturday 11 March to Tuesday 21 March 2023 at Lusail Boulevard.
The exact location is Al Saad Plaza, between the famous Lusail towers at Lusail Boulevard,
QIFF 2023 Timings
The timings of QIFF 2023 are as follows:
Weekdays: 4:00 pm to 11:00 pm
Weekend: 4:00 pm to 1:00 am
How To Reach QIFF 2023 Venue
The nearest Metro station is Lusail QNB Metro Station.
You can also reach the location by private cars or Uber. Those attending the festival can park their cars at the nearby parking.
In total, more than 100 restaurants, hotels, food carts and trucks, and other private and public entities are participating in the festival.
QIFF Entry Requirements
Entrance for QIFF 2023 is free with registration. People wishing to attend the festival should register for free via visitqatar.com.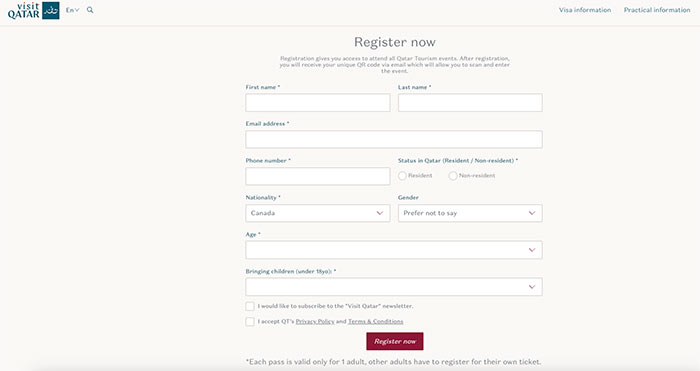 After registration, you will receive your unique QR code via email which will allow you to scan and enter the event.
Each pass is valid only for 1 adult, other adults have to register for their own ticket.
QIFF 2023 Food Experience
One of the main highlights of the festival is the variety of food options available. Visitors can sample food from around the world, from local specialties to international dishes.
Food trucks and carts, which are becoming increasingly popular in Qatar, are also participating in the festival with their specialties.
The food and beverages offered at the stalls, food trucks and carts are priced between QR 5 to QR 35, making it an affordable experience for everyone.
Premium Food Lounges
For those looking for a more luxurious experience, the festival features two premium catered food lounges created in partnership with five-star hotels.
The High Tea/ Fine Dining lounge, which made a comeback at this year's festival after its success last year, offers visitors the chance to indulge in high-end cuisine in a luxurious setting.
The VIP lounge is by invitation only, but a VIP area is open to everyone, allowing visitors to relax and enjoy the festival in style.
Year of Culture
Visitors to QIFF can sample Indonesian dishes that bind the country's diverse culinary traditions with a rich complex flavour as this year's event will honour the Qatar-Indonesia Year of Culture.
The food festival will also feature a special Qatari cultural tent that includes local delicacies, and a fascinating experience with Le Petit Chef, an interactive dining experience using 3D mapping, in collaboration with The Ritz Carlton, Doha.
QIFF 2023 Entertainment
In addition to the food, the festival also offers daily entertainment such as roaming acts and shows. There is a nightly cooking show, where visitors can watch chefs create their favorite dishes, and food-related workshops that require tickets.
These workshops provide visitors with the opportunity to learn more about the culinary arts, from cooking techniques to the history of different cuisines.
For those looking to enjoy the festival with their families, there is a section for children that includes Kidzania characters, who are sure to surprise and entertain children of all ages. The festival also features an ice rink, where visitors can take a break from the food and enjoy some outdoor fun.
Le Petit Chef is the smallest chef in the world, just 6cm. The show is accompanied with themed music, props, and an excellent menu employing 3D projection mapping. And on your dining table, a little chef comes to life thanks to the wonder of visual mapping.
To celebrate the upcoming International Horticultural Expo 2023 Qatar, a special kiosk will be present with special plant giveaways for festival visitors. This is a unique opportunity to learn more about horticulture and take home a special souvenir from the festival.
QIFF 2023 Fireworks
One of the most exciting aspects of the festival is the nightly fireworks show, which takes place every night at 8 p.m. Visitors can enjoy the spectacular display of fireworks while sampling their favorite dishes from around the world.
There is also a 'Dinner in the sky' experience, where visitors can enjoy a meal while suspended in the air, providing a unique dining experience that is sure to be remembered.
For those interested in healthy food options, the Healthy Zone is the perfect place to explore. This section features organic restaurants and workshops on healthy food and lifestyle, providing visitors with the opportunity to learn more about nutrition and healthy eating.
Overall, the Qatar International Food Festival 2023 promises to be an exciting event for food lovers from around the world. With a diverse range of cuisines, daily entertainment, and unique experiences like the 'dinner in the sky' and workshops on healthy food and lifestyle, there is something for everyone at the festival.
---
Related Articles:
Copyright © DohaGuides.com – Full or partial reproduction of this article in any language is prohibited.
---