Lusail Winter Wonderland is a winter-themed amusement park that opens during the winter season in Qatar. The first edition of the Lusail Winter Wonderland opened in November 2022 and closed in April 2023.
The next edition of the Lusail Winter Wonderland is scheduled to open in the winter of 2023. With over 50 rides and attractions, scrumptious food and drinks, and live entertainment, the event offers festive fun for the whole family.
Here is everything you need to know about Lusail Winter Wonderland, including location, timing, ticket prices, attractions and answers to frequently asked questions.
Recent Updates
Lusail Winter Wonderland will reopen for its second season (2023-24) on the 1st of November 2023. Tickets for the event will be available soon.
The below information is based on the 2022-23 season. We shall update this page once more information is available.
---
About Lusail Winter Wonderland
Lusail Winter Wonderland is a world-class theme park and one of the region's most important attractions that will contribute significantly to attracting regional tourists and improving the tourism and entertainment experience in Qatar.
The 100,000 sqm state-of-the-art theme park is managed and operated by IMG, the producer and operator of London's famous Hyde Park Winter Wonderland.
This world-class project is led by the association of Estithmar Ventures and IMG, in collaboration with Qatar Tourism and Qatari Diar.
The first season of Lusail Winter Wonderland opened in November 2022 and became one of the most exciting destinations and a must-visit attraction for visitors and residents during the FIFA World Cup 2022. The world-class theme park is set to be an important leisure destination that contributes significantly to the tourism and entertainment experience in Qatar beyond the World Cup.
Lusail Winter Wonderland Location
Lusail Winter Wonderland is located on Al Maha Island in Lusail City. Here is the location map.
Parking on Al Maha Island is extremely limited. It is recommended that visitors use public transport to get to and from the park.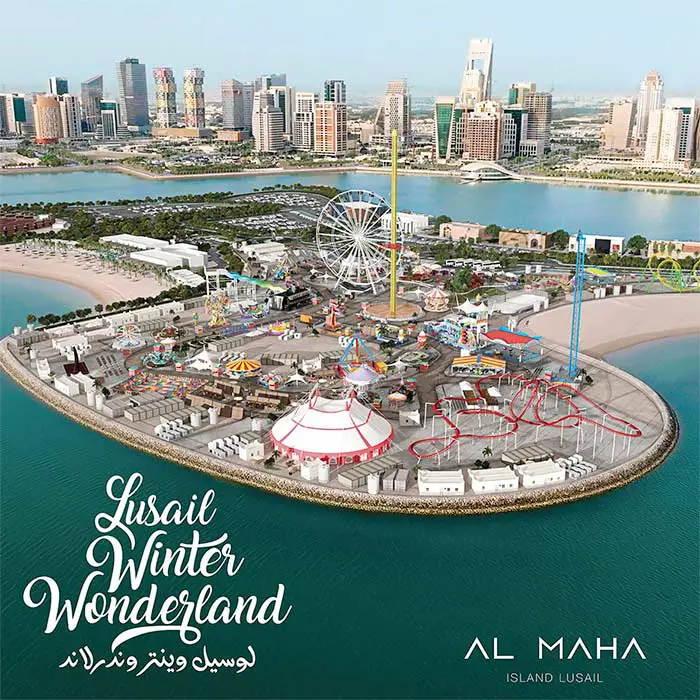 Featuring Lusail Winter Wonderland, Nammos Beach Club, Al Maha Arena, and a high-end dining district, Al Maha Island is a popular destination among citizens and residents in Qatar and is expected to attract tourists from the GCC countries and the region.
Lusail Winter Wonderland Timing
Lusail Winter Wonderland's opening hours are as below:
| Days | Opening Hours | Last Entry |
| --- | --- | --- |
| Sunday to Wednesday | 4:00 pm to 11:00 pm | 10:00 pm |
| Thursday to Saturday | 4:00 pm to 01:00 am | 11:15 pm |
Lusail Winter Wonderland Ticket Prices
The park facilities are accessible using an RFID wristband. You can either buy an "Entry Only" wristband or a free-entry wristband with "Unlimited Rides".
Below are the prices for each category:
| Ticket Type | Park Entry Only | Unlimited Rides |
| --- | --- | --- |
| Adult | QAR 85 | QAR 332 |
| Child / Concession | QAR 65 | QAR 312 |
| VIP (Fast Track Rides) | QAR 320 | QAR 747 |
Those above 12 years are included in the adults category.
The children category is for ages 2 to 12 years.
Infants below 2 years old get free entry.
You can pre-purchase wristbands online, or you can purchase them from the ticketing offices at the park entrance. As wristbands are subject to availability it is recommended that all visitors purchase their entrance wristbands online. Pre-purchase also ensures that you won't have to queue at the box office.
How To Buy Wristbands Online
Here is how to collect your wristbands for entry:
Step 1: Buy your ticket online
Go to the Lusail Wonderland website.
Click on "Buy your wristband".
Select your date and category, Choose the number of tickets.
Click on "Add to cart", click on "Next", and click on "Checkout".
Register as a member or log in if already registered.
Pay for the ticket using a credit or debit card.
Please note that all members of your party will require an entry wristband  – children and domestic help will require a wristband although these are priced at a reduced rate.
Step 2: Check your email for confirmation tickets
Once you purchase your wristband online, check your email address for your confirmation tickets which include QR codes. Your entrance to the park is only valid for the date(s) stated on your ticket. 
Step 3: Collect the wristband from the entry gate
Show your purchase confirmation and QR codes at the main entry gate to collect your physical wristband.
Wristband Credit
Wristband credit is the amount of funds that you load onto your wristband. Lusail Winter Wonderland is a cashless theme park, all rides, entertainment, food and beverages will be paid using wristband credit which will be your digital 'wallet'.
You can 'top-up' your wristband either online or at any of the designated top-ups after you have purchased your entry wristband at the entrance to the park once you access the park using your credit/debit card. However, you will not be able to amend your wristband category once purchased.
You can check how much credit you have on your wristband at any of the token and ticket booths and top up using your credit card.
How To Use Wristband
Entry-only pass does not include entry to any other attractions, rides, shows, games or the purchase of food, beverages or merchandise.
You must add credits to your Wristband, which will serve as your wallet, to access these attractions.
Simply tap at the entrance to the ride or game to gain access, or at the merchant kiosk to purchase food, beverages or merchandise.
Some of the attractions have limited capacity – book your spot to confirm your allocated time slot. Make sure you book your spot in advance after you have purchased your entry wristband.
---
Lusail Winter Wonderland Map
Below is a map of the Lusail Winter Wonderland: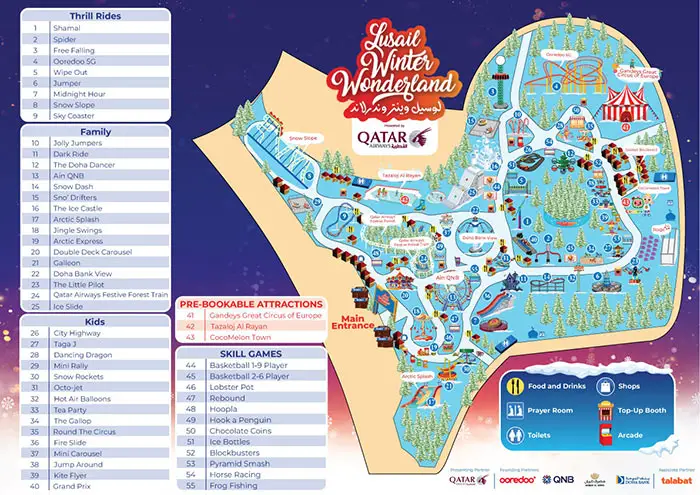 You can download the high-resolution map here.
Lusail Winter Wonderland Attractions
The park will feature more than 100 attractions, including 50 amusement rides. The list of specially developed branded amusement rides includes:
| Attraction Name | Description | Age | Height |
| --- | --- | --- | --- |
| Ooredoo 5G | A high-octane rollercoaster | PG 6-10 | 120 cm+ |
| Air QNB | A giant 53-meter Ferris Wheel | PG 3-6 | NA |
| Doha Bank View | Be propelled into the air (moderate speed) | 6+ | 122 cm+ |
| Tazaloj Al Rayan | Qatar's first open-air ice skating rink. | PG 4-12 | NA |
| Qatar Airways Festive Forest Train | Hit the high line and explore the wonderland  | PG 2-8 | 90 cm+ |
| Snow Slope | Shoots its way around the Alp-themed track | PG 3-6 | 95 cm+ |
| Arctic Splash | Sit back, relax and take in the LWW park | PG 3-10 | NA |
| Snow Rocket | Small carousel for younger members | PG 18m-3y | 80 cm+ |
| Octo-Jet | Kids cruise amongst the clouds with co-pilot | PG 18m-3y | 80-190 cm |
Gandeys Great Circus of Europe brings an unforgettable once-in-a-lifetime experience for the whole family. 
With Qatar's first CoComelon, your little ones will adventure across five different themed zones with JJ and his siblings.
In addition, there is an array of entertainment concepts and fun-filled activities that are age-appropriate for various groups – children, teenagers, adults and families.
Food and Beverage Options
As part of Talabat Boulevard, a number of fast-food kiosks will offer a variety of food and beverage items. To purchase food and drink simply add credit to your wristband, tap at your chosen food vendor and the amount due will be deducted.
F&B partners include ARC, Tiger Cookies, Firefly Burger, Halo, CHKN Restaurant, Meat & Spice, Morty's Pizza, Donut Time, QQQ Burger, and Addiction Coffee​.
Visitors to Lusail Winter Wonderland will be able to relax on the beach in the sun while enjoying festive games, rides, live entertainment, and delicious food and drink. 
---
Frequently Asked Questions
---
Is there any age limit for visitors to Lusail Winter Wonderland?
Lusail Winter Wonderland is open and accessible to everyone. There will be rides and attractions for all ages – from tiny tots to your adoring grandparents. Some rides have age requirements.
Are pets allowed in Lusail Winter Wonderland?
Pets – other than service dogs – are not permitted.
What if I lose my wristband?
In case your RFID wristband gets lost, stolen or damaged, you can get a replacement for a small fee of QAR 10 at the main top-up booth located inside the park.
What if I have money left on my wristband after my visit?
Any money left on your wristband after your visit to Lusail Winter Wonderland can be used during your next visit to the park.
---
Related Articles:
Copyright © DohaGuides.com – Full or partial reproduction of this article in any language is prohibited.
---