In the prelude to the FIFA World Cup, Qatar Creates has launched One Pass Qatar, an online sightseeing pass designed to help visitors save money when visiting multiple tourist attractions and events in the country.
This article will explain One Pass's features, cost, validity, benefits, and frequently asked questions. We will also compare the features of different types of One Pass to help you decide if you should buy one. In the end, we have included a step-by-step guide on how to buy and use One Pass.
What Is One Pass?
One Pass Qatar is a digital pass for residents or visitors to Qatar looking to save money and time while visiting multiple tourist attractions and cultural experiences. The One Pass would give access to over 300 cultural, culinary, fashion, and art experiences in Doha.
Moreover, One Pass holders can get free access to heritage sites, discounts at fashion shows and concerts (free for Diamond One Pass holders), discounts at 24 adventures, discounts at 270+ restaurants and cafes, and much more.
According to Qatar Creates, One Pass is your getaway to Qatar's best experiences.
About Qatar Creates
Qatar Creates is a year-round national cultural movement that will curate, promote, and celebrate the diversity of cultural activities in Qatar through an unprecedented program of high-profile events, exhibitions, live shows, and openings.
The all-new format of Qatar Creates was launched in June 2022 by Qatar Museums and Doha Film Institute Chairperson and Fashion Trust Arabia Co-Chair HE Sheikha Al Mayassa bint Hamad bin Khalifa al-Thani.
One Pass Qatar Price
Three types of One Pass are available: a Gold membership costs QAR 399, a Platinum membership costs QAR499, and a Diamond membership costs QAR1,999.
| One Pass Type | Price (QAR) | Price (USD) |
| --- | --- | --- |
| Gold Pass | 399 | 109.59 |
| Platinum Pass | 499 | 137.05 |
| Diamond Pass | 1,999 | 549.02 |
One Pass Benefits Comparison
Below is a comparison of the features based on the information available on the official website. We have sorted it so that it is easy to compare.
Gold
(QAR 399)
Platinum
(QAR 499)
Diamond
(QAR 1,999)
Access to 5 Museums
✓
✓
✓
Access to Heritage Sites
✓
✓
✓
Access to Movement Festival
✓
✓
✓
Discounts at 270 Restaurants and Cafes
✓
✓
✓
Discounts at 24 Adventures
✓
✓
✓
Exclusive and curated info guide
✓
✓
✓
10% Off at Fashion For Relief Event
✓
✓
✓
Access to Exhibitions
5 Exhibitions
20 Exhibitions
20 Exhibitions
Gift Shop
10% Off
15% Off
or QAR 109
20% Off
or QAR 182
Fashion Show / Concert
(Must Reserve Seat)
20% Off
Save QAR 91
40% Off
Save QAR 182
FREE
Save QAR 455
12+ QC VIP Lounges
NA
NA
✓
As you can see here, the main difference between the passes is in four areas:
Platinum and Diamond Passes gives access to 15 more Exhibitions.
Platinum and Diamond Passes give additional discounts at Gift Shop.
There are significant savings on the Fashion Show / Concert, where Diamond Pass holders can save QAR 455, and Platinum Pass holders can save QAR 182, while Gold Pass holders can only save QAR 91.
Finally, Diamond Pass holders get access to 12+ QC VIP Lounges.
One Pass Qatar Validity
The One Pass will be valid from 1 October to 31 December 2022.
You can use your One Pass as many times as you like to enter the specified attractions. You can only use the discount on your own tickets for events. All food offers are subject to the terms & conditions specified by the vendor.
---
Attractions Included in One Pass Qatar
Museums
Qatar Creates has listed the following museums to be accessible with One Pass:
Museum of Islamic Arts
National Museum of Qatar
The 3-2-1 Qatar Olympic and Sport Museum
M7 Art Museum
Mathaf Art Museum
Art Mill Museum 2030
Fire Station Museum
Exhibitions
Some of the exhibitions that can be accessed with One Pass are:
Pipilotti Rist: Your brain to me, my brain to you
Qatar Auto Museum
Baghdad, Eye's Delight
Lusail Museum, Tales of a Connected World
Labour of Love: Embroidering Palestinian History
World of Football
Majaz: Contemporary Art Qatar
Taysir Batniji: No Condition is Permanent
Sophia Al-Maria: daydream therapy
On the Move
Forever Valentino
Art Mill Museum 2030
Heritage Sites
The One Pass will also give access to the following heritage sites:
Al Zubarah Archaeological Site
Old Palace
Old Salata and Fuwairit Mosque Conservation
The Barzan Towers
Murwab
Al Jumail Village
Al Thagab Fort
AL Rekayat Fort
Al Jassasiya
Al Mafjar Village
Fashion Show
The Qatar Fashion United by CR Runway is a monumental event celebrating fashion, culture, and music scheduled to be held between the semifinal and final matches of the FIFA World Cup Qatar 2022.
The show will feature more than 100 brands, from the world's most renowned designers to emerging designers from five continents. Over 50 countries will be represented at the global event, including performances by top international musical artists.
Gold Pass holders can get 20% off (save QAR 91), Platinum Pass holders can get 40% off (save QAR 182), and Diamond Pass holders can get free access (save QAR 455) to the event.
Other Benefits
The One Pass will also give the following benefits to pass holders:
Free access to Movement Festival
Discounts at 270 restaurants and cafes
Discounts at 24 adventures
10% to 20% discounts at Gift Shops
10% discount at Fashion For Relief Event
Exclusive info guide
Diamond Pass holders will also get exclusive access to more than 12 QC VIP Lounges.
How Much Can You Save With One Pass Qatar
Your savings would depend on how many of these experiences you visit. Non-resident ticket prices for some of the museums are QAR 50 each. The exhibitions inside some museums have extra entrance fees. The entry fee for Movement Festival is not announced yet.
With One Pass, you get free access to all of these plus discounts at 270 restaurants and cafes, 24 adventures, fashion shows, concerts and gift shops.
Which One Pass Is Right For Me?
The Gold Pass will be worth your money if you are a regular tourist who wants to experience Qatar's art and culture without denting your pocket.
If you plan to attend the Fashion Show / Concert, it is better to buy the Platinum Pass as you can save an additional QAR 91 on the ticket prices, get access to up to 15 more exhibitions, and get an extra 5% discount at gift shops. This makes the additional QAR 100 price worth it.
If you genuinely want the full VIP experience and don't mind spending an additional QAR 1,500, go for the Diamond Pass. Only Diamond Pass gives you exclusive access to the QC VIP Lounges. Considering the luxurious standards of VIP Lounges in Qatar, we are sure it would be an experience worth cherishing.
How To Buy One Pass Qatar
One Pass Qatar can be bought online through the official Qatar Creates website, by following the below steps:
Step 1: Go to Qatar Creates website
Here is the link: www.qacreates.com
Step 2: Click on "One Pass" from the top menu
Step 3: Select your One Pass
Once you decide on the category, click "Get The One Pass".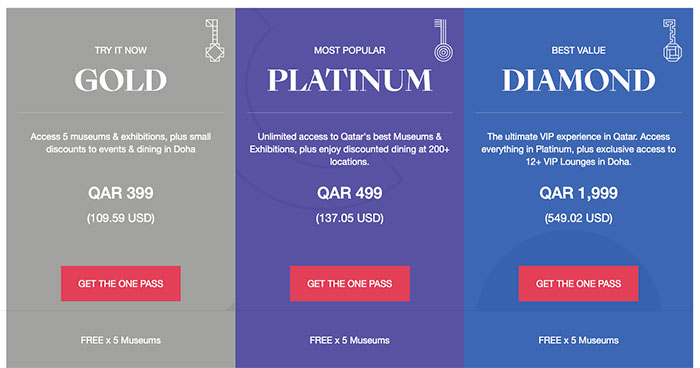 Step 4: Select the required quantity
You can select the number of passes for each category.
Step 5: Click on "Details & Pay"
Once your shopping cart is finalised, click "Details & Pay".
Step 6: Enter your details
Required details are name, email address, phone number, and gender.
You can either register and log in or proceed as a guest.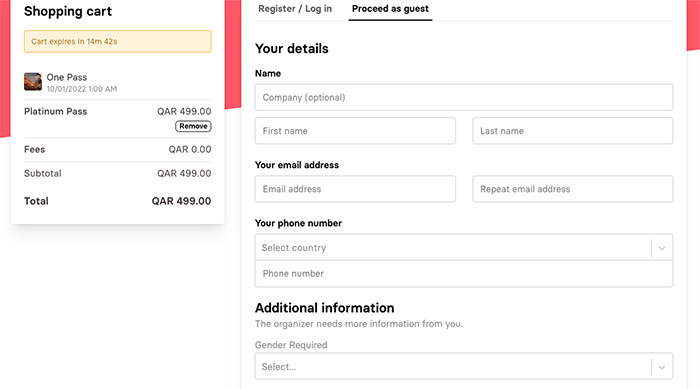 Step 7: Proceed to payment
Enter your payment details, and you will receive the confirmation in your email.
How To Use One Pass Qatar
Your pass will be sent to you as a PDF as well as an e-ticket which you can store on your smartphone. You will also receive an email with details of your purchase.
From September 1, you can access the One Pass login page. When prompted, enter your ticket number. Make a reservation for the attraction you'd like to see. Choose from the available dates and times. Make your reservation and attend when it is convenient for you.
---
FAQ on One Pass Qatar
---
How to redeem Food, Dining & Adventure discounts?
These will be valid from October 1. Navigate to the Food tab. Select your preferred offer. Click & enter your ticket number to redeem the code. Show this code to the vendor when purchasing.
How to use OnePass to purchase event tickets?
Once tickets are available on website, select buy event tickets. When you navigate to the checkout, enter your ticket number when prompted to activate your One Pass exclusive discount.
What do I do if I lose my One Pass?
You can reach out to the Qatar Creates team via the website's contact form and they will assist you to have this rectified.
Does my child need a pass to enter Museums & Exhibitions?
Children under 12 enter for free. All other ages will require a One Pass.
---
Related Articles
Copyright © DohaGuides.com – Full or partial reproduction of this article in any language is prohibited.
---