Doha Guides Team regularly reviews this article to ensure the content is up-to-date and accurate. The last editorial review and update were on 26 December 2022.
Qatar's Supreme Committee of Delivery and Legacy has announced a series of crowd management and traffic control measures during the FIFA World Cup 2022. This article will cover the latest announcements about Doha road closures and traffic updates from November to December 2022.
Corniche Road fully opens for traffic
25 Dec 2022 Update: Corniche Street, which was closed to traffic from November 1, 2022, for FIFA World Cup activations, is now fully open to traffic. After closure for 55 days, the road from Ras Abu Aboud intersection to Sheraton has been opened today.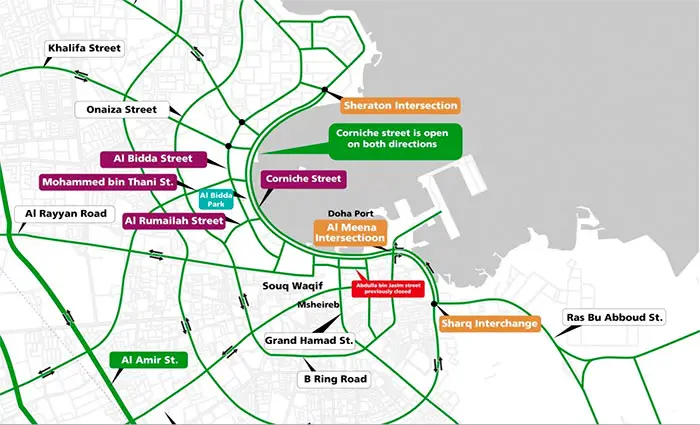 The road was opened partially in one direction from the Sheraton intersection to Ras Abu Aboud intersection on December 19, 2022.
---
Lusail Boulevard for pedestrians only until January 7
21 Dec 2022 Update: Qatari Diar has announced that Lusail Boulevard will be closed to vehicular traffic until January 7, 2023, while the streets leading to it will be open to both pedestrians and vehicular traffic.
According to the company's social media posts, the decision was made as a result of the large and distinguished public turnout during the FIFA World Cup Qatar 2022.
---
List of Vehicles Not Allowed on A-Ring and B-Ring Roads
The Ministry of Interior has announced a list of authorised and unauthorised vehicles allowed on A-Ring and B-Ring Roads. This also applies to some of the connecting roads and all intersections leading to them.
This restriction will be applied only on A-Ring road, B-Ring road, and within the two-kilometre diameter of the World Cup stadiums. 
Restrictions will be imposed from 1 November to 19 December from 12 noon until 2 am. 
Authorized Vehicles (Allowed)
Vehicles with white private transport plates
School buses 
Buses with 15-seater or less
Refrigerated transportation vehicles
Light vehicles with black transport plates registered personally
Emergency vehicles of service authorities
Unauthorized Vehicles (Not Allowed)
All kinds of trucks
All kinds of pickups (except refrigerated vehicles)
Buses with a capacity of more than 15 seaters
Light vehicles with black number plates registered under a company
Vehicles with non-Qatari transport plates
---
Doha Corniche Dedicated To Pedestrians
According to an announcement from the Supreme Committee of Delivery and Legacy (SC), traffic will be restricted in Central Doha from November 1 to December 19, 2022.
Doha Corniche will be closed to vehicles and will be allocated for pedestrians only during this time.
On Twitter, SC said that "starting Tuesday, November 1 until December 19, the Doha Corniche will be dedicated to pedestrians in preparation for the FIFA World Cup Qatar 2022″.
Only specific vehicles will be allowed during the period at Central Doha while parking will be restricted. Fans are encouraged to use public transport to visit either the Corniche Activation or FIFA Fan Festival.
Motorbikes, bicycles and scooters will be prohibited in the Corniche, pedestrianised areas and public parks from November 1 to December 19.
How To Access Doha Corniche During World Cup
Multiple public transport options are available to fans who want to attend events, attractions, and the FIFA Fan Festival at Al Bidda Park and in the area. These include the Doha Metro, Taxi, Uber, Careem, Stadium Express Bus, Shuttle Bus Loop, and Metro Park & Ride.
Below are the various modes of transportation to access Central Doha:
Taxi & Rideshare 
Taxi, Uber and Careem will also operate to take fans to the convenient pickup and drop-off areas. Drop-off and pick-up areas are:
Ashghal Tower 
Al Bidda Park Metro Station
Khalifa Tennis and Squash Complex / Qatar Sports Club
Souq Waqif
Museum of Islamic Art Park
Old Doha Port / Cruise Ship Hotels
A drop-off/pick-up area for private cars is provided at the Imam Muhammad bin AbdulWahhab Mosque (across Al Istiqlal Street). From here, it is a 15-minute walk to the FIFA Fan Festival or a 20-minute walk to the Corniche.
For the safety of passengers and other road users, drop-off /pick-up on roads around the FIFA Fan Festival is not permitted, and fines will be issued to offending drivers. 
Doha Metro
The nearest Doha Metro stations to access Central Doha and Corniche are:
Al Bidda Park 
Corniche (Exit only) 
West Bay Qatar Energy
Here is our dedicated page to Doha Metro during the World Cup with updated timings and important announcements.
Buses
A free shuttle loop around Central Doha will be available to facilitate easy access to activations. Shuttle buses leading to Corniche – C806 – is available from today starting from 9 am to 3 am with one bus every 15 minutes.
Shuttle bus routes are available on Hayya to Qatar 2022 App or Mowasalat website. You can download the Hayya to Qatar app here:
You can find more information on the shuttle bus here.
Park & Ride
Parking is limited in Central Doha and fans are advised to park their vehicles near the specified stations and take the Doha Metro. These Metro stations include:
Qatar University
Al Qassar
Umm Ghuwailina
Al Wakrah
Al Messila
Lusail QNB
Car drivers should consider using the following Park & Ride facilities:
Qatar University, Doha Metro Red Line, 6,000 free parking spaces. It is also for Katara car parking overflow.
Al Messila, Doha Metro Green Line, 5,000 free parking spaces. It is also for NED hotel guests.
Umm Ghuwailina, Doha Metro Red Line, 3,000 free parking spaces. It is also for Banana Island guests and marine vessel owners.
Jelaiah Car Park, Shuttle Bus 2,000 free parking spaces. Timings from November 14 to December 18: 9 am-5 pm – every 15 minutes; 5 pm-3 am – every 7.5 minutes.
---
Parking Areas Reserved For Tournament
The parking areas that will be used for tournament operations and cannot be accessed by fans from 1 November to 19 December are Souq Waqif West and North, and Al Shoyoukh Mosque.
These parking areas also include Al Bidda 5 (across Al Rayyan Street), Al Bidda 4 & 5 (across Al Corniche Street) and Al Bidda 1 & 2 (across Al Istiqlal Street).
Additionally, many on-street parking bays in West Bay, Al Bidda and inner A-Ring Road areas will be suspended. Drivers are encouraged to only park in designated areas to avoid fines, which will be issued to any cars parked illegally, or blocking footpaths and bus stops.
---
Arrivals at HIA and Doha International Airport
Fans will have a range of transport options when they arrive – including shuttle buses, the Doha Metro, taxis and ride-hail services, like Uber and Careem. Shuttle buses will operate ­from both airports and help fans reach their accommodation and tourist attractions in central Doha.
Here is our detailed guide on how to get from Doha airport to the city using Doha Metro, public bus, shuttle bus or taxi services.
---
Match Day Travel
During the FIFA World Cup, organisers recommend the following:
Residents should use private transportation to get to tournament venues and are encouraged to drive where possible.
Visitors are encouraged to use the Doha Metro and public bus services.
Direct bus services will be operational to stadiums from five locations around Doha and key accommodation sites.
---
Vehicle Plate Management System
A vehicle plate management system will be implemented in central Doha from 1 November. The area covered spans from Al Khafji Street in the north to C-Ring Road from the west and south, and Corniche Street from the east.
Under Licence Plate Management System, vehicles with general or black private transport plates are prohibited from driving in central Doha from 12 pm to 2 am from November 1 to December 19. 
People who own only one vehicle, as well as public transport vehicles and emergency services, are exempted from the plan. Local authorities will issue fines for vehicles that access central Doha without meeting the exemption criteria.
Dedicated Lanes on A-Ring Road
A-Ring Road now has a dedicated bus and taxi lane. Drivers not authorised to use the bus and taxi lane will be fined. The lane will be used exclusively by buses and taxis 24 hours a day during the tournament.
Doha Road Closures Around Stadiums
To organise vehicle entry and exit, traffic will be restricted around Al Thumama, Khalifa International, Lusail and Al Janoub stadiums. Residents of the areas surrounding these venues are encouraged to use alternative routes.
The Supreme Committee for Delivery & Legacy has announced that the roads around Lusail stadium will be closed starting 1 November 2022. The below infographic shows closed roads, access routes, parking spaces, and drop-off/pick-up areas around the stadium.
Regulations for Delivery Bike Riders
General Traffic Department has announced that from 16 November 2022, delivery bike riders must adhere to the right lane of the road. They should also follow other regulations including:
The driver must wear a helmet.
The steering wheel must be held with both hands.
The order box in the bike must be tested.
Getting to Banana Island
To get to Banana Island, shuttle bus services are available from Hamad International Airport and Umm Ghuwailina. These services will transport guests to Souq Waqif North car park, from where they will be transferred to the Banana Island terminal. 
Boat owners should park their vehicles at the Umm Ghuwailina park and ride site and take the free shuttle bus service.
Land Border Crossing
You can see the details on entry via the Abu Samra land border here.
We will be updating this article with more updates on Doha road closures and traffic updates.
---
Frequently Asked Questions
---
What are the timings of Doha Metro during the World Cup?
Doha Metro Services will operate from 6 am to 3 am during the FIFA World Cup Qatar 2022. On Fridays, the service will be from 9 am to 3 am.
How can I access Doha Corniche during the World Cup?
During the World Cup, you can access Doha Corniche using Doha Metro, Taxi, Uber, Careem, Stadium Express Bus or Shuttle Bus Loop. You can also make use of the Park & Ride facility.
Can residents use public transport to travel to stadiums?
Residents who own vehicles are encouraged to use their private vehicles for match-day transport. This is to help more visitors access public transport services and reduce the crowd. However, there is no restriction on residents using public transport.
---
Related Articles:
Images courtesy: Supreme Committee of Delivery and Legacy (SC)
---