Doha Guides Team regularly reviews this article to ensure the content is up-to-date and accurate. The last editorial review and update were on 23 October 2023.
The Hajj, one of the most significant religious events in the Islamic calendar, beckons Muslims from around the world to journey to Makkah each year. For the residents of Qatar, the opportunity to participate in this sacred pilgrimage is facilitated through a well-organized registration process.
In this comprehensive guide, we'll take you through the essential steps and requirements on how to register for Hajj from Qatar.
Hajj 2024 Registration From Qatar
Every year, Qatar's Ministry of Endowment and Islamic affairs (Awqaf) forms the Qatari Hajj Mission which selects the eligible candidates for the Hajj seats. The online registration for aspiring pilgrims is done through the Hajj Mission website of the Ministry of Endowment and Islamic Affairs.
Qatari citizens, GCC citizens and expatriate residents who plan to go to Hajj from Qatar are required to apply online through the official website.
Starting and Closing Dates
Registration for the upcoming Hajj Season in 2024 started on September 20, 2023, and will continue until October 26, 2023 at 1 pm. This period provides ample time for both citizens and expatriates to complete their registration process.
The Hajj Department decided to open the registration earlier this year to give enough time to Hajj tour operators to make contracts with Saudi companies and other necessary arrangements to serve pilgrims in a better way.
Allotment for Qatar
Saudi authorities have allocated a quota of 4,400 pilgrim spots for Qatar for the 2024 Hajj Season. This announcement was made by the Department of Haj and Umrah during a press conference held at the Ministry of Awqaf and Islamic Affairs.
Hajj Registration From Qatar: Requirements
The requirements to register are different for different categories:
Requirements For Qatari Citizens:

The applicant must be 16 years of age and above.
The maximum number of applicants in one application is 6 (main applicant + 5 companions).
Requirements For GCC Citizens:

The applicant must be 18 years of age and above.
Should have a valid Qatar Residence Permit.
The maximum number of applicants in one application is 6 (main applicant + 5 companions).
Requirements For Other Expatriates:

The applicant must be 40 years of age and above.
The applicant must be a resident of Qatar for a minimum of 10 years.

The maximum number of applicants in one application is 2 (main applicant + 1 companion).
Vaccination Requirements
Pilgrims must have received at least two doses of COVID-19 vaccines approved by the Ministry of Hajj and Umrah in Saudi Arabia. These include vaccines like Moderna, Pfizer, Johnson & Johnson, among others.
All required vaccines must be administered at least 10 days before the start of the upcoming Hajj season.
Additionally, pilgrims must also be vaccinated against yellow fever, meningitis, polio, and seasonal influenza.
Foreign pilgrims who have received full vaccination with Saudi Arabia-approved vaccines will not be required to undergo quarantine. Face masks may be required at some places.
Individuals arriving on visit visas, including pilgrims, must possess medical insurance that covers the expenses associated with any COVID-19-related medical treatment during their stay.
Please note that some of the requirements and rules for Hajj may evolve or change from year to year.
How To Register For Hajj From Qatar
The registration process for Hajj 2024 from Qatar is straightforward, building on improvements made in the 2023 registration process. Here are the steps you can follow to register for Hajj:
Visit the official Hajj registration website at hajj.gov.qa.
If you are an expatriate select "Register Resident Hajj".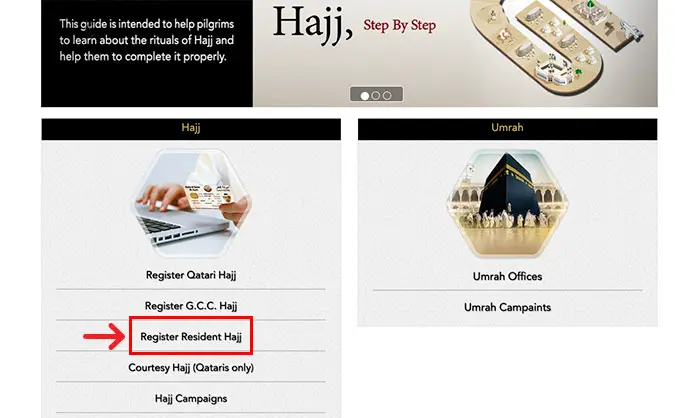 Provide your Qatar ID number and expiration date accurately.
Accept the terms and conditions.
Enter your mobile number.
You'll receive a text message with a link to provide additional details such as your passport and email address.
After submitting your application, you'll receive a reference number via text message to track the status of your application online.
Eligible candidates will be chosen through an electronic draw and informed through text messages. The automated selection and approval process is expected to start at the beginning of November.
Requirements After Obtaining Approval
If you are an expatriate resident who has been selected for Hajj quota under Qatar, you have to submit the following documents:
Passport copy.
2 passport size photos with a white background.
Hajj visa reference number.
The passport validity should be at least six months after the end of the Hajj season. It should also be valid to enter to the Kingdom of Saudi Arabia.
The applicant's Qatar ID should be valid.
No Objection Certificate (NOC) from his sponsor, or an annual leave letter from his employer.
Proof of relation with the accompanying non-marriageable relative (if applicable).
Hajj 2024 from Qatar: Important Dates
As of now, the specific dates for Hajj 2024/1445H have not been confirmed. However, the Saudi Ministry for Hajj and Umrah has indicated that the first batch of pilgrims will arrive in the Kingdom on May 9, 2024.
Hajj From Qatar Package Price
Usually the prices for Hajj packages from Qatar range from QR 25,000 to QR 75,000 per person. These packages typically encompass airfare, accommodation, meals, and transportation.
However, for the most up-to-date information on prices and the specific details of these packages, we strongly advise consulting your chosen travel agent. They can provide you with the latest details and help you select the package that best suits your needs and preferences.
Other Options For Residents
Qatar residents who are not approved can still apply to perform Hajj through their home countries. Since they cannot get visa from Qatar, they will have to travel to Hajj from their home country and join a local Hajj company there.
The registration process for Hajj 2024 from Qatar is a crucial step on your journey to participate in this deeply significant event. With clearly defined requirements, user-friendly registration procedures, and the guidance provided in this article, you can prepare for a smooth and fulfilling Hajj experience.
Keep an eye on official updates and announcements as the season approaches, and may your pilgrimage be safe and spiritually enriching.
For further information, you can communicate with the Department of Hajj and Umrah through the hotline number 132 during official working hours from 8 am to 1 pm.
---
FAQ On Hajj From Qatar
---
How can I go for Hajj from Qatar?
If you are an expatriate wishing to go for Hajj from Qatar, you can register on the Hajj portal of Awqaf. If you are selected you can use the service of a local Hajj service provider.
How much does Hajj cost from Qatar?
There are different options available depending on your budget, type of accommodation, number of days etc. The cost may range from QR 25,000 to QR 75,000.
---
Related Articles:
Copyright © DohaGuides.com – Full or partial reproduction of this article in any language is prohibited.
---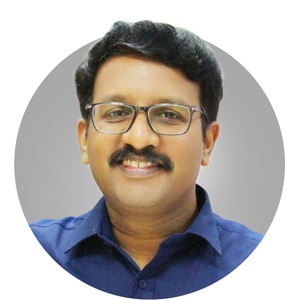 Aneesh, the Founder & Editor of DG Pixels, holds a Master's Degree in Communication & Journalism, and has two decades of experience living in the Middle East. Since 2014, he and his team have been sharing helpful content on travel, visa rules, and expatriate affairs.