Qatar, located in the Middle East, has one of the fastest growing economies in the world. Large natural gas reserves power the nation's economy, and the government has made large expenditures on infrastructure growth, making it a desirable place for expats to settle.
Due to the country's rapid population growth, there is a higher demand for Real estate Qatar, and foreigners are eager to consider their possibilities. However, buying property in Qatar can be complex and requires a thorough understanding of local laws and regulations.
In this article, we will explore the steps expatriates need to take to successfully buy real estate in Qatar, including what to know, and laces where they can buy.
What To Know Before Investing in Qatar Properties
Understanding the governing laws and regulations
Understanding the legal and regulatory environment that oversees the real estate industry in Qatar is crucial before investing. Foreign investors must follow specific rules, including securing a residency visa and setting up a local bank account. 
Recognise market dynamics
Qatar's property market is susceptible to changes in supply and demand, as well as other market variables, just like any other real estate market. Before making investment decisions, it is critical to research market trends and evaluate future potential. 
Pick the correct location
Qatar's property sector is divided into several regions, each with its own distinctive traits and investment potential. It's crucial to pick a place that fits your financial goals when investing in real estate. Investors favour areas like The Pearl-Qatar and West Bay because of their advantageous location and infrastructure expansion.
Places Where Expats Can Buy Property in Qatar
The Pearl Qatar
One of Qatar's most opulent and exclusive neighbourhoods is The Pearl Qatar. It is an artificial island with a surface area of 4 million square metres. Apartments and villas for sale in Qatar are among the properties offered by The Pearl Qatar, all of which provide breathtaking views of the Persian Gulf.
Photo by Visit Qatar on Unsplash
The business and residential area of West Bay is situated in the centre of Doha, the Qatari capital. It is the location of some of Qatar's largest structures, including the 300-metre-tall The Torch Doha Hotel. Apartments and opulent villas are both available in West Bay, accommodating a variety of budgets.
Al Wakra
Approximately 20 miles south of Doha is the beach city of Al Wakra. With numerous historic structures and sites still intact, it is renowned for its rich history and cultural legacy. Apartments, townhomes, and villas are just a few of the available properties at Al Wakra. 
Lusail
A proposed metropolis called Lusail is around 23 km north of Doha. One of Qatar's most ambitious projects, it aims to build a sustainable city with top-notch amenities and infrastructure. The iconic Lusail Stadium, which has 80,000 seats and is slated to be among the most impressive stadiums in the world, is also located in the city.
Al Khor
Al Khor is renowned for its long history, with numerous ancient sites and historical structures still remaining. Apartments and villas are among the numerous real estate options in Al Khor. Al Bayt Stadium, which hosted the 2022 FIFA World Cup matches, is also located in the city.
Steps To Buy Real Estate in Qatar
Establish your budget and property needs
Establishing your budget and property needs is the first step in buying real estate in Qatar. You must decide what kind of property you want and how much you can afford to spend on one. Do you prefer a home or a flat? How many bedrooms and bathrooms are required? Which location do you favour? Before you begin your home hunt, consider all of these criteria.
Market analysis
The following phase is market research after you decide on your spending limit and property needs. You must understand the state of the market, the cost of real estate, and your possibilities. To obtain a sense of the costs and the kinds of properties on the market, you can consult online property portals, real estate websites, and regional newspapers.
Hire a real estate agent
It is a smart idea to deal with a real estate agent when shopping for a home in Qatar. A skilled agent could help you find the appropriate home that fits your needs and price range. In addition, they could provide you with useful advice regarding the market conditions right now, the paperwork requirements, and the legal procedures related to buying a house in Qatar.
Examine the properties
The following step is to view the properties in person after narrowing down your list. The easiest method to assess a property and determine whether it suits your needs is to do so. Look for any flaws, inspect the amenities, and ask the agent any questions you may have when seeing a home.
Make an offer
Making an offer is the next step if you've found a property you like. The best price can be negotiated on your behalf by your agent, who can assist you with the procedure. You will have to pay a deposit to reserve the property after the seller accepts your offer.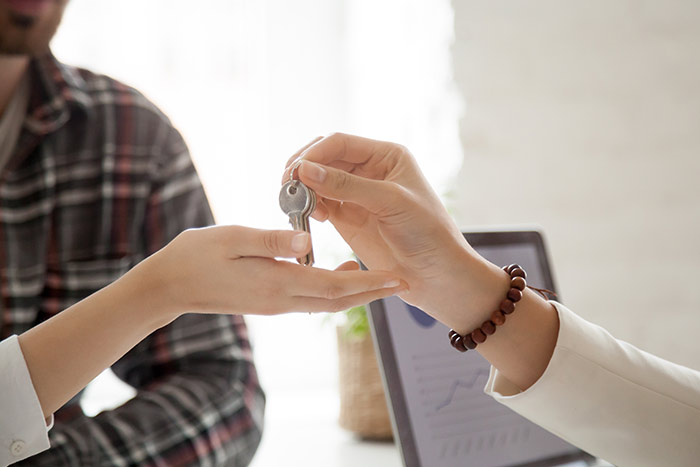 Photo by yanalya on Freepik
Finish the paperwork
The documentation must be finished when the seller accepts your offer and you've paid the deposit. An agreement for the sale of the property must be signed, and the balance must be paid. Your agent can assist you with the paperwork and make sure that all legal requirements are met.
Changing ownership
Transferring ownership is the last step. The Land Registry Office must be notified that the property is registered in your name there. Your agent can assist you with this procedure and ensure all required paperwork is submitted. You will get the property's title deed after the transfer is finished.
Finally, purchasing real estate in Qatar entails a number of processes and may differ significantly from the process you are accustomed to in your native country. The best course of action is to work with a real estate agent to assist you in your property search. This will make sure that all the necessary legal procedures are followed.
Purchasing property in Qatar can be a fantastic financial opportunity with the right planning and direction.
Written by: Sophie Baxter
---
Related Articles
Copyright © DohaGuides.com – Full or partial reproduction of this article in any language is prohibited.
---