Doha Guides Team regularly reviews this article to ensure the content is up-to-date and accurate. The last editorial review and update was on 3 September 2023.
Qatar Airways is one of the leading airlines in the world, renowned for its exceptional service, state-of-the-art aircraft, and commitment to excellence. If you are passionate about aviation and dream of joining this prestigious airline, you've come to the right place.
In this article, we will provide you with a step-by-step guide on how to apply for Qatar Airways jobs, ensuring you have all the information you need to pursue a career in the aviation industry.
How To Apply For Qatar Airways Jobs
Qatar Airways is the national carrier of the State of Qatar and is known for its exceptional service, award-winning hospitality, and modern fleet. It offers a wide range of career opportunities across various departments, including cabin crew, ground services, engineering, administration, and many more.
So, let's explore how you can apply to be a part of this prestigious airline.
Step 1: Visit the Qatar Airways Careers website
The first step in applying for a job at Qatar Airways is to visit their official careers website. The website address is: https://careers.qatarairways.com/
Once you are on the website, click on "Search Jobs".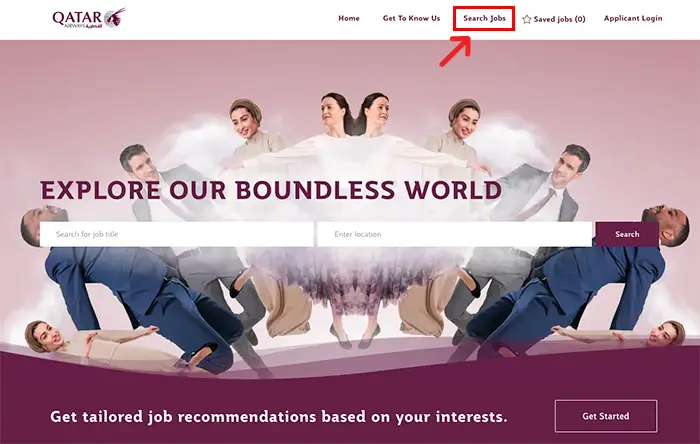 Step 2: Search for suitable jobs
Browse through the available job openings on Qatar Airways' careers website.
Utilize the search filters to narrow down your options based on your preferred location, department, or job category.
Step 3: Click on the job title and review description
Qatar Airways offers a wide range of job opportunities. Take your time to review the job descriptions and requirements for each position to determine which ones align with your skills, qualifications and aspirations.
Step 4: Click on "Apply Now"
Once you have found the suitable job, click on "Apply Now" button.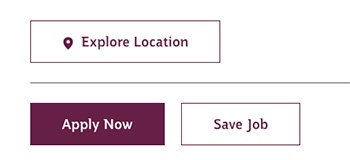 Step 5: Accept the privacy agreement
The privacy agreement says about the protection on your privacy and personal data you provide on the website. Read it and click on "Accept".

Step 6: Prepare and upload your CV
First update your resume/CV to highlight your relevant experience, education, skills, and accomplishments. Tailor your CV to match the specific requirements mentioned in the job description.
NOTE: For any job at any company, there is a high chance of preliminary selection if your CV matches with the job requirements.
Now upload the CV by clicking on the website link.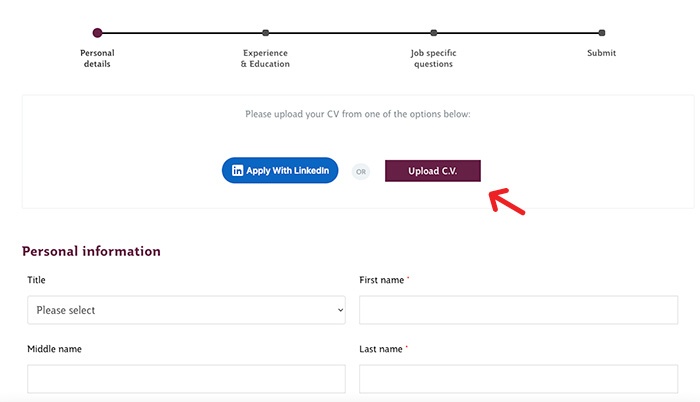 Alternatively you can get this information by clicking on "Apply With Linkedin" button.
Step 7: Complete the required fields
Once your CV is uploaded, the system would extract your details from the file. If there is any missing detail, you can enter it manually. Click on "Continue", complete all the required fields and answer all the questions.
Step 8: Submit your application
Once you have prepared your application, double-check all the documents for accuracy and completeness. On the last page, enter your full name and submit your application.
Step 9: You will receive your confirmation email
Once your application has been submitted, you will receive a confirmation email. This email will have a username which you can use for future follow-up.
The website allows you to create job alerts as well. By doing so, you will receive regular updates about Qatar Airways jobs and any relevant news.
How To Track Your Application
To follow-up on the application or update your information, go to the home page and click on "Applicant Login".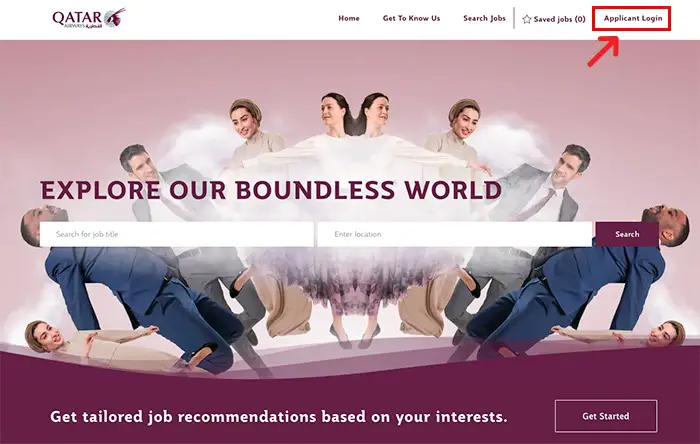 Use the username that you have received by email (at the application stage). A password can be generated by clicking on the "Forgot your password" option on this page.
Now you can login to the applicant account page. This account will serve as your platform for submitting more applications and managing your job search process.
Ensure that you provide accurate and up-to-date information in your account.
Application Review and Assessment
After submitting your application, Qatar Airways' recruitment team will review your documents. If your application meets the initial criteria, you may be invited to participate in further assessments, such as online tests, video interviews, or assessment centers.
Qatar Airways Interview Tips
If you successfully pass the initial assessments, you will be invited for an interview. Qatar Airways conducts a variety of interviews, including phone interviews, video interviews, and in-person interviews.
Qatar Airways is a globally recognized airline that values excellence, professionalism, and a customer-centric approach. By demonstrating your passion, skills, and commitment throughout the process, you can position yourself as a strong candidate for a fulfilling career within this prestigious organization.
When attending the interview at Qatar Airways it is essential to present yourself professionally.
Dress professionally and arrive on time for any in-person interviews.
Research commonly asked interview questions, prepare thoughtful answers, and practice your communication skills.
Be prepared to showcase your skills, knowledge, and suitability for the role during these stages of the recruitment process.
Background Checks and Medical Examination
Upon successful completion of the interview, Qatar Airways may conduct background checks and medical examinations to ensure you meet their employment standards.
These checks may include verification of your employment history, education, and criminal record, among others. Attend any medical examinations or tests required promptly and honestly.
Offer and Onboarding
If you successfully pass all stages of the recruitment process, Qatar Airways will extend an offer of employment. Carefully review the terms and conditions of the offer, including compensation, benefits, and contract details.
Once you accept the offer, you will undergo the onboarding process, which includes orientation, training, and integration into your new role.
By following the step-by-step guide outlined above, you can increase your chances of securing a position with Qatar Airways. Good luck with your application, and may your journey with Qatar Airways be a rewarding and successful one!
Qatar Airways Recruitment events
Qatar Airways often organizes recruitment events to reach potential candidates and facilitate the hiring process. These recruitment events provide opportunities for applicants to learn more about the airline, meet recruiters in person, and potentially go through initial assessments or interviews.
Here are some examples of Qatar Airways recruitment events:
Open Days: Open Days are large-scale recruitment events where candidates can meet Qatar Airways recruiters face-to-face. These events are typically held in various cities and countries worldwide. Open Days may involve group presentations, question-and-answer sessions, and initial screening assessments.
Assessment Days: Assessment Days are more selective events where shortlisted candidates from the initial application process are invited to participate. Assessment Days often include a series of assessments such as group exercises, role plays, language proficiency tests, and individual interviews.
Cabin Crew Roadshows: Qatar Airways occasionally conducts Cabin Crew Roadshows in different cities. These events are specifically focused on recruiting cabin crew members. Candidates have the opportunity to attend presentations, interact with Qatar Airways representatives, and undergo initial assessments.
Online Virtual Recruitment Events: Qatar Airways has also organized online recruitment events. These virtual events simulate the experience of an in-person recruitment event, allowing candidates to interact with recruiters through video interviews, presentations, and assessments conducted remotely.
It's important to note that specific recruitment events and their schedules can vary based on the airline's needs and recruitment plans.
Therefore, it is advisable to regularly check the official Qatar Airways Careers website, social media platforms, and relevant job portals for announcements regarding upcoming recruitment events and their locations. These sources will provide the most accurate and up-to-date information on Qatar Airways' recruitment events.
Job Categories Available at Qatar Airways
There are various job categories available at Qatar Airways, offering a wide range of career opportunities. Some of the different job categories at Qatar Airways include:
Cabin Crew: This category includes roles such as flight attendants or cabin service supervisors who ensure the safety, comfort, and well-being of passengers during flights.
Pilots: Qatar Airways employs pilots for its diverse fleet of aircraft. Positions range from First Officers to Captains, and they play a crucial role in operating flights safely and efficiently.
Engineering and Maintenance: This category comprises professionals responsible for maintaining and repairing aircraft. Positions may include aircraft technicians, engineers, avionics specialists, and maintenance supervisors.
Airport Operations and Ground Services: These roles involve managing and coordinating ground operations, including baggage handling, customer service, ramp operations, aircraft loading, and cargo services.
Customer Service and Sales: Jobs in this category involve interacting with passengers, assisting with reservations, providing travel information, and ensuring excellent customer experiences both on the ground and in-flight.
Administration and Support: Qatar Airways employs professionals in various administrative and support roles, such as human resources, finance, marketing, IT, legal, and procurement, to ensure the smooth functioning of the organization.
Security and Safety: Qatar Airways emphasizes the safety and security of its passengers and staff. This category includes roles related to aviation security, emergency response, and safety management.
Cargo Operations: Qatar Airways operates a robust cargo division, and positions are available in areas such as cargo sales, operations, handling, and logistics.
Qatar Airways Group: The airline's group division offers diverse opportunities in areas such as Qatar Airways Holidays, Qatar Duty-Free, Qatar Aviation Services, Qatar Executive (private jet charter), and other subsidiaries.
It's important to note that Qatar Airways frequently updates its job offerings, and the availability of specific job categories may vary over time.
Applicants are encouraged to regularly check the Qatar Airways Careers website for the latest job opportunities and categories.
Requirements for Qatar Airways Cabin Crew Jobs
The requirements for Qatar Airways cabin crew jobs typically include a combination of educational qualifications, personal attributes, language proficiency, and physical criteria. While the specific requirements may vary slightly depending on the position and level of experience, here are some general requirements for Qatar Airways cabin crew jobs:
Minimum age: 21 years
Minimum arm reach: 212 cm (on tip toes)
Minimum education: high school education
Fluent in written and spoken English (ability to speak another language is an asset)
Excellent health and fitness
Willingness to relocate to Doha, Qatar
Outgoing personality with good interpersonal skills and the ability to work with a multinational team
Passion for service
It's important to note that Qatar Airways may have additional requirements and qualifications specific to their cabin crew positions. As requirements may change over time, it is recommended to refer to the official Qatar Airways Careers website or job postings for the most accurate and up-to-date information on the specific requirements for cabin crew jobs.
Beware of Fraudulent Job Offers
Unfortunately, scammers may sometimes pose as representatives of Qatar Airways or other reputable companies, offering fake job opportunities to unsuspecting applicants. It's crucial to stay vigilant and follow some safety tips to protect yourself from these scams.
Always double-check the authenticity of the job offer you receive. Legitimate job offers from Qatar Airways will come through official channels, such as the Qatar Airways Careers website or official email addresses ending with "@qatarairways.com.qa"
Also never provide sensitive personal information upfront and be wary of requests for payment. Authentic job offers from Qatar Airways will never require you to pay any fees or charges as part of the application process. If you're asked to make payments for visa processing, job guarantees, or any other reason, it's likely a scam.
Remember, Qatar Airways takes fraudulent activities seriously and actively works to protect job seekers from scams. If you come across any fraudulent job offers claiming to be from Qatar Airways, report them to the company immediately, providing all relevant details and evidence.
---
Frequently Asked Questions
---
How can I apply for a job at Qatar Airways?
To apply for a job at Qatar Airways, visit their official careers website and search for available job openings. Select a position of interest and complete the online application form with the required information. Be sure to submit all necessary documents, such as your resume and cover letter, as specified in the job posting.
What are the minimum requirements to work at Qatar Airways?
The specific requirements vary depending on the job position. Qatar Airways typically seeks candidates with relevant qualifications, skills, and experience for each role. Common requirements may include a high school diploma or equivalent, proficiency in English, excellent communication skills, and the ability to meet the physical demands of the job.
Do I need previous experience to apply for job at Qatar Airways?
While having prior experience in the aviation industry can be beneficial, Qatar Airways offers entry-level positions that may not require previous experience. It's important to review the job descriptions and requirements for each position to understand the experience level desired by the airline.
How long does the application process take?
The duration of the application process can vary depending on factors such as the number of applicants, the specific job position, and the recruitment timeline of Qatar Airways. It's advisable to regularly check your email and the status of your application on the Qatar Airways Careers portal for any updates or requests for further assessments.
Will I receive a response after submitting my application?
Qatar Airways aims to provide timely responses to applicants; however, due to the high volume of applications received, it may take some time to receive a response. If your application is shortlisted, you can expect to be contacted for further assessments or interviews. It's important to regularly check your email, including spam or junk folders, for any communication from Qatar Airways.
Can I apply for multiple positions at once?
Yes, you can apply for multiple positions at Qatar Airways if you meet the requirements for each position. However, it's important to tailor your application materials, such as your cover letter and resume, to highlight the relevant skills and experiences for each specific role.
---
Related Articles:
Copyright © DohaGuides.com – Full or partial reproduction of this article in any language is prohibited.
---