Doha Guides Team regularly reviews this article to ensure the content is up-to-date and accurate. The last editorial review and update was on 3 September 2023.
Expo 2023 Doha, a prestigious horticultural exposition, is set to be a groundbreaking event for Qatar, the Middle East, and North Africa. Celebrating the country's rich culture, innovation, and global connectivity, this A1 International Horticultural Exhibition will take place in the breathtaking Al Bidda Park, offering visitors panoramic views of the azure waters of the Arabian Gulf.
Expo 2023 Doha has opened the applications for their Volunteer programme. Becoming a volunteer at Expo 2023 Doha offers a unique chance to be part of something historic, to contribute to the success of one of the world's premier horticultural expositions, and to represent Qatar on the global stage.
Whether you are a local resident eager to showcase your love for your country or an international visitor looking to immerse yourself in Qatar's culture and hospitality, volunteering at Expo 2023 Doha presents an unparalleled opportunity to create memories that will last a lifetime.
In this article, we will explore how you can become a volunteer at Expo 2023 Doha, requirements, benefits of being part of this extraordinary event, and how your efforts can make a difference in shaping a more connected and sustainable world.
08 AUGUST 2023 UPDATE: The volunteer registration for Expo 2023 has come to a close after just five days since it opened. Organisers announced that they received an overwhelming response, with over 50,000 applications flooding in from enthusiastic individuals wanting to be part of this six-month event.
About Expo 2023 Doha
The Expo 2023 Doha marks as the second-largest event that will be hosted in the country since the FIFA World Cup Qatar 2022. 
A joint effort between the Bureau International Des Expositions (BIE) and the International Association for Horticultural Producers (AIPH), Expo Doha 2023 promises to draw attendees and organizers from 80 countries, including representatives from NGOs (Non-Governmental Organizations).
With an estimated 3,000,000 tourists, residents, students, dignitaries, and exhibitors expected to flock to Al Bidda Park between October 2023 and March 2024, the event is bound to be an unforgettable celebration of global culture and cooperation.
Volunteering At Expo 2023 Doha
While Expo 2023 Doha is an opportunity for Qatar to showcase its best, it is the dedicated volunteers who truly bring the event to life. Volunteers are the heartbeat of the exposition, playing a pivotal role in creating a vibrant and enriching experience for all attendees.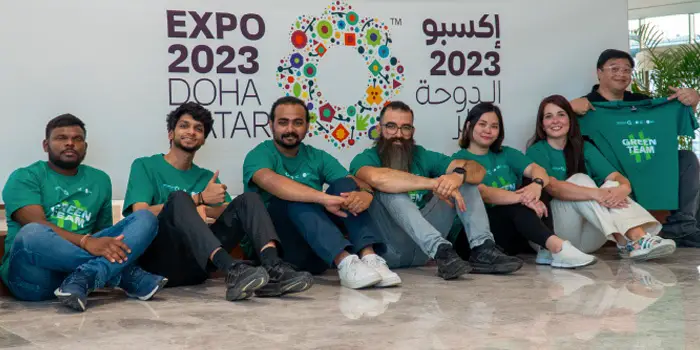 By bringing together a diverse array of people and experiences, these enthusiastic individuals ensure that the event is not just a celebration of horticulture but also a platform for fostering meaningful connections and leaving a lasting impact on the community.
Expo 2023 Doha Volunteer Salary
Volunteering roles at Expo 2023 Doha are unpaid, means you will not receive a salary. However, you will receive a unique volunteer uniform, access to volunteer-only events, a certificate of appreciation for your contribution and other exclusive benefits. 
Public transport (Doha Metro) within Doha, meals and refreshments are provided during your shifts. 
Expo 2023 Volunteer Benefits
Volunteering at Expo 2023 comes with a host of exciting benefits that cater to different interests and motivations. As a volunteer, you'll become an integral part of a global event, gaining valuable experience and expanding your network by connecting with professionals from various fields.
Contributing your time and efforts to Expo 2023 will not only bring you personal satisfaction but also allow you to make a positive impact on your country and community.
Here's what you can expect as an Expo 2023 volunteer:
1. Expo Experience: Become a part of a major international event right in your city, gaining invaluable volunteering experience that will enrich your personal and professional life.
2. Networking: Forge meaningful connections with people from all over the world, forming lasting relationships with a diverse group of colleagues.
3. Make Connections: Immerse yourself in a positive environment, working with amazing people who share your passion for making a difference.
4. Exclusive Uniform: Receive a unique volunteer uniform, not only to wear during your shifts but also as a keepsake to remember this remarkable experience forever.
5. Memorabilia: Take home exclusive Expo 2023 items as a token of appreciation for your dedication as a volunteer.
6. Training: Enhance your skills by attending training sessions, putting your newfound knowledge into practice during the event.
7. Certificate: Receive a certificate that validates your valuable volunteer experience, acknowledging your significant contribution.
8. Meals: Enjoy the perk of complimentary food and drinks during your shifts, ensuring you stay energized and fueled throughout your volunteering journey.
9. Final Gift: As a heartfelt gesture of gratitude for your participation, Expo 2023 Doha will present you with a special gift as a lasting memento of this incredible journey.
10. Thank-you event: Enjoy a thank you event – just for volunteers – because your contribution is valued.
Who is Eligible To Apply
The eligibility requirements to volunteer at Expo 2023 Doha are as follows:
As of September 1, 2023, you must be 18 years old.
You can volunteer 7-8 days per month for 6 months​.
You are full of positive energy and motivated to help people​.​
You are eligible ​to live in Qatar.
According to the website, overseas applicants will be considered if they are self-funded, eligible to stay in Qatar for six months, and can obtain the appropriate visa. Visa, travel, and accommodation are not provided by the Expo 2023. 
Applicants who have no background experience in volunteering may also apply for the programme. 
What Will Volunteers Do
As a volunteer at our event, you will play a crucial role in creating an unforgettable experience for visitors, participants, and the media. Your tasks will vary, and you'll be assigned to diverse functions that ensure the smooth running of the event. These functions encompass visitor services, events & cultural experiences, media support, ceremonies, and more.
The website has listed out the several functional areas that volunteers may take-up roles in such as:
Accreditation
Ceremonies
Ticketing
Events & Cultural Experience
Health & Safety
Language Services
Media & Broadcast
Participant Operations
Protocol Services
Visitor Services & Experience
Workforce
Expo 2023 Volunteer Registration
Registration for the Expo 2023 Doha Volunteer Programme is now open on its official website.
Join the Expo 2023 volunteering team and be part of an unforgettable adventure, where you can grow personally and professionally, create lasting memories, and leave a positive impact on your community and the world!
---
Frequently Asked Questions
---
How many hours/days per week will I be expected to volunteer? 
Over the six-month duration of Expo 2023, we expect you to complete 45 shifts, an average of two days per week. A shift lasts 6-8 hours, depending on the role.
Can I volunteer for Expo 2023 Doha if I do not speak English fluently? 
Expo 2023 is an international event receiving visitors and participants from around the world. Volunteers need to be able to communicate effectively in English to provide information and assistance to everyone.
I have a job. Can I still volunteer?
Volunteers can select and manage their own shifts and we'll need you most in the evening and at weekends, so there is every chance you can make volunteering your hobby and still do your day job. However, volunteering is a commitment, please consider carefully whether you'll be able to fit it into your life.
---
Related Articles:
Copyright © DohaGuides.com – Unauthorized reproduction of this article in any language is prohibited.
---