The third edition of the Qatar Balloon Festival is scheduled to take place from January 19 to 28 at a new venue at Old Doha Port. This year's Balloon Festival is not only about beautiful hot air balloons that will illuminate the night sky, but there will be many more special surprises to entertain the local and international visitors coming for the event.
Here is everything you need to know about Qatar Balloon Festival 2023, including dates, venue, timing, attractions and how to reach there.
About Qatar Balloon Festival
The Qatar Balloon Festival's third edition is a 10-day fun-filled family event with a spectacularly colourful display of over 50 Hot Air Balloons participating from around the world. Visitors to the event can enjoy the music and entertainment, food, novelties and so much more.
Qatar Balloon Festival Dates and Timings
The 2023 edition of the Qatar Balloon Festival will take place from Thursday, 19 January to Saturday, 28 January 2023.
The festival venue will be open from 4 pm to 11 pm every day. While most activities will be over by 10 pm, the food kiosks and activities for children will run until 11 pm. 
Qatar Balloon Festival Venue
During the past two editions, the event was held at Aspire Park. This year, the venue has been moved to the Old Doha Port's external green area behind Grand Terminal. Here is the Google Map of the location.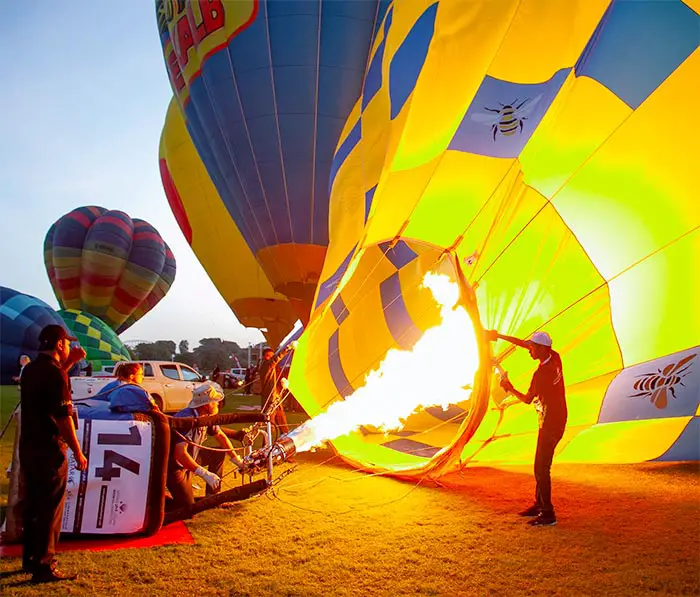 How To Reach Qatar Balloon Festival Venue
There are several modes of transport available to reach the venue:
Drive from the box park is approximately 5-10 minutes
Walk from the Box Park is approximately 23 minutes.
Drive From the Chabrat Al Mina (seafood market) is approximately 3 minutes.
Walk From the Chabrat Al Mina (seafood market) is approximately 15 minutes.
Parking Options
Open free Parking for visitors at the Old Doha Port will be available on a first-come, first-serve basis.
Parking will be allocated for disabled pass holders to guarantee Parking near the main entrance.
Public Transport Options
For those travelling by Doha Metro, the Souq Waqif Metro Station on Gold Line is about a 30-minute walk from the port.
Karwa Bus 831 is made available using which passengers can get down at Opera Bus stop, a few-minute walk from the festival venue. Bus numbers 538, M113, and M315 have routes that pass near Doha Port.
Alternatively one could also use the Karwa Taxi or other ride-sharing services to get off directly at the Old Doha Port. 
Drop-off and Valet Options
Limited paid valet parking will be available (terms and conditions apply)
Festival visitors can be dropped -off via personal driver, taxi, Uber, or Careem services.
Boat and Dhow Trip Options
Open allocated marina ports for visitors with private boats.
Dhow trips going and coming back to the Festival.
Qatar Balloon Festival Attractions
Sunrise Balloon Launches
The sunrise launches are going to be just as the name says, at sunrise, and if you do not want to miss them you will have to wake up a tad bit earlier and either watch the skies or come join in at our take-off points and witness the launching of over 50 balloons!
Tethered Flights
While you are enjoying the performances and appetizing foods from various cuisines, and your children are having fun at the gaming zone, you will get the opportunity to see a Hot Air Balloon professionally tethered and anchored to the ground while floating just above you. The tethered balloons are just as dynamic and interesting, and if you're lucky, you might even get to fly in one.
Nightglow
As the night will set over Doha and the festivities go on , enjoy a unique sighting of illuminated Balloons stacked next to each other while the pilots assure, they are glowing in the dark in perfect rhythm accompanied by the festival's musical events from the main stage, creating a lovely vibrant atmosphere and an experience like no other.
Entertainment
Which Festival is great without dance and music performances? There is always something to watch for at the festival and this year a variety of performers, music bands, DJs, and singers, are set to wow audiences at the 10-day event.
An extensive lineup of singers, music bands/groups, dancers, magic show, DJ, Violinist, mascots, jugglers and others has been set up to provide entertainment and enhance the overall festival experience for visitors.
Playground
In addition to being fascinated by the striking display of Hot Air Balloons, the younger crowd will have more to look forward to. A special arena has been designated for all kinds of different games that young ones and adults can enjoy during their visit to the festival.
A host of games will be held at the venue including carnival games, team games, human football, football darts, VR games, electronic games, themed jumping houses, and slides.No matter the age, there will be something for everyone to try out. Make sure to bring the little ones along!
Food kiosks and trucks
It will be double the pleasure for foodies out there as the festival will have plenty of choices for food, which will be available at various kiosks and trucks spread across the venue.
How To Book A Balloon Ride
The public can avail of a hot air balloon flight for a reduced price of QR499, which can be purchased via the festival's website, qatarballoonfestival.com or at the festival's exclusive partner asfary.com.
The 30 to 45-minute flight is available during the morning, from this month until March.
Around 4,000 to 5,000 people are expected to attend daily during the course of the 10-day festival.
---
Frequently Asked Questions
---
When and where will there be a mass launch of hot air balloons?
Mass launch of hot air balloons will take place at dawn every morning (depending on the weather conditions). The exact time and place of the launch will be published daily on the festival's Instagram page.
What are the dates of the Qatar Balloon Festival 3rd Edition?
The festival is scheduled from 19th till 28th of January.
---