Attending the FIFA World Cup is once in a lifetime opportunity for football fans. Many of them would love to keep their match tickets as a souvenir to cherish their memories.
However, most of the tickets issued during this year's FIFA World Cup Qatar 2022™ are digital tickets, which means you do not get a printed match ticket unless you bought directly from a sales counter or received a complimentary ticket.
If you were disappointed that you didn't get a physical ticket, we have some good news for you. FIFA has announced that soon they will be releasing printed personalised souvenir tickets for the Qatar World Cup.
Here is everything you need to know about the Qatar 2022 Souvenir Tickets, including eligibility, price, how to apply for a souvenir ticket, and how you can collect it.
18 JANUARY 2023 UPDATE
The souvenir tickets are now available on the website for print. An original ticket purchaser can get souvenir tickets for the mobile tickets of the match(es) they have attended with their guests. 
What is a Souvenir Ticket?
A souvenir ticket is a physical and personalised match ticket that FIFA World Cup Qatar 2022™ mobile ticket holders can purchase for the match(es) they have attended.  
Eligibility for Qatar 2022 Souvenir Tickets
Qatar 2022 Souvenir Tickets are only available to original ticket buyers for matches they attended.
Guests who attended matches are not eligible to apply for souvenir tickets. 
The main ticket buyer can apply for souvenir tickets on behalf of his/her guests.
How To Get Qatar World Cup Souvenir Tickets
The option to apply for souvenir tickets is available on the official FIFA website from 18 January 2023.
The main ticket buyers can access FIFA.com/tickets.
Log in to their FIFA Ticketing account.
Buy souvenir tickets for themselves and their guests.
Please note that the official FIFA ticketing portal FIFA.com/tickets is the only souvenir ticket sales channel.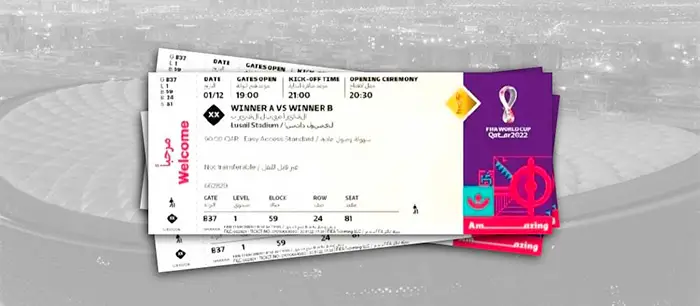 Qatar 2022 Souvenir Tickets Price
The price per souvenir ticket is fixed at QAR 10 and all tickets contained within a single application number will be printed.
The total price is calculated by multiplying QAR 10 by the number of tickets with the same application number.
For example, if an original ticket purchaser has purchased six tickets (one for himself and five for guests) within a given ticket application, all six tickets will be printed. The cost would be QAR 60.
There will be no additional shipping cost, as the price of the souvenir tickets includes shipping.
How To Collect The Souvenir Tickets
By the end of February or the beginning of March 2023, Qatar World Cup souvenir tickets will be sent via regular mail to the address on your FIFA ticketing account.
Delivery should take around a month, so you should receive your souvenir tickets by the end of March 2023 or the beginning of April 2023.
What if my address has changed?
If your address has changed, please update it in the profile section of your Ticketing Account no later than mid-February 2023. If your country of residence has changed, please contact the Customer Care team via the contact form (subject "Other).
---
Frequently Asked Questions
---
Can guest ticket holders apply for souvenir tickets?
Only FIFA World Cup Qatar 2022™ original ticket purchasers can purchase souvenir tickets related to the mobile tickets they owned for the tournament. Guests are not entitled to purchase souvenir tickets directly. 
Can I change the name on the souvenir ticket?
Personal data, including ticket holder names, will not be able to be changed on a souvenir ticket.
Can I buy only one ticket instead of all my tickets?
No, all tickets included in one application number will be printed at once and you have to pay for all of them.
---
Related Articles:
---