Ramadan is a month of spiritual reflection, prayer, and fasting observed by Muslims worldwide. It is also a time when families and friends come together to break their fast at sunset with a hearty meal known as Iftar.
Dining out during Ramadan can be expensive, and not everyone can afford to spend a lot of money on Iftar. In this article, we will explore some places that offer Ramadan Iftar buffet in Qatar under QR 100.
These places provide an affordable option for those who want to enjoy the spirit of Ramadan without breaking the bank. From traditional Middle Eastern fare to international cuisine, there is something for everyone. Check out our list of budget-friendly iftar buffets and enjoy the delicious food and warm atmosphere of Ramadan.
NOTE: Most of these restaurants need table reservation. So make sure you call and book in advance.
Restaurants With Iftar Buffet in Qatar Under QR 100
Absolute Barbecue
Enjoy special unlimited Ramadan buffet at only QAR 89 from 5:15 to 7:30 pm. Come take part in the festivities and indulge in the best of BBQ delights!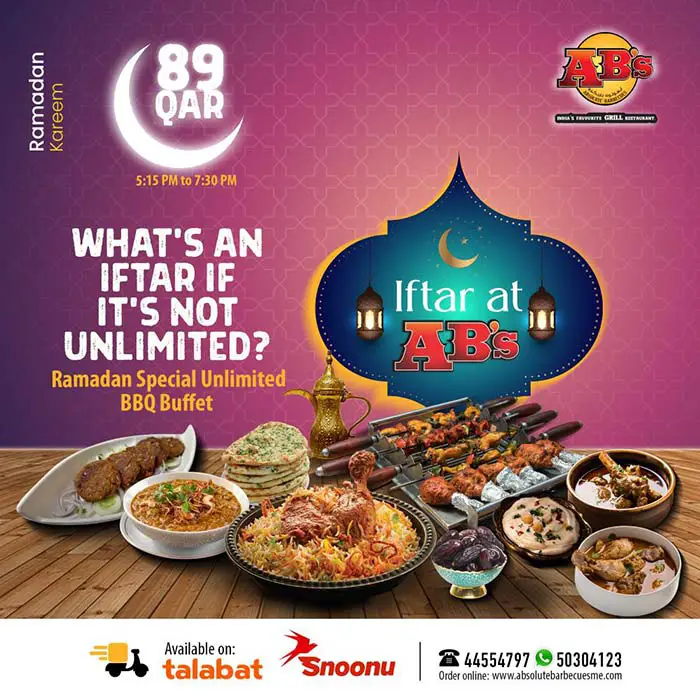 You can also enjoy a sumptuous feast for Suhoor at just 74 QAR from Sun-Wed from 10:15 -12 pm. On Thu-Sat, enjoy it for 79 QAR from 10:15 -12 pm.
Location: Dusit D2, Building No. 23, Salwa Road, Muntazah Area
Contact: +974 5030 4123
---
IndiGrill Restaurant
Enjoy a scrumptious spread of Tabletop Grills, Live Tawa Counter, Live Chaat Station, Live Jalebi, Live Pasta Station, a delicious main course, and a wide variety of salads, and desserts for QR 89.
IndiGrill is also serving a Suhoor Buffet at QR 69.
Location: Barwa Tower 2, C-Ring Road, Al Sadd Doha, Qatar
Contact: +974 3339 5254, +974 4483 3855
---
Desi Dhaba
Desi Dhaba North Indian Restaurant is serving a special Ramadan buffet for QR 49 (weekdays) / QR 59 (weekends) per person.
Timing:
Iftar Buffet: Sunset to 8 pm
Dinner Buffet: 8 pm to 11 pm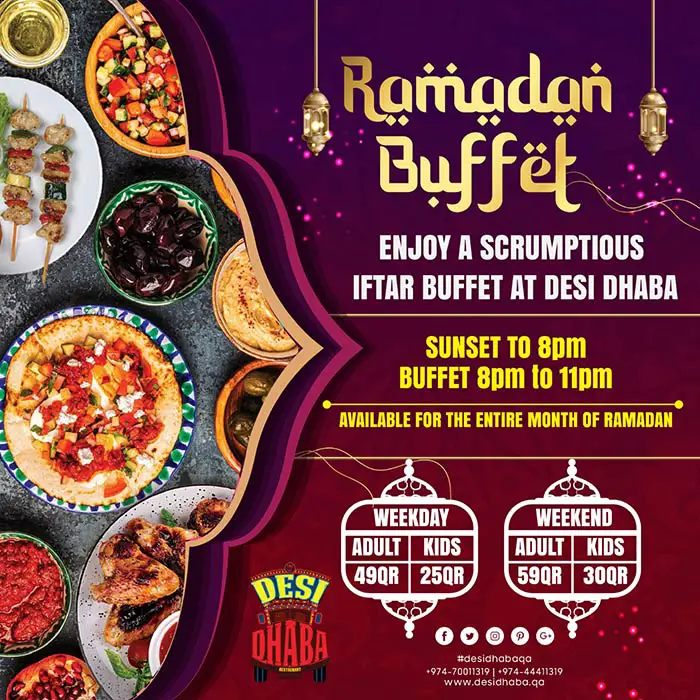 Location: Bin Mahmoud, Doha, Qatar
Contact: 70011319 / 44411319
---
Punjab Restaurant
Experience a lush Ramadan feast with Punjab Restaurant. Enjoy Iftar Buffet for only QR 75. For Children 5 to 10 Years: QR 45. Children below 5 years is free.
Location: Al Musheireb Area (Next to Panda Hypermarket)
Contact: 50098686, 44324165
---
Tofu House Qatar
Tofu House Qatar has launched their first Iftar buffet featuring a wide variety of Korea's favorite dishes to satisfy all your cravings. From traditional kimchi to savory bulgogi, galbi, and many more in between, the buffet has something for everyone to enjoy.
Price: Adult QR 89 (with beverages QR 111)
Kids (6-12 years): Half price of Adult
Free for kids 5 years and below
Available at Al Sadd Branch only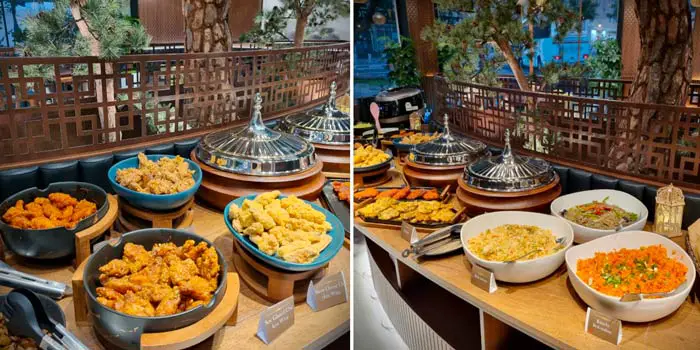 Location: Al Kinana Street, Al Sadd, Doha, Qatar
Contact: +974 4435 8678
---
Chettinad Aryaas
Chettinad Aryaas is offering a special Iftar Buffet for QR 29 from sunset to 10 pm.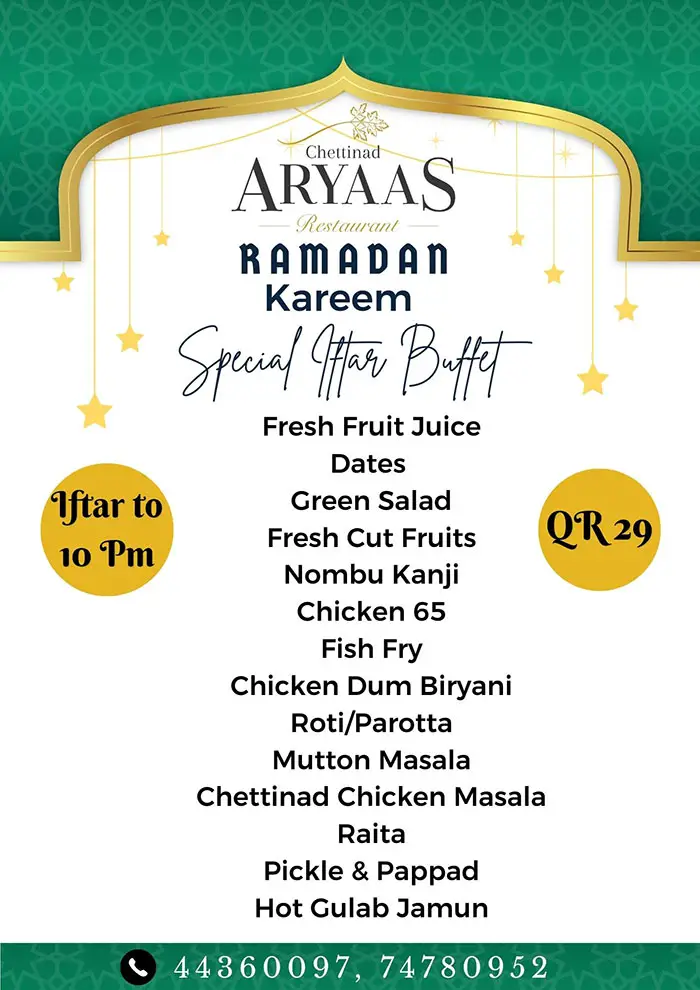 ---
Green Pepper Restaurant
Green Pepper Restaurant inside Grand Qatar Palace Hotel is serving Iftar Buffet for QR 55 per person.
---
Al Osra Restaurant
Celebrate the spirit of Ramadan with Al Osra's all you can eat buffet. The daily Iftar buffet is priced at QR 49. Timing: 5:30 pm to 9 pm. For reservation call: 44311661/44319941
---
Aalishan Restaurant
Aalishan Restaurant is offering all-you-can-eat Iftar buffet for QR 62. Timing: 5:45 pm to 7:45 pm.
---
Indian Coffee House Qatar
Indian Coffee House Qatar is offering Iftar buffet at QR 32. You can also get buffet + starters for QR 42. You can also get Suhoor meals buffet at QR 16.
Location: Fareej Abdul Aziz Street, Doha, Qatar
Contact: +974 4444 0902
---
Kadavu Restaurant & Grill
Kadavu Restaurant & Grill is offering Iftar buffet + starters for QR 30.
Location: Al Jazeera Street, Bin Mahmoud
Contact: +974 4442 4492
---
Lifestyle District
For Filipino food lovers, Lifestyle District is offering daily dinner buffet for QR 29 from 6:00 pm to 1:30 am.
---
Spice & Sizzle Restaurant
Even though this Iftar buffet is slightly above QR 100, if you are craving for authentic Pakistani, Indian, and Middle Eastern dishes, Spice & Sizzle is a great option. You can also get Suhoor Combo for QR 99.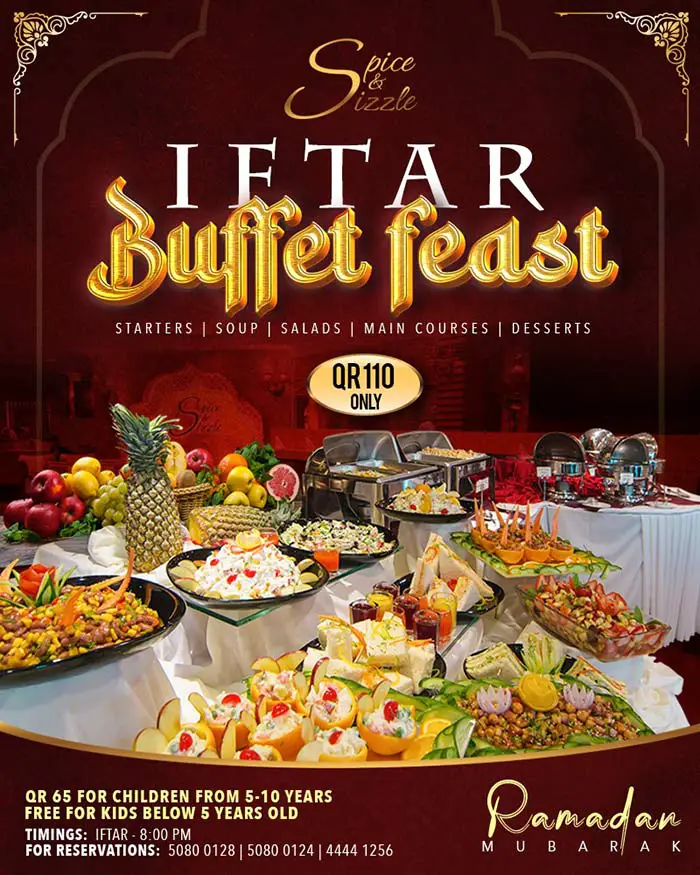 ---
IKEA
If you want to have Iftar along with some shopping, IKEA is offering all-you-can-eat Iftar buffet. There is a wide range of food choices from different cuisines. Prices start at QR 79 for IKEA Family and Blue Rewards members, and kids under 5 eat for free. Timings: From 6 pm to 9 pm.
Iftar Buffet: QAR 99 (adults), QAR 59 (kids), QAR 79 (IKEA Family price)
Timings: 6 pm to 9 pm
If you are looking for a luxurious experience at a five-star hotel, check this list of the best luxury Iftar buffets (with prices).
This list will be updated with more offers throughout this Ramadan. If you know about an amazing restaurant in Doha that is offering such an Iftar deal, please do comment and we can update.
For free listing on this page, you can send us an email with the details. Also, make sure to share this page with your friends and family.
READ NEXT: Affordable Ramadan Iftar Box Combos in Qatar (2023)
---
Related Articles:
---