Ramadan is a month for gratitude, sacrifice, and reflection, but let's get real – it's also about food. While we all know that the best Iftar is at home, there are a few places that offer a delicious extravaganza that is hard to miss!
There are plenty of restaurant options all over Qatar that offer amazing Iftar deals like Iftar boxes, Iftar kit, Iftar combo deals, bundle meals, etc. Here are the Best Iftar Deals in Doha offering Iftar Box Kits under QR 40:
List of Best Iftar Deals in Doha (2023)
MRA Restaurant
MRA Restaurant is offering Arabic Iftar Kit at QR 35, South Indian Iftar Kit at QR 36, Iftar Combo Meal Set at QR 34. You can also get a simpler South Indian Combo at QR 27.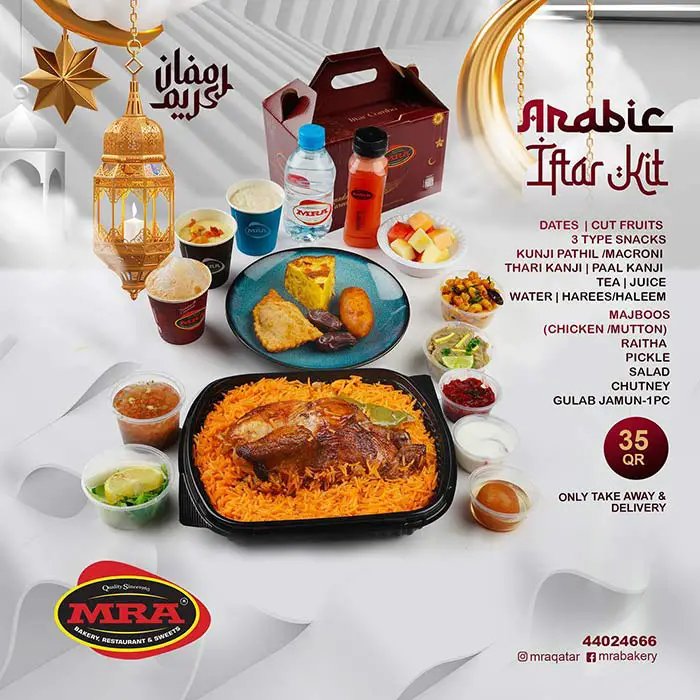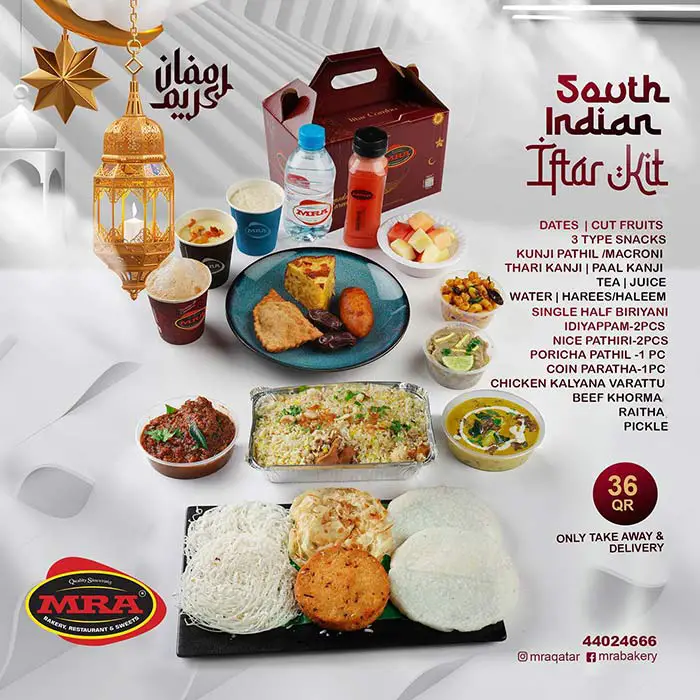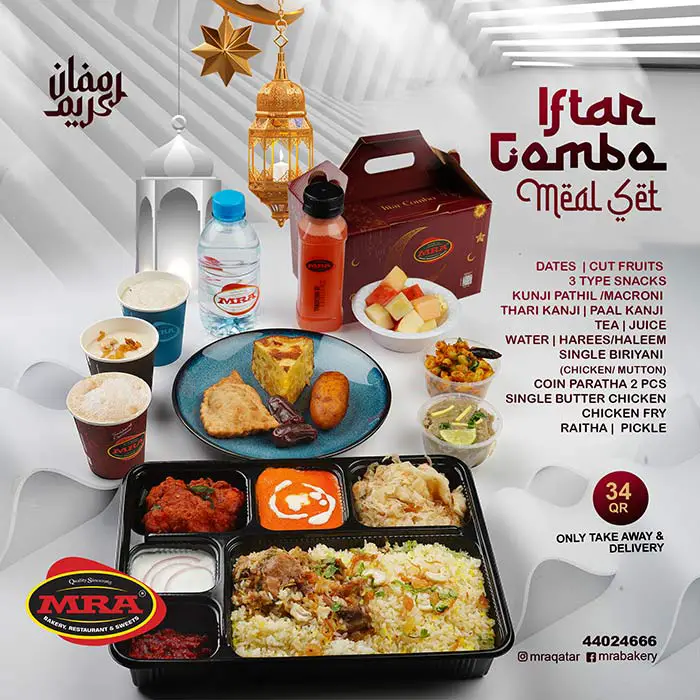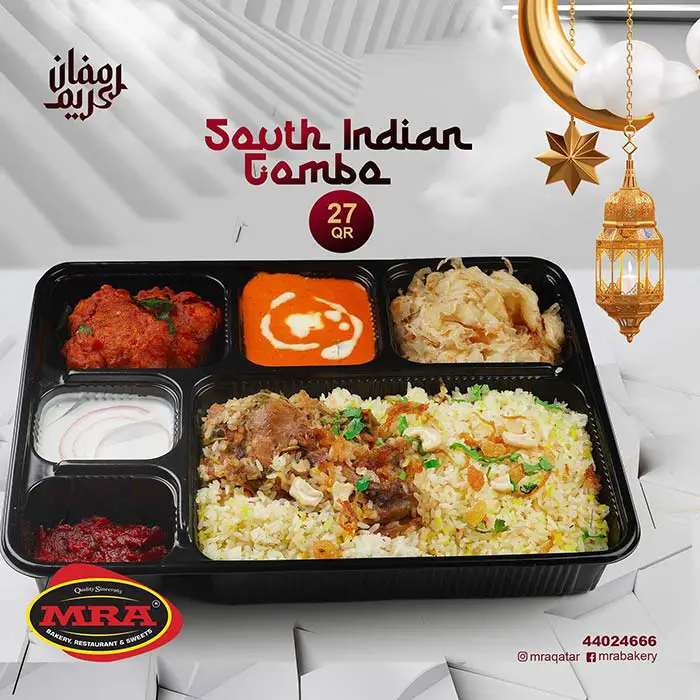 ---
Zaitoon Restaurant
Zaitoon Restaurant offers a regular Iftar Box at QR 29 as well as Premium Iftar Box at QR 43. You can find a number of Indian delicacies in these boxes, including special Hyderabadi Haleem.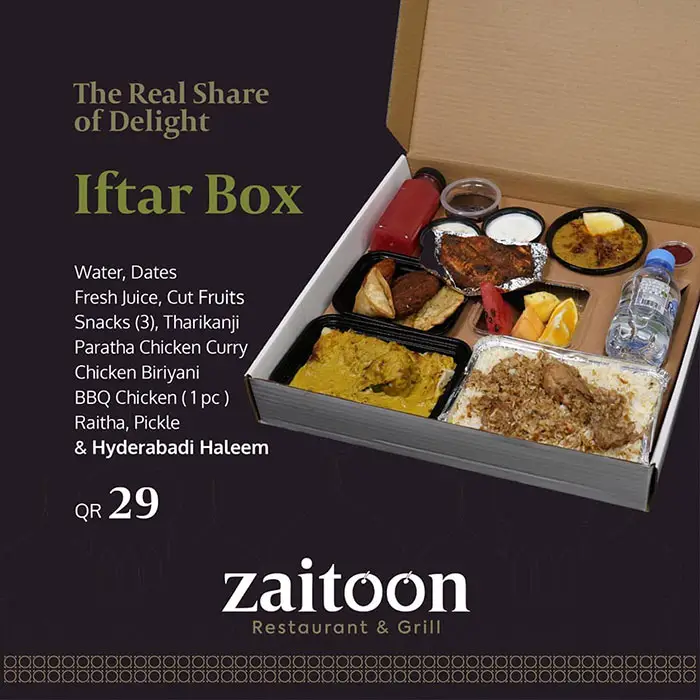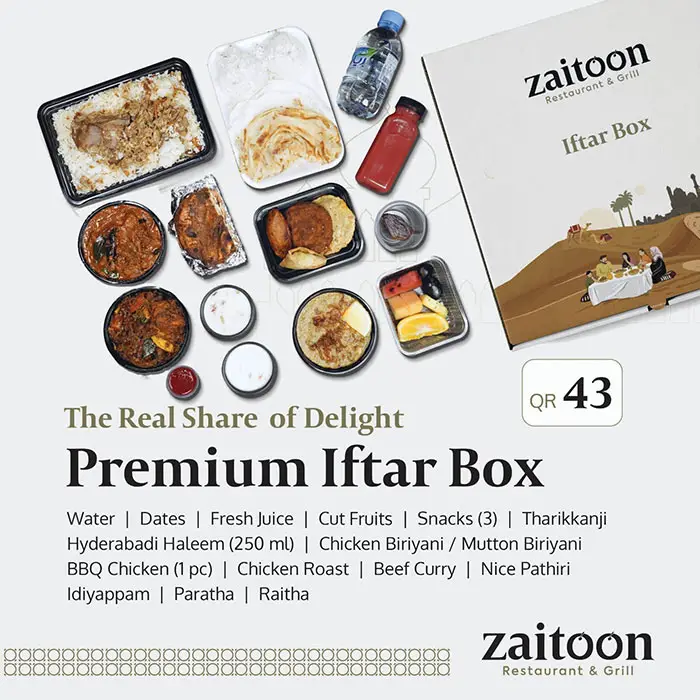 ---
Absolute Barbecues
Absolute Barbecues has introduced their Iftar Meal box at QR 39, featuring Indian specialities like mutton haleem, chicken pakoda, chicken biriyani, butter chicken etc. You can also get family Iftar Box that serves 2-3 persons.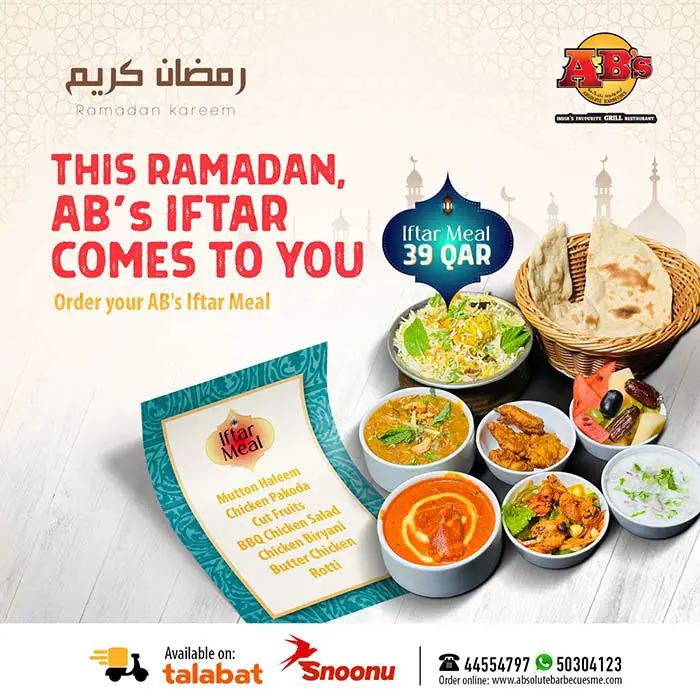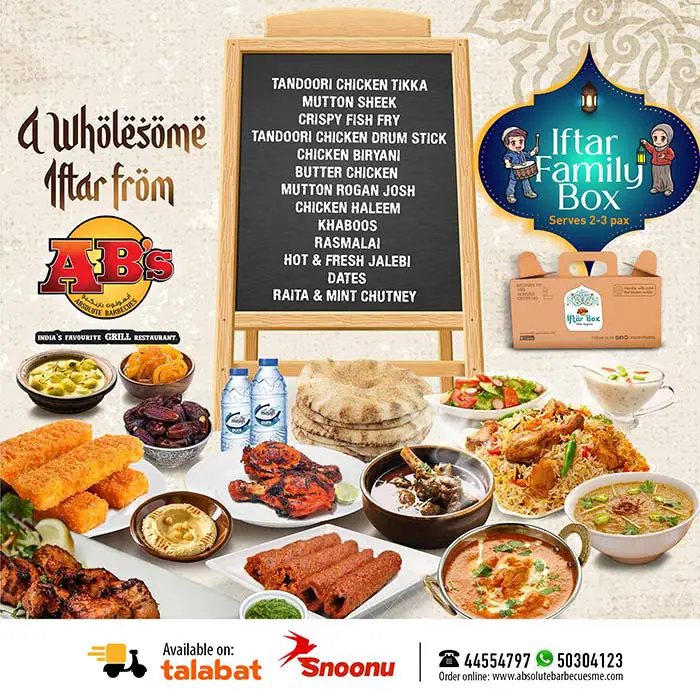 Absolute Barbecues Facebook Page
---
Rotana Restaurant
Rotana Restaurant's Iftar Box is priced at QR 25 with ghee rice, mutton curry, kebab/barbecue etc. There is also a budget-friendly option for QR 15.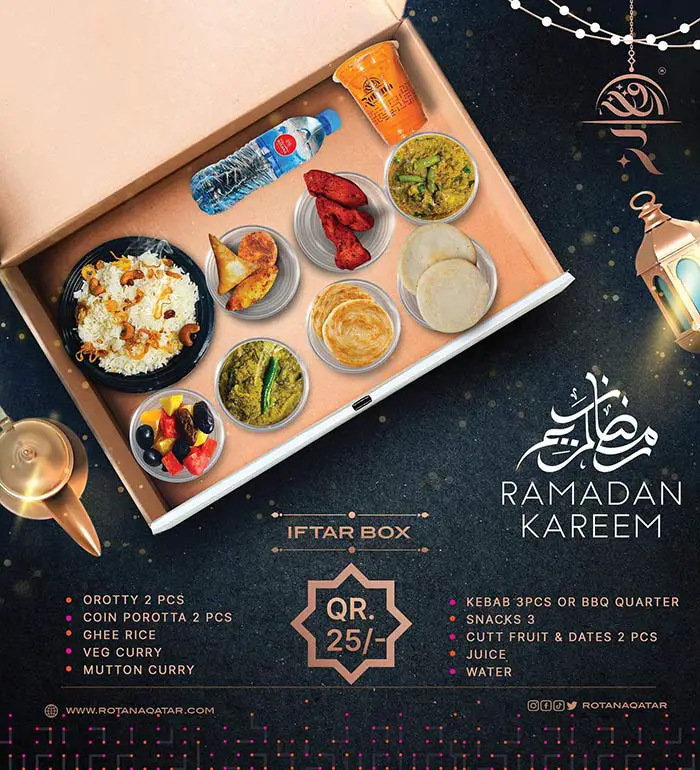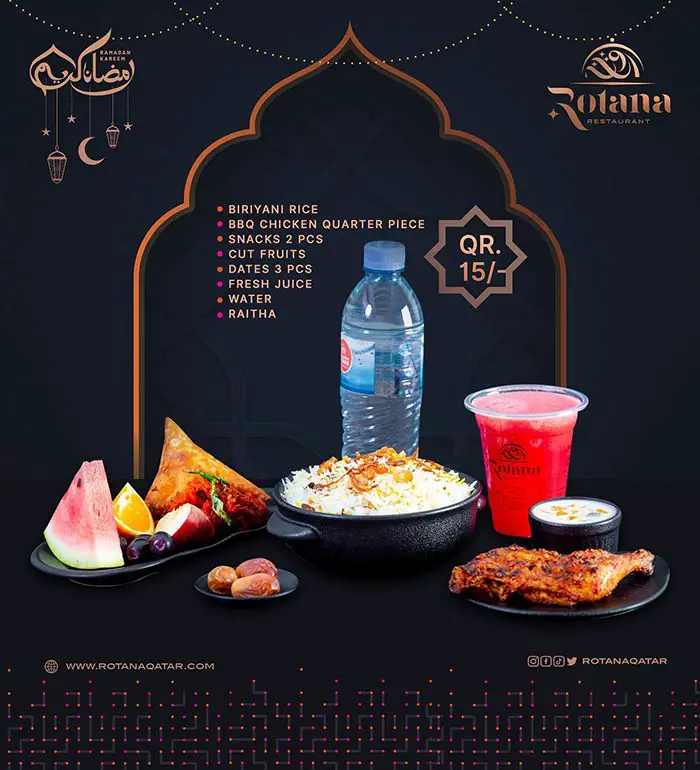 Rotana Restaurant Facebook Page
---
IndiGrill
IndiGrill has a special Iftar Meal Box for QR 29 per person. It has chicken tikka biriyani, mutton seekh kebab, samosa, aloo chana chaat, etc. You can also get family buffet box to enjoy with your family.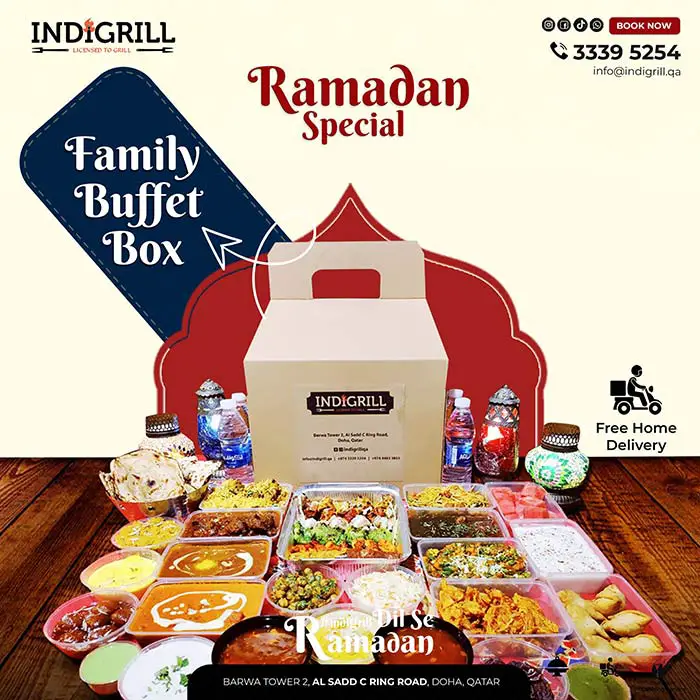 ---
Al Osra Restaurant
Al Osra Restaurant's South Indian Iftar Box costs QR 29 and has ghee rice combo or chicken biriyani in addition to porotta / appam, chicken 65 etc. The North Indian Iftar Box costs QR 32 and has Hyderabadi chicken biriyani, butter chicken, haleesa etc.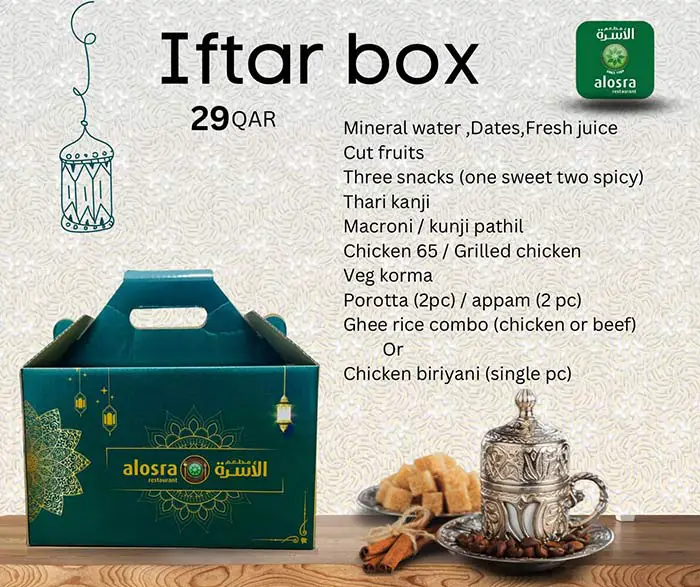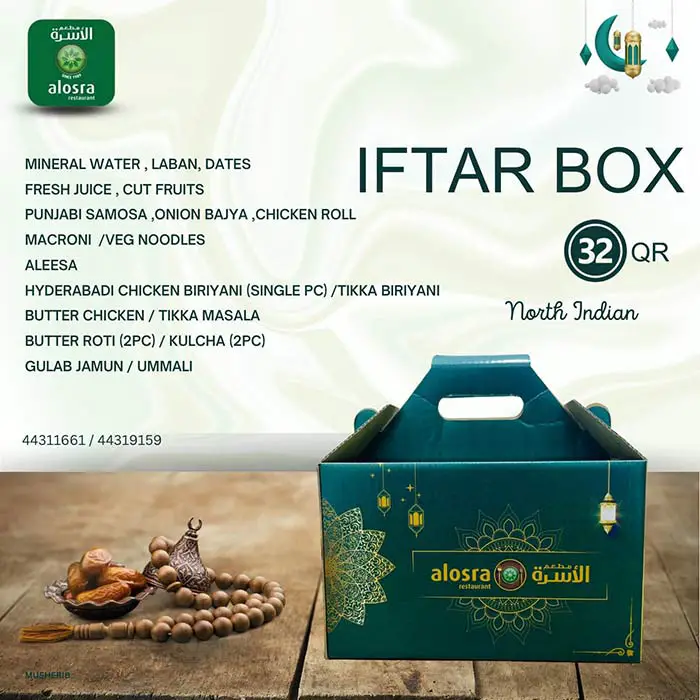 ---
Punjab Restaurant
Punjab Restaurant has a simple Iftar Box that costs QR 15 as well as a Premium Iftar Box for QR 55. These are available in all three branches of the restaurant.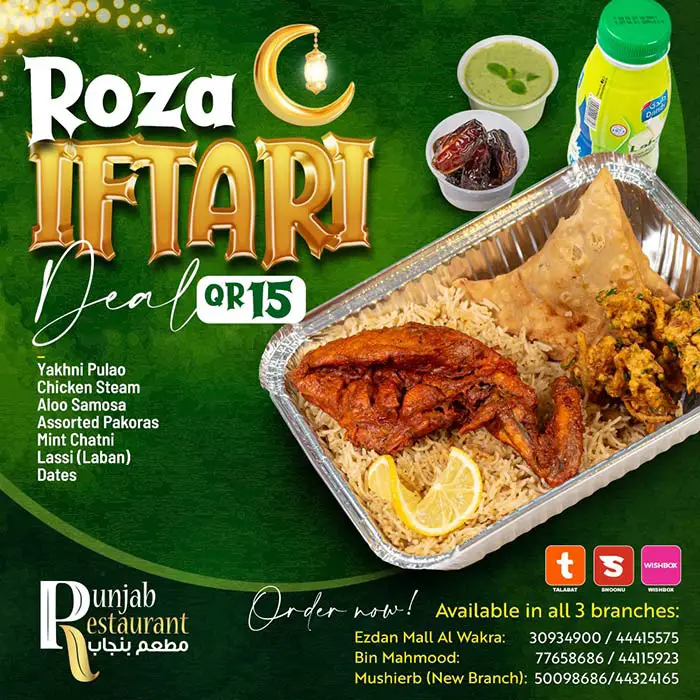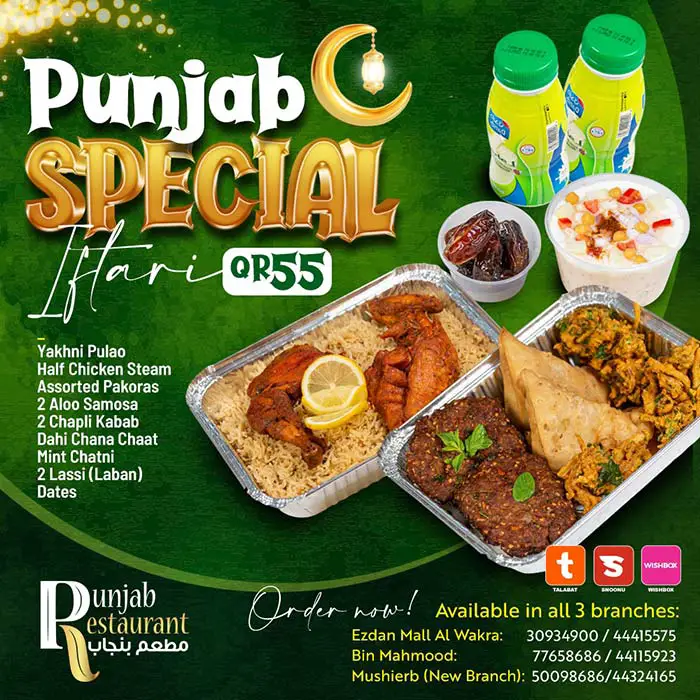 Punjab Restaurant Facebook Page
---
Malabar Palace Restaurant
Malabar Palace Restaurant offers Iftar Combo Box for QR 22 and chicken biriyani Iftar Box for QR 16.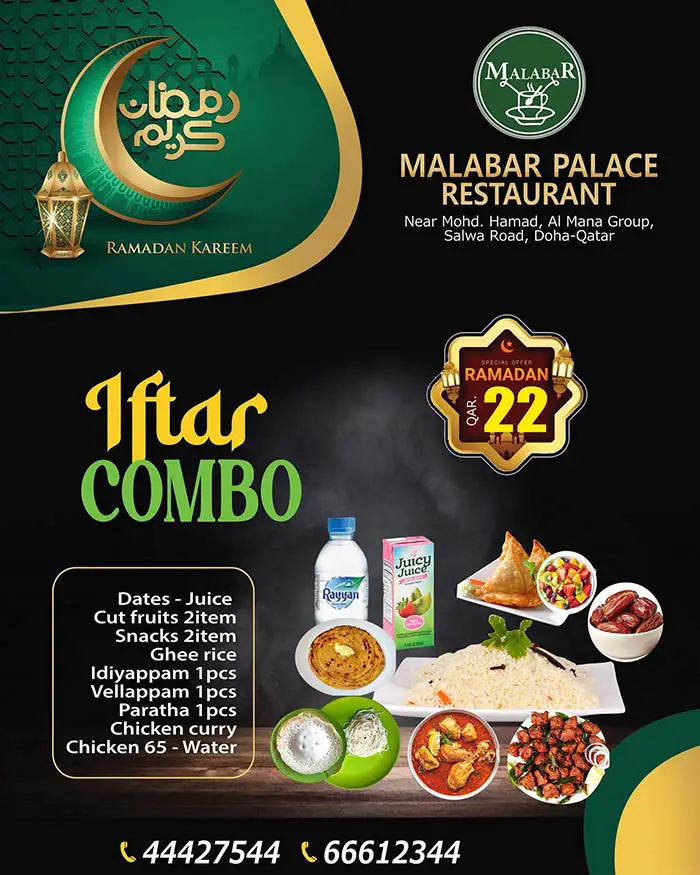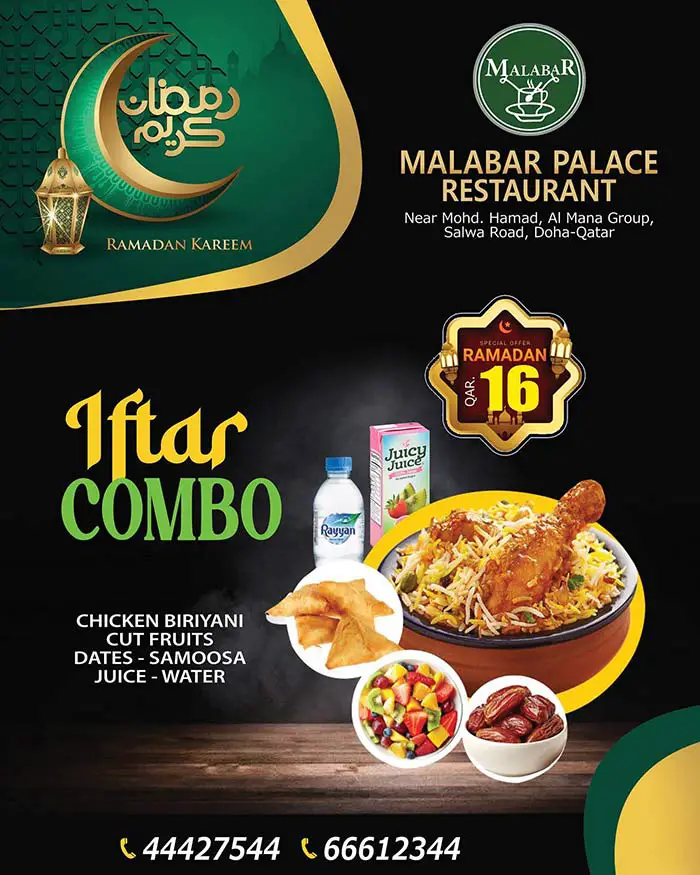 ---
Hot Chicken
Hot Chicken offers Iftar Boxes for QR 23 and Mini Combo at QR 15.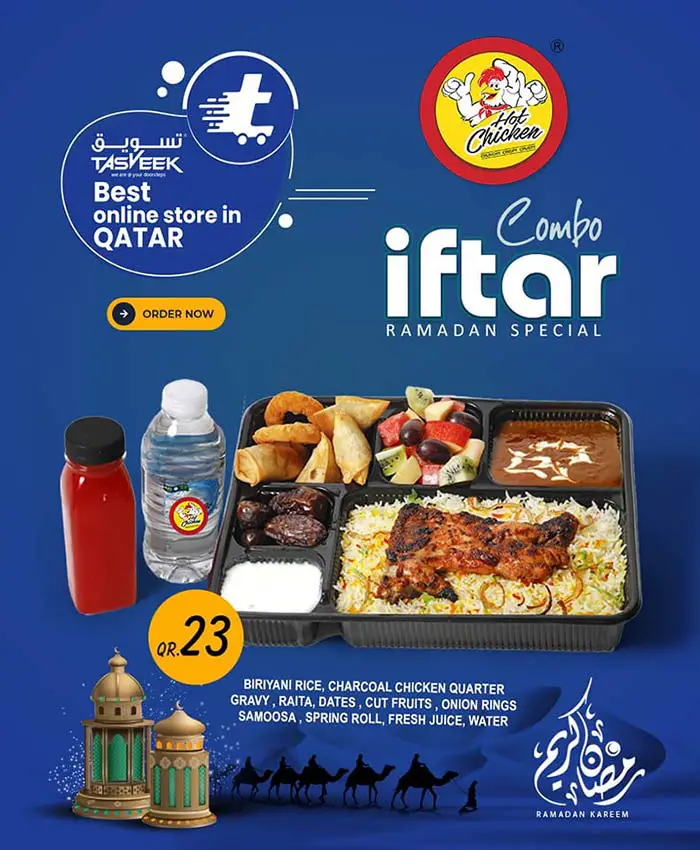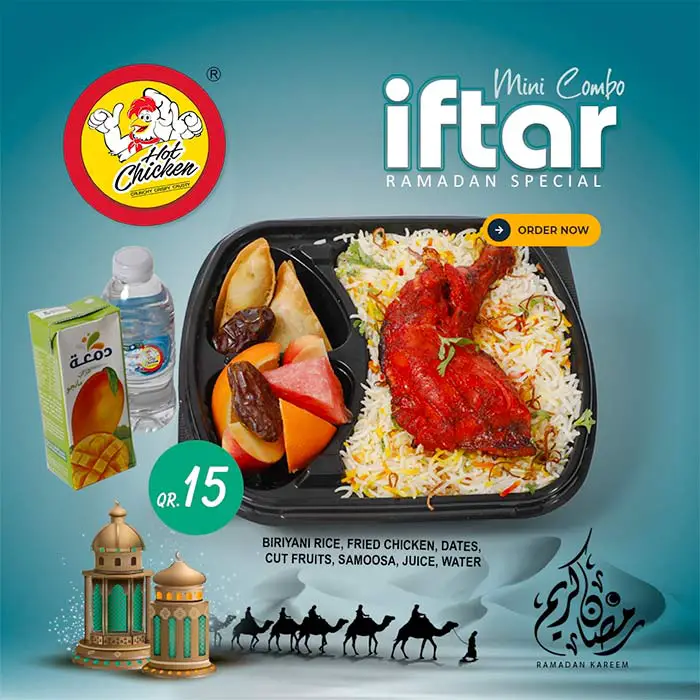 ---
Farsa Restaurant
Farsa Restaurant's Iftar Box costs QR 27 and has a rice speciality, parotta chicken, snacks etc.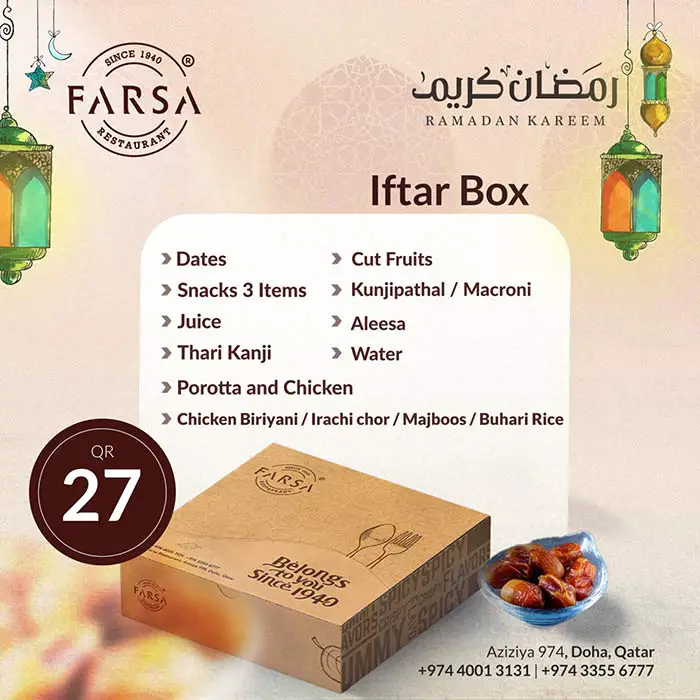 ---
Black Olive Restaurant
Black Oliver Restaurant has four different Ifthar Combos, each priced at QR 20. There is also a simple Iftar Kit at QR 12.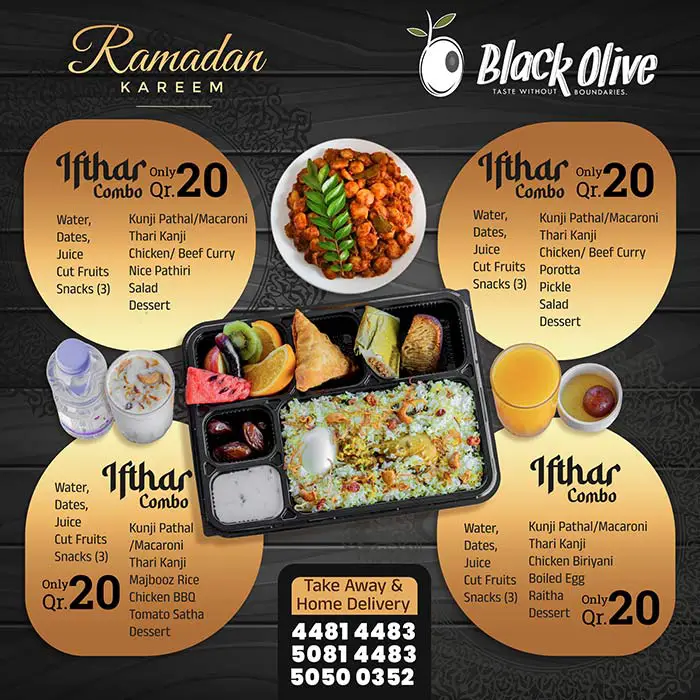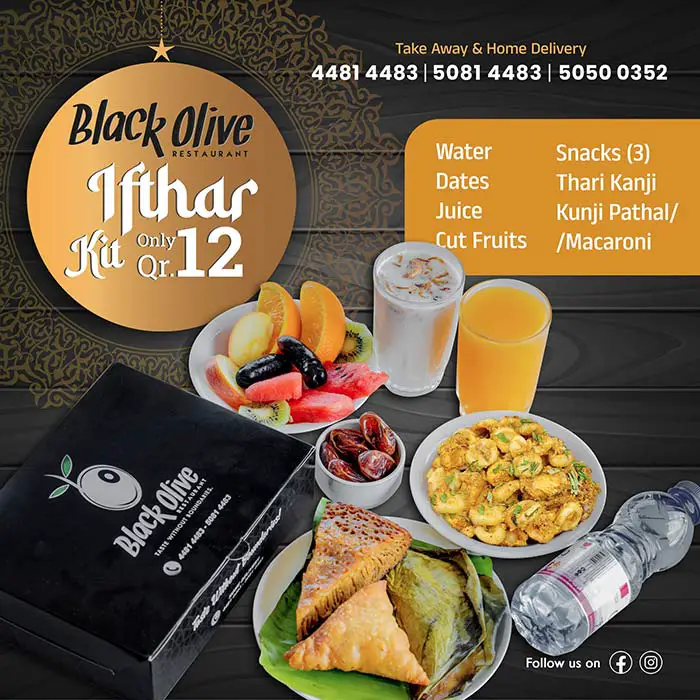 ---
Calicut Notebook Restaurant
Calicut Notebook has a dine-in Iftar set menu for QR 18.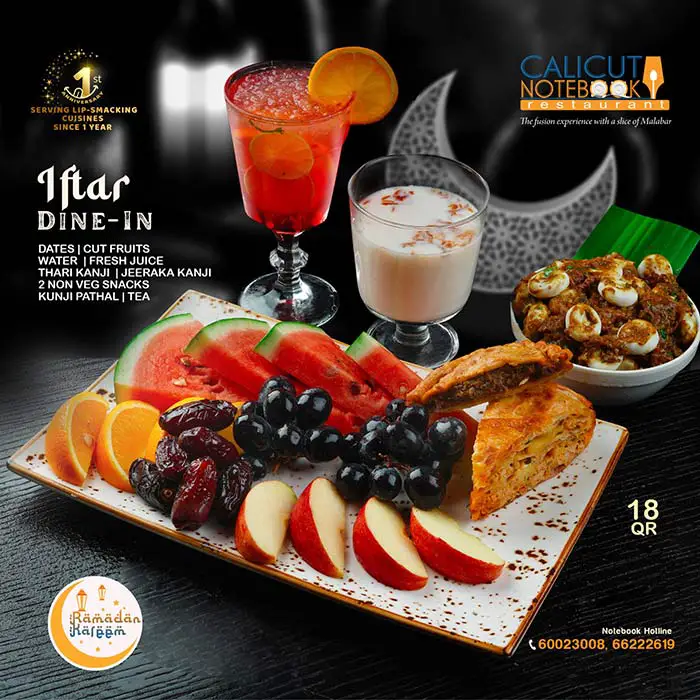 Calicut Notebook Facebook Page
---
Kickoff Restaurant
Kickoff Restaurant has different types of Ifthar Combos Boxes for QR 16 each.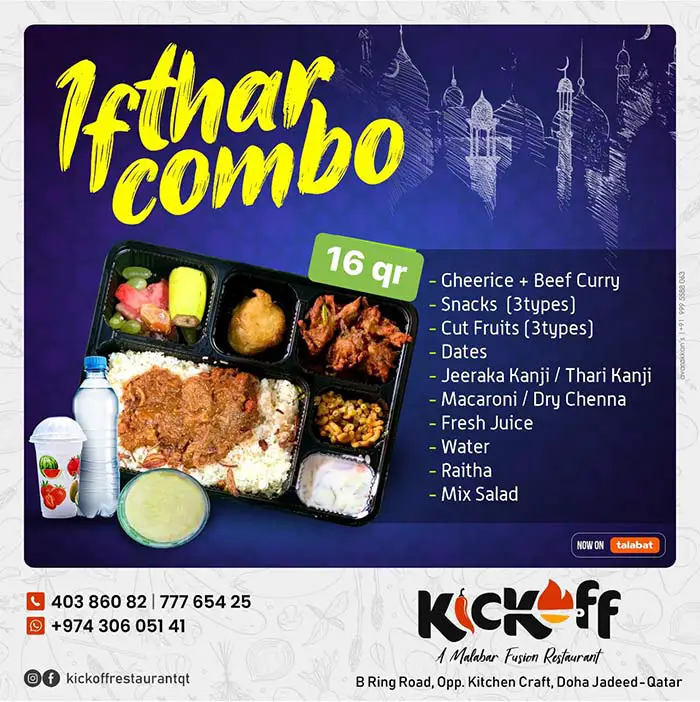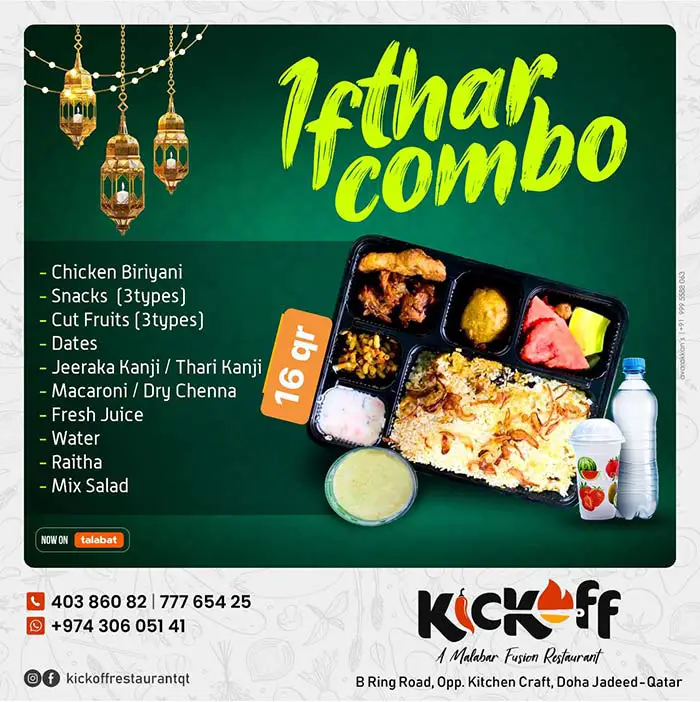 Kickoff Restaurant Facebook Profile
---
Ginger House Restaurant
Ginger House Grill & Restaurant offers Chicken Dum Biryani Combo for Iftar, priced at QR 20.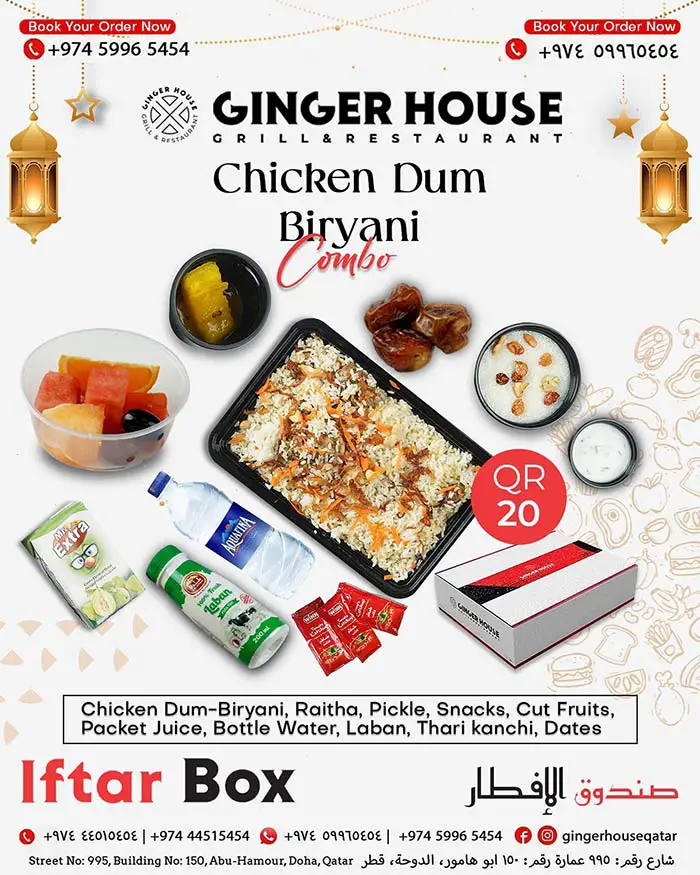 ---
Indian Grill House
Indian Grill House has non-veg Iftar Combos for QR 20 and QR 25.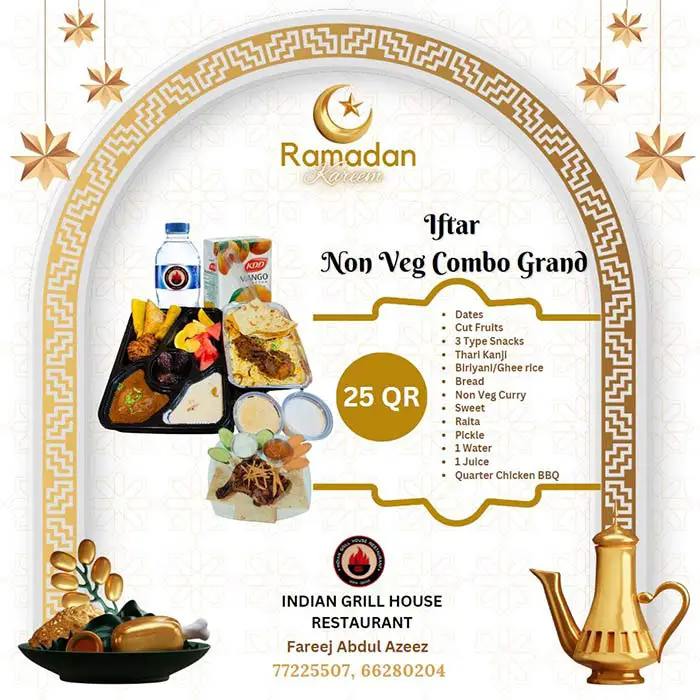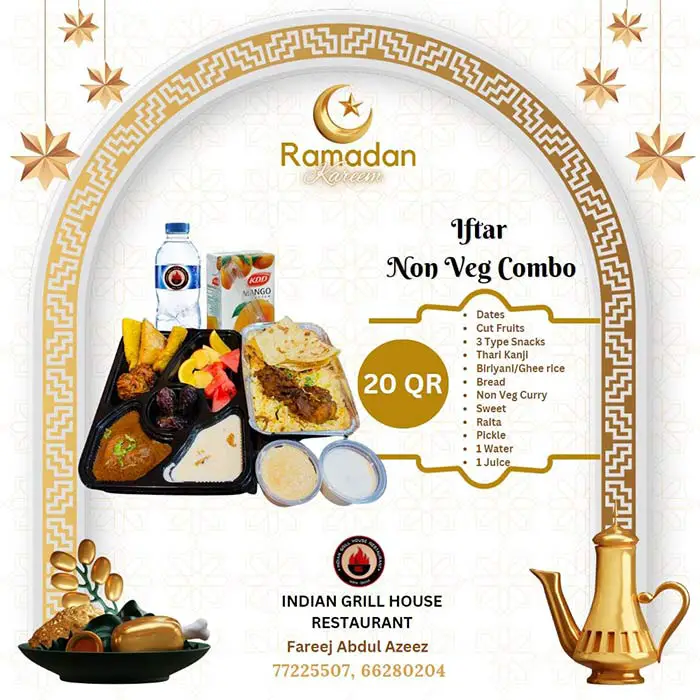 Indian Grill House Facebook Page
---
Royal Istanbul
Royal Istanbul offers two types of Iftar Box Meals at QR 18 each.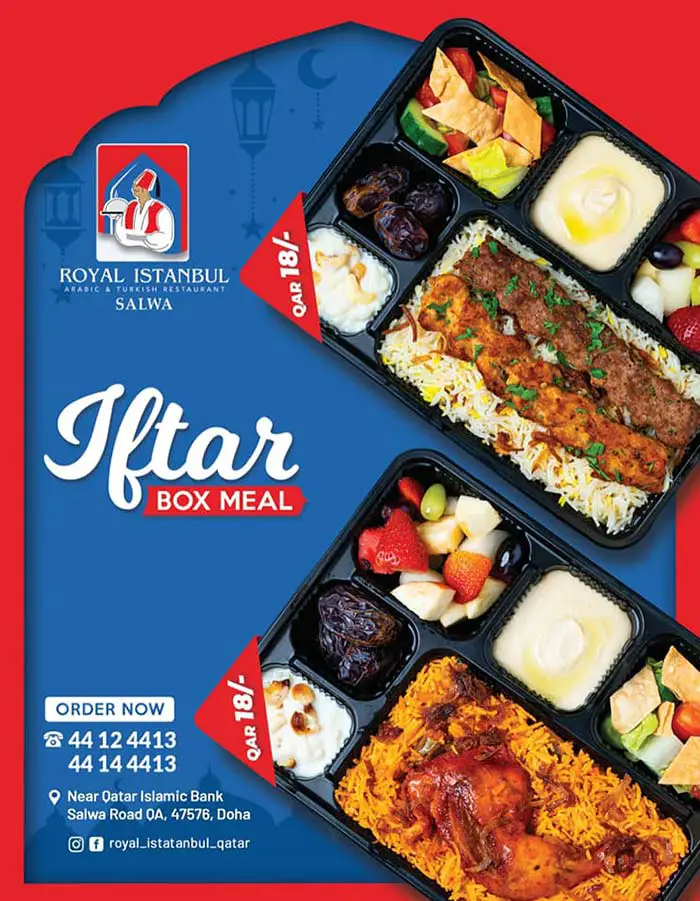 ---
Keema Chapati
Keema Chapati has a budget friendly Iftar Combo priced at QR 13.
Keema Chapati Qatar Facebook Page
---
Pak Pakwan Restaurant
Pak Pakwan Restaurant offers Iftar Combo Meals starting from QR 19.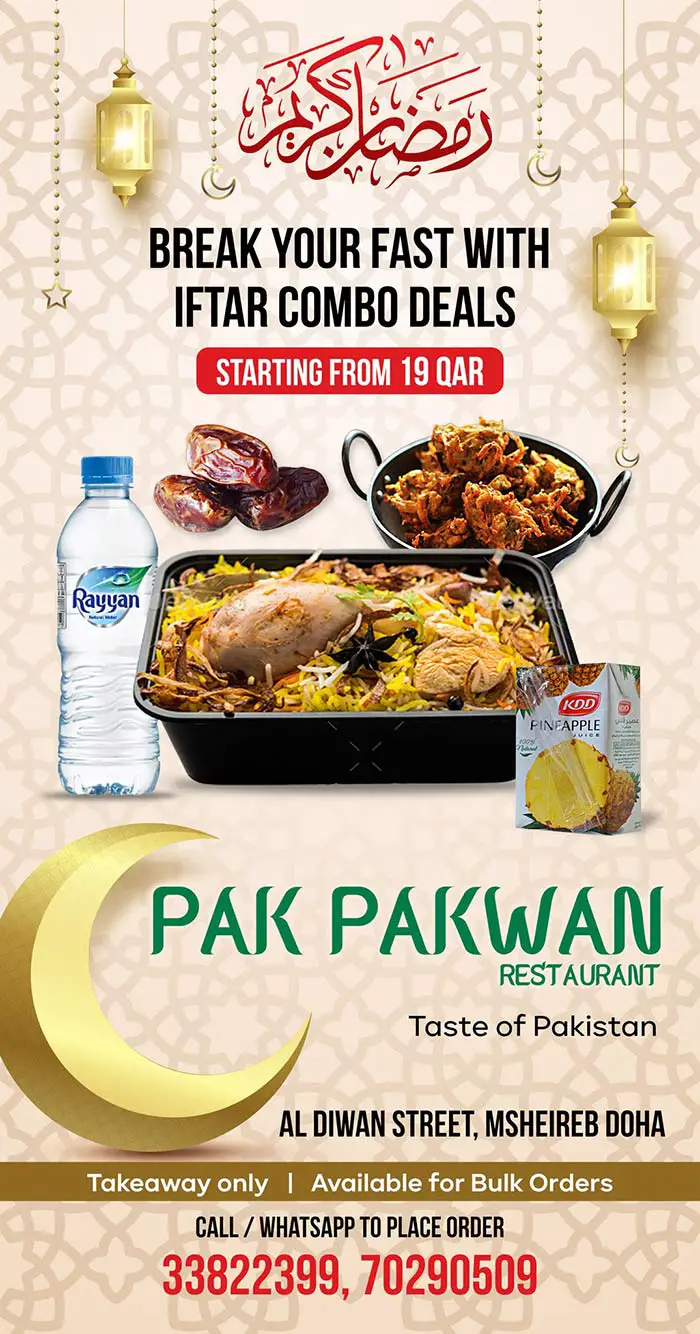 ---
Lucky Food Restaurant
Lucky Food Restaurant offers two types of Iftar Boxes at QR 18 (chicken biryani) and QR 20 (mutton biryani).
---
Modern Asian Restaurant
Modern Asian Restaurant serves Iftar Box Combos at QR 18.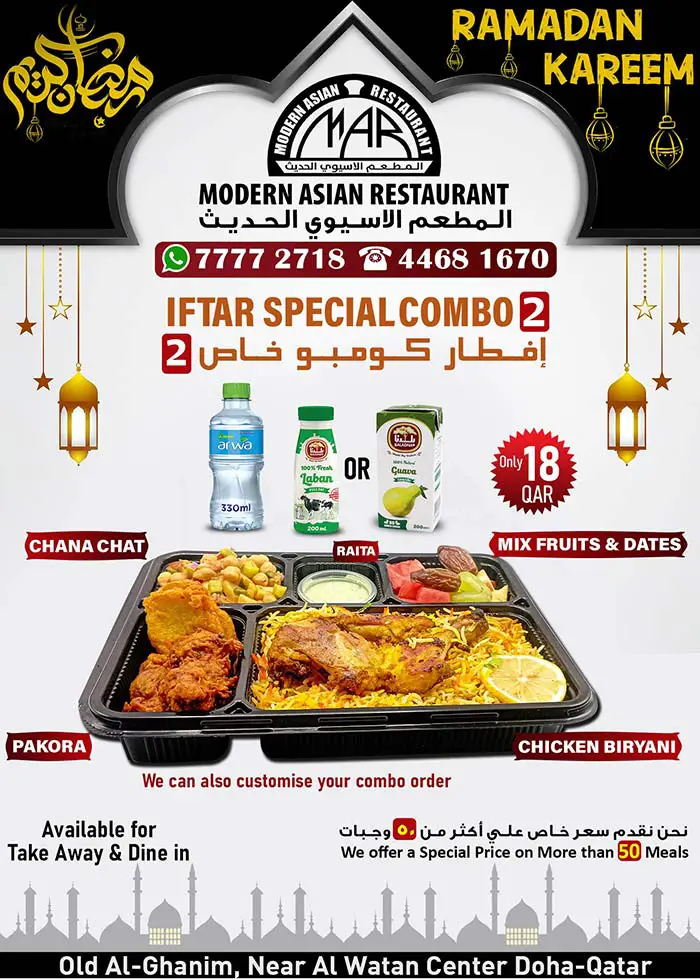 ---
Rawabi Hypermarket
Rawabi Hypermarket is offering different Iftar Boxes at QR 12, QR 18, and QR 22.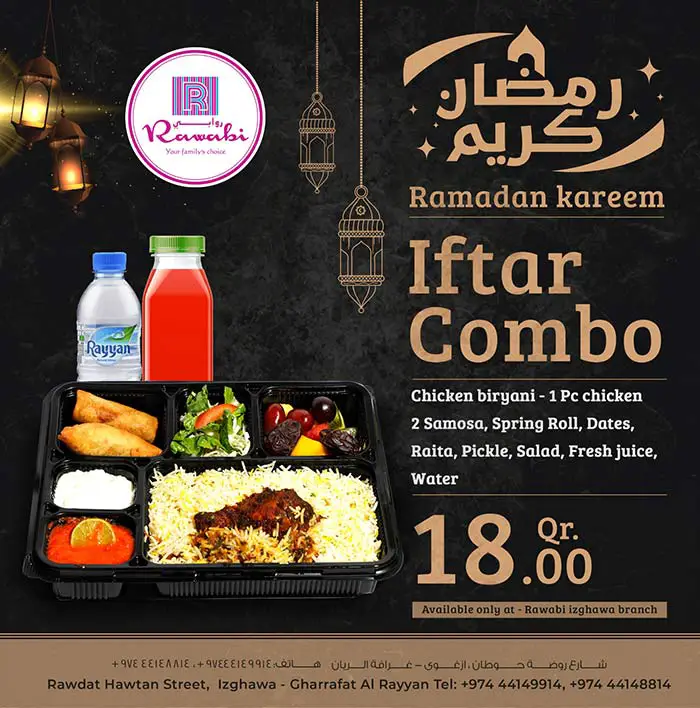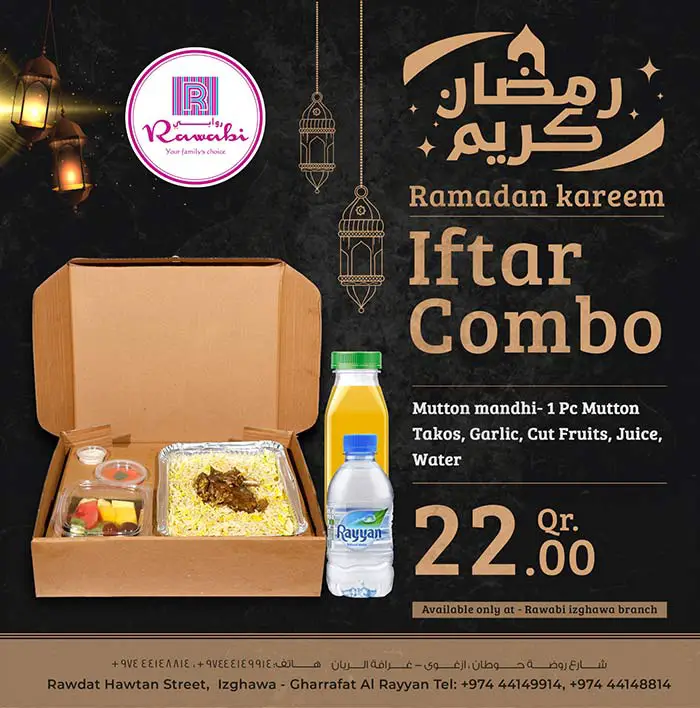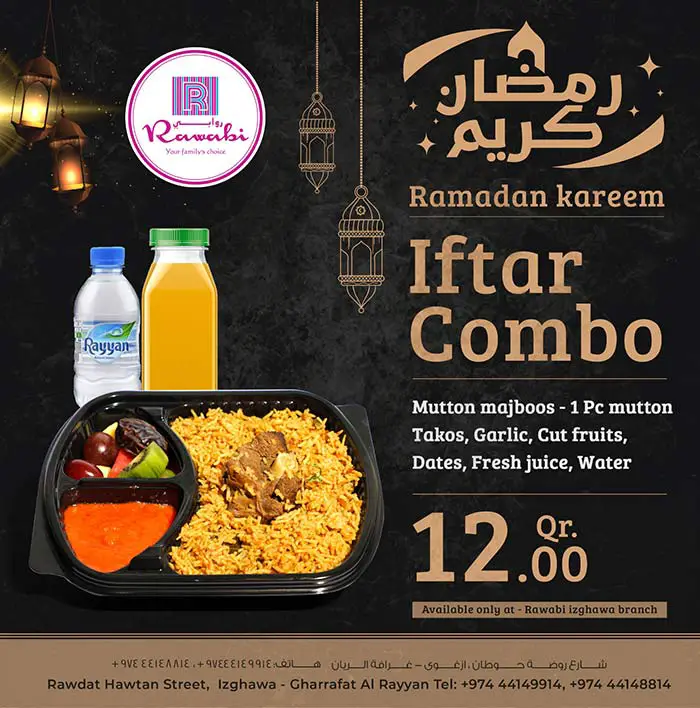 Rawabi Hypermarket Facebook Page
---
This list will be updated with more offers throughout this Ramadan. If you know about an amazing restaurant in Doha that is offering such an Iftar deal, please do comment and we can update.
For free listing on this page, you can send us an email with the details. Also, make sure to share this page with your friends and family.
READ NEXT: Iftar Buffet in Qatar Under QR 100 (Ramadan 2023)
---
You May Also Like:
---