If you intend to enter Qatar by land using a private vehicle (registered outside Qatar), you must carry vehicle insurance that is valid in Qatar. You may either buy vehicle insurance at the border or buy it online in advance to save time.
This article will explain everything about car insurance for visitors to Qatar, including the requirements, cost and procedure to buy vehicle insurance online.
According to Qatar's Traffic Law, motor vehicles of tourists and persons in transit should be insured against third party risks in the country with a valid insurance policy enforceable in the country.
To simplify procedures for those coming to Qatar through the Abu Samra border centre in their cars, Qatar's Ministry of Interior has enabled purchasing car insurance online through Qatari Unified Bureau Insurance (QUBI).
Please note that travellers can also get insurance policies manually at the border counters if they wish to do so.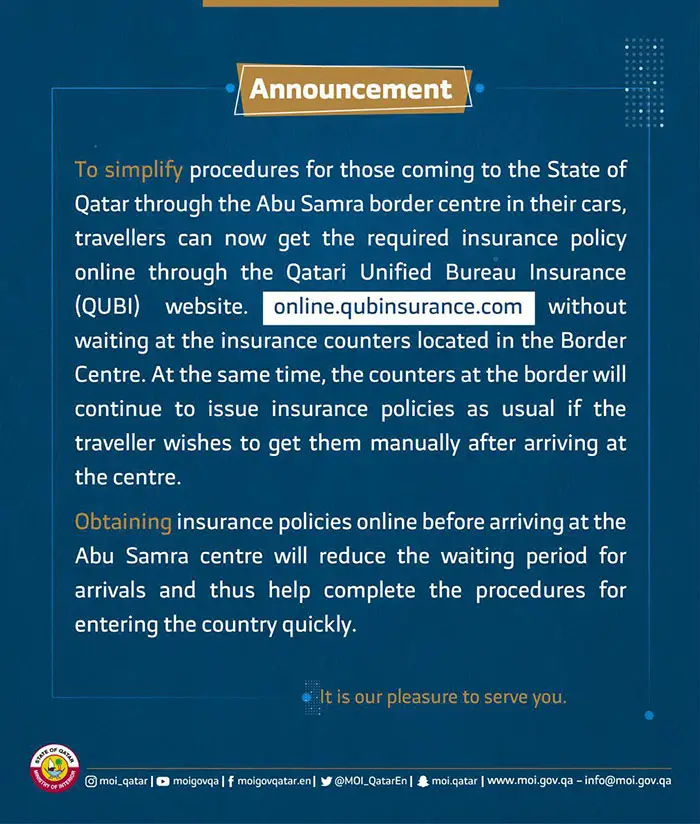 About Qatari Unified Bureau Insurance
Qatari Unified Bureau Insurance (QUBI) is a limited liability company licensed by Qatar Central Bank, to represent national insurance companies, namely: Qatari Islamic Insurance Group, Doha Insurance Group, Gulf Takaful Insurance Company,  Qatari General Insurance and Reinsurance Company.
The Bureau carries out insurance in accordance with Islamic Sharia. The Company business is regulated by Sharia and fatwa Supervisory Board. QUBI issues third party insurance policies for non Qatari vehicles entering Qatar.
Advantages of Buying Car Insurance Online
The main advantage is that you can save time at the border crossing as manual purchases may be time-consuming during busy hours.
Purchasing insurance policies online before arriving at Abu Samra will reduce the waiting time for arrivals and help expedite the immigration process.
Cost of Car Insurance For Visitors To Qatar
The car insurance premium depends on factors like type of vehicle, number of travellers and duration of policy. Here are the starting prices:
| Vehicle Type | Premium Starting From |
| --- | --- |
| Private Vehicles | QAR 120 |
| Taxis | QAR 150 |
| Buses | QAR 150 |
| Motorcycles | QAR 45 |
How To Buy Online Car Insurance For Visitors To Qatar
Step 1: Go to the Qatari Unified Bureau Insurance website
The website link is online.qubinsurance.com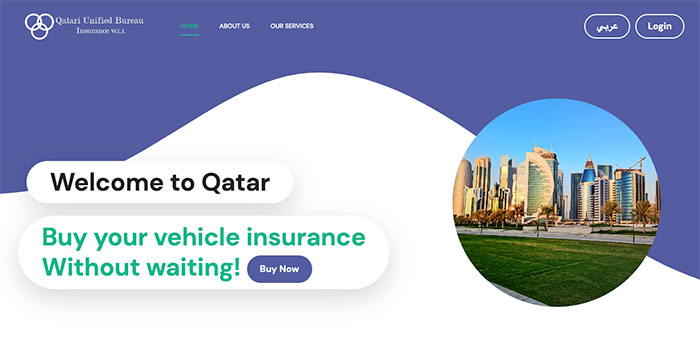 Step 2: Choose your vehicle type
You can find this under the "Policies Types" section. Click on "Buy Now".
Step 3: Enter the required personal information
This includes the driver name, passport number, email and phone number. Click Next.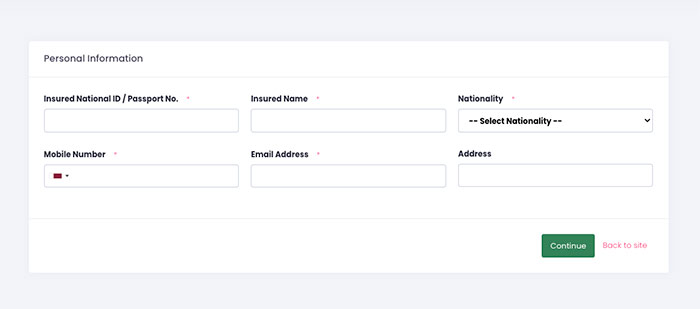 Step 4: Enter the policy information
Select the vehicle make, model, usage, and body type. You will also need the chassis number, seat number, plate number and period. Click on "Continue to Issue Policy". You can see the premium after this.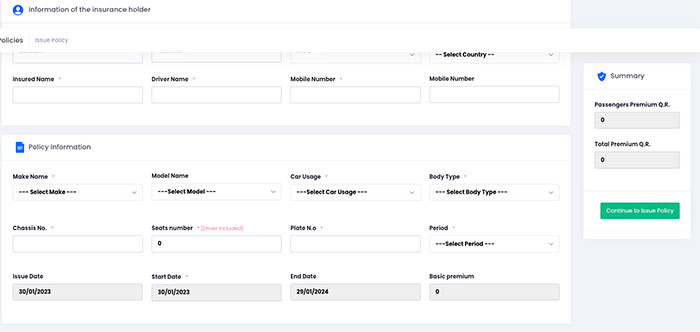 Step 5: Pay the insurance premium using a card
You will receive your insurance policy by email.
Other Important Points To Note
According to Qatar Traffic Law, the duration of the remains in the country must not exceed three months. If circumstances require the owner to remain for longer than this period, he must contact the Traffic Department before the expiry of the period referred to.
In all instances, owners of vehicles must contact the Traffic Department within seven days of entering the country. They must also notify it immediately of any change in their addresses, change of their type of residence in the country or any change in a material part of the vehicles.
Contact Helpline
For more information, you can call 0097440168900 or email: [email protected]
---
Related Articles:
Copyright © DohaGuides.com – Full or partial reproduction of this article in any language is prohibited.
---