One of the most noticeable features of Hamad International Airport in Doha is a giant teddy bear that appears to have its head stuck inside a mega table lamp at the centre of the retail area.
Check out these incredible ten facts, and you will know that it is not an ordinary teddy but an iconic piece of art worth millions of dollars.
1. It is a world-famous sculpture created by Urs Fischer, a Swiss-born contemporary visual artist living in New York City. Fischer's practice includes sculpture, installation and photography.
2. The teddy, known as Untitled (Lamp/Bear), is not made out of fur and foam but out of cast bronze. It was produced in 2005/2006.
3. The 23 feet (7 meters) high teddy weighs approximately 18-20 tons.
4. The piece is the largest of 3 editions created. The other two are privately owned.
5. In 2011, the giant teddy was displayed in front of the Seagram Building on New York's Park Avenue for five months.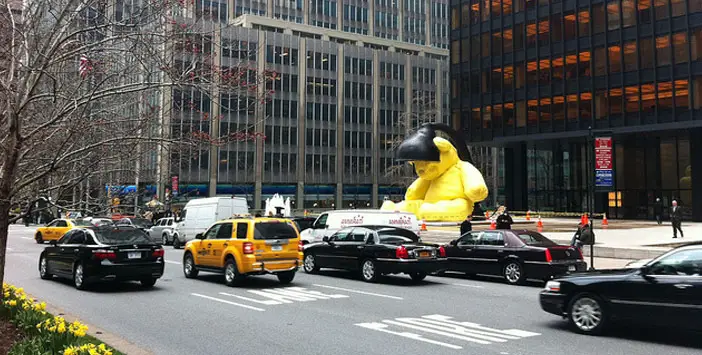 6. It is reported to be bought by a member of the Qatar royal family for just over $6.8 million (QR 25 million) from a 2011 auction at Christie's New York. The price established a new world auction record for Fischer, six times the artist's previous record.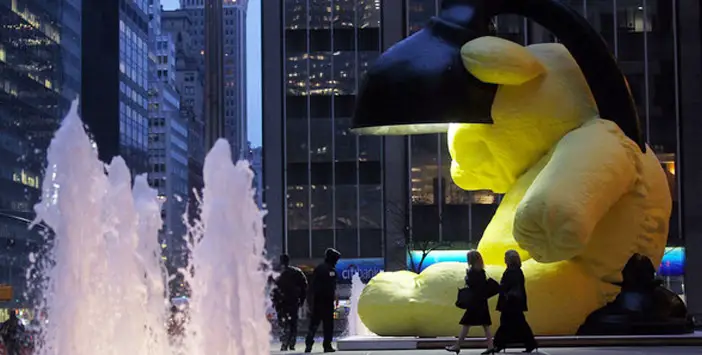 7. According to Christie's website, the piece brightly celebrates the objects that define a young child's life. Urs Fischer realized this striking sculpture on a monumental scale, combining a canary yellow teddy bear, everyone's cherished childhood keepsake, with a bedroom desk lamp. 
8. There is another baby-blue version of the lamp/bear, which was displayed at Brown University (Providence, the United States) from 2016 to 2020. It was affectionately called Blueno by the faculty and students at the University.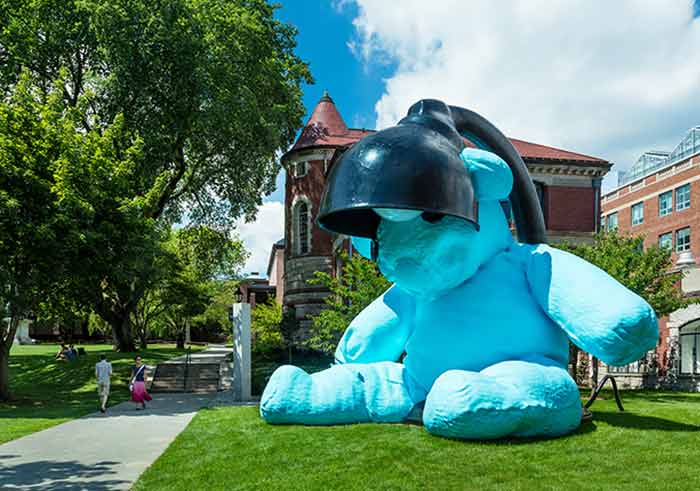 9. The piece had been inspired by Urs Fischer's own much-loved teddy bear. The yellow bear and its lamp are both playful and impressive: The coming of age of a simple toy into a full-grown artwork.
10. Fischer sewed together a one-foot-tall teddy bear and scanned it with a 3-D laser to generate drawings to create the giant teddy sculpture.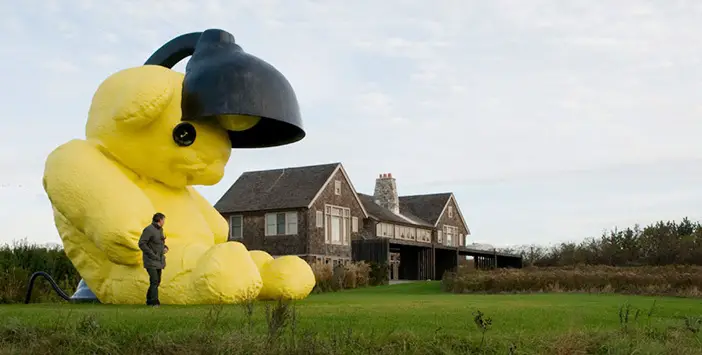 The iconic art piece is located at the South Node of the Hamad International Airport's departure terminal, just after departures security and passport control. So don't forget to click a selfie the next time you are there.
---
You May Also Like:
Copyright © DohaGuides.com – Unauthorized reproduction of this article in any language is prohibited.
---