On 1 April 2022, Qatar and FIFA unveiled La'eeb™, the official mascot of FIFA World Cup Qatar 2022™, during the Final Draw, which took place in Doha. Here is everything you need to know about La'eeb, the Qatar World Cup Mascot.
According to FIFA, La'eeb will be everywhere during the tournament, welcoming the world, inspiring young fans and cheering the action. La'eeb will be known for his youthful spirit, spreading joy and confidence everywhere he goes.
La'eeb Meaning
La'eeb is an Arabic word meaning  "super-skilled player". That sounds like a perfect word for a football mascot!
Qatar World Cup Mascot Shape
According to the marketing team that created it, the mascot is not meant to have a fixed anthropomorphic identity. It is based on the appearance of a ghutra (a traditional white headscarf worn by Arab men).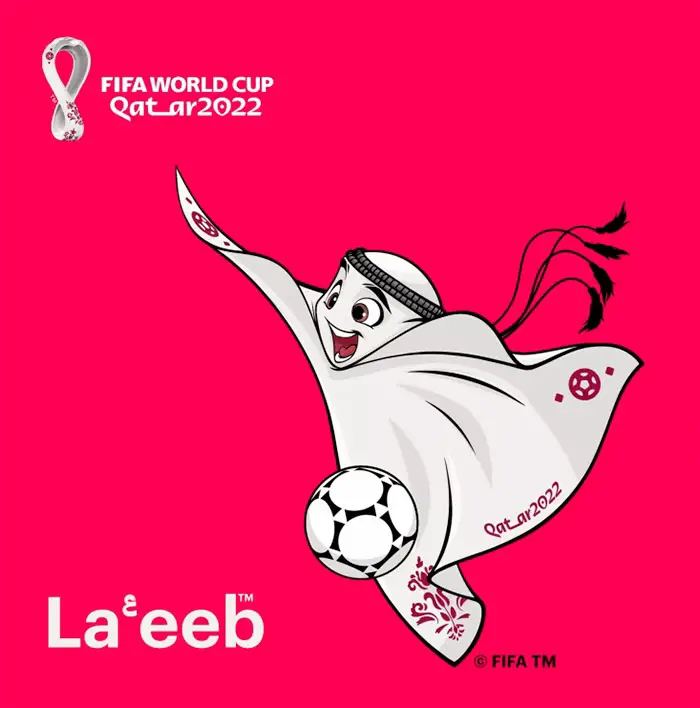 The Story of La'eeb
According to the FIFA website, La'eeb is your best football buddy from the "mascot-verse".
The mascot-verse is a parallel world where all tournament mascots live. It is a world where ideas and creativity form the basis of characters that live in the minds of everyone.
The courageous and uplifting La'eeb has attended every previous FIFA World Cup™ tournament and has contributed to some of the most famous moments in football history, including many iconic goals.
Here is an interesting video explaining the story of La'eeb: how he participated in the audition at the Mascot Accreditation, Growth and Integration Center (MAGIC) and how he got selected.
What Are World Cup Mascots
A FIFA World Cup official mascot is a unique character that represents a particular event. One of the first mascots to be associated with a major sporting event was World Cup Willie, which appeared at the 1966 FIFA World Cup. Each mascot represents one or more aspects of the host country, such as its flora, fauna, or costumes.
The adventurous, fun and curious La'eeb will join a long tradition of FIFA World Cup mascots such as Zakumi (2010), Fuleco (2014) and Zabivaka (2018).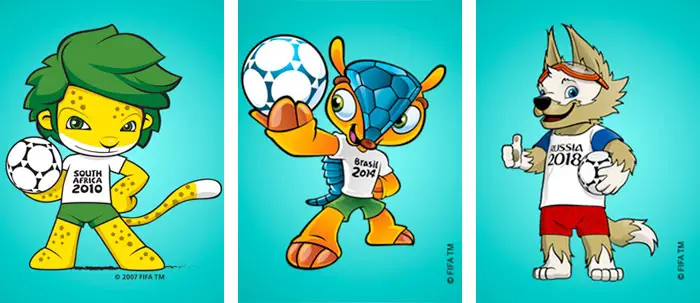 Get Ready For La'eeb
La'eeb is here to welcome the world, inspire young fans, cheer on the action and celebrate every goal at Qatar 2022™. He loves supporting everyone who has a vision, works hard, and aims to achieve their dreams!
"La'eeb encourages everyone to believe in themselves as 'Now is All'. He will bring the joy of football to everyone," FIFA said in a media release.
"We are sure fans everywhere will love this fun and playful character. La'eeb will play a vital role as we engage fans young and old in Qatar's FIFA World Cup experience," said Khalid Ali Al Mawlawi, Deputy Director General, Marketing, Communications and Tournament Experience, Supreme Committee for Delivery & Legacy.
You can download the La'eeb sticker pack to your phone. In addition, fans can download GIFs and stickers of La'eeb via various social media channels, including Facebook, Instagram, Twitter, TikTok, WhatsApp and Snapchat. La'eeb screensavers and filters are also available for download.
---
Frequently Asked Questions
---
What is the name of the Qatar World Cup mascot?
The mascot for the Qatar World Cup is known as La'eeb.
What is the meaning of La'eeb?
La'eeb is an Arabic word meaning 'super-skilled player'.
What is the Qatar World Cup slogan?
The FIFA World Cup Qatar 2022™ slogan is "Now is All".
---
Related Articles:
---