Note that applicants can apply for a UAE Hayya Card Visa either through the Federal Government's ICP (Federal Authority for Identity, Citizenship, Customs and Port Security) platform or the Dubai Government's GDRFA (General Directorate of Residency and Foreigners Affairs) platform.
This article is about applying through the UAE Federal Government's ICP platform (which is slightly cheaper).
Otherwise, you can also apply through Dubai Government's GDRFA platform, by following these steps.
Recent Updates
01 NOVEMBER 2022 UPDATE: The UAE visa application platform for Hayya card holders is now open. However, the ICP website is not accessible in Qatar. Users from other countries can submit applications.
---
What is Hayya Card
Why You Should Visit UAE?
Sheikh Zayed Grand Mosque, Emirates Palace, Yas Island, Ferrari World, and Louvre Abu Dhabi are among the most well-known Abu Dhabi attractions.
The city of Dubai, Tripadvisor's top destination in the world for 2022, offers an unforgettable experience to all visitors. Whether by the banks of the Dubai Creek or at the top of the Burj Khalifa, the world's tallest building, Dubai lives and breathes a sense of possibility and innovation.
Here is a video from Visit Dubai, Official Tourism Board in Dubai.
With five other emirates offering a lot more to see and experience, UAE offers a variety of activities and events to meet the needs of people of all ages and interests.
The Dubai Sports Council has estimated hundreds of thousands of fans could arrive in the city. Special fan zones have been set up across the city, while hotels are offering attractive packages that include stay, transport and shuttle flights.
Who Can Get UAE Visa With Hayya Card?
Hayya Card UAE Visa Validity
With the multi-entry visa, world cup fans can enter the emirates multiple times over 90 days. It can be extended for another 90 days by paying regular fees.
Hayya Card UAE Visa Cost
Note that you need to buy private medical insurance from any provider and upload the same.
Visa renewal fee: The standard visa fee applies for renewal after 90 days.
---
How To Apply for UAE Visa With Hayya Card
Documents Required
Copy of Passport
Colored Photo (Minimum size of 600×600 pixels; maximum size of 1200×1200 pixels; square ratio; minimum resolution of 96 dpi)
Copy of Hayya Entry Permit (Please upload Hayya Entry Permit as Hayya Card may not be accepted)
Copy of Medical Insurance (Should cover the duration of stay)
Steps To Apply
Step 2: Click on "E-Channel Services"
Step 3: Select 'Public Services' from the main menu
Step 4: Select 'Hayya Card Holders Visa'
You can find this by searching on the search bar. Once found, click on "Start Service".
Step 5: Fill out the application form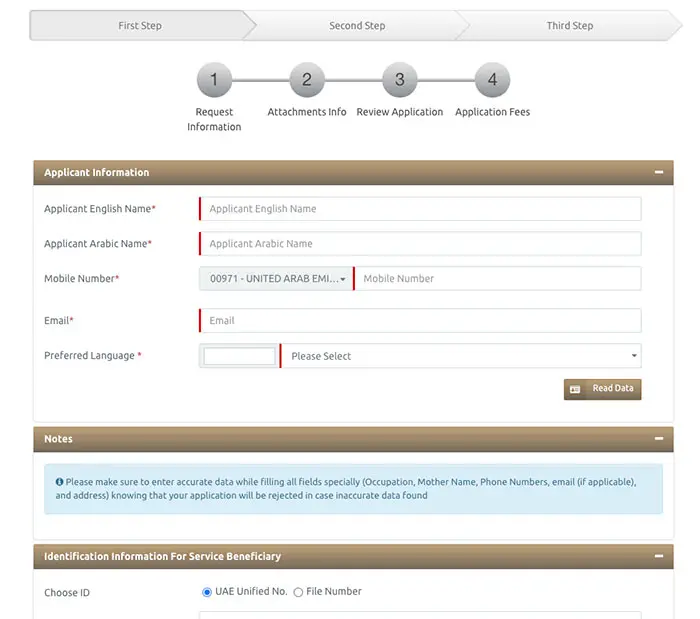 You will need traveller details like Applicant Name, Mobile, Email, Nationality, Occupation, Gender, Date of Birth, Country of Birth, City Of Birth, Passport Number, Passport Type, Passport Issue Place, Country of Issue, Date of Issue, Expiry Date, Religion, Faith, Marital Status, Qualification, Mother Name, and Vist Reason.
For fields asking for Arabic names, the names will be automatically translated.
For "the department from which you want to issue a visa", Dubai is not available as an option. You can select Abu Dhabi. Customer care has confirmed that you can still travel to Dubai with a visa issued by Abu Dhabi.
For the address in UAE, give your hotel address or a relative/friend's address where you will be staying.
You will need three phone numbers in UAE. You can give a relative/friend's number.
Please make sure to enter accurate data while filling in all fields knowing that your application will be rejected in case inaccurate data is found. You should also give an address inside UAE including a telephone number.
Click "Next".
Step 6: Fill out the application form
Upload the required documents (passport, photo, Hayya card and medical insurance). Click "Next".
Step 7: Review the information
In the next step, review your information. If needed, you can click on the "Back" button to edit. If everything is correct, click the "Next" button.
Step 8: Pay the visa fees
A credit card will be required for online payment of the fees (Toal AED 153.47).
Click on "I Agree to the Terms and Conditions". Click on "Amwal". On the next screen, pay using your credit card.
Your visa status will be communicated by email.
---
UAE Hayya Visa Application Errors
Some applicants who applied recently were returned for modification. Some of these are Arabic comments translated into English and hence confusing for non-Arabic applicants. Here are the common comments and what they mean:
Please attach a Certified Hayya Card: Here "Certified Hayya Card" means Hayya Entry Permit. As mentioned earlier, you should be submitting a Hayya Entry Permit (not Hayya Card). Hence this option is not available for Qatar residents.
Having valid health insurance in the United Arab Emirates: The comment means you should purchase insurance from a UAE-based insurance company (Daman Health, ADNIC etc.)
Warranty required from within the country: Again this comment means you should purchase insurance from a UAE-based insurance company.
How Can I Travel Between Qatar and UAE?
Those who are staying for less than 24 hours in Qatar are exempted from booking accommodation and can instead opt for a match-day visit during Hayya Application.
The Saudi Ministry of Foreign Affairs has also introduced a free multi-entry Saudi visit visa for all who possess a Hayya card.
If you are a Qatar resident, please follow this guide on how to apply Dubai Visa for Qatar Residents.
---
Frequently Asked Questions
---
---
Related Articles:
---