In the wake of the COVID-19 pandemic, most GCC countries have banned direct flights from South Asian countries like India, Pakistan, Srilanka etc. The ban that has been in place for several weeks is being extended until the pandemic situation is under control.
However, the State of Qatar has been allowing its residents to enter under certain conditions. Since the mid of July 2021, Qatar has also resumed visa on arrival services to citizens of 90+ countries. This article explains how GCC residents can travel via Qatar using this visa on arrival service.
30 JULY 2021 UPDATE: According to a new announcement on the MOPH website, Qatar will be introducing a new travel policy from 2nd August 2021 (12 noon) with compulsory hotel quarantine for travellers from Bangladesh, India, Nepal, Pakistan, Philippines and Sri Lanka. It would be 2 days hotel quarantine for those vaccinated/recovered from Qatar. They would be allowed to leave the hotel on the second day if the result of the PCR test is negative. For all others, hotel quarantine will be for 10 days.
Since travellers from countries like India are not allowed to directly enter many GCC countries (Bahrain, Kuwait, Oman, Saudi Arabia, and UAE), they have to stay in a third country like Qatar for 14 days.
Travellers to other countries with travel restrictions (like Canada) can also use this facility.
Here is how the whole process works:
Requirements To Get Qatar Visa On Arrival
Below are the current requirements in place:
The traveller should be fully vaccinated with a vaccine approved by Qatar MOPH and 14 days have passed after the last vaccine dose. Currently the approved vaccines are:

Pfizer BioNTech
Moderna
AstraZeneca/Covishield
Janssen/Johnson & Johson
Sinopharm (conditionally approved)

The traveller should have a negative RT-PCR test result within 72 hours of travel.
The traveller must be citizen of a country eligible for visa on arrival. Currently 90+ countries like India, Pakistan, UK, US, and Canada are eligible for this. You can see the full list of countries here.
The passport must be valid for 6 months.
NOTE: Currently, unvaccinated children from red list countries like India and Pakistan are not allowed visitor visas or visas on arrival. Only vaccinated adults can use this facility.
Documents Required To Travel Via Qatar
Vaccination certificate
Negative RT-PCR test result
Two-way flight ticket
Hotel booking confirmation
Ehteraz pre-travel approval
QR 5000 in cash or International Credit / Debit card under your name with at least QR 5000 balance
In addition to this, if you are travelling to another GCC country, make sure you meet their entry requirements like valid Visa/Residence Permit/National ID, Special Entry Permit if required etc.
Steps To Travel Via Qatar
Step 1: Ensure you are eligible
Make sure you are fully vaccinated and meet the eligibility requirements given above. The vaccination certificate should have the following information:
Name of the passenger and it must match the passport
Dose dates according to type of the vaccine
Type/name of the vaccine
Lot number of the vaccine (if any)
Official logo or seal of the vaccination authority​
Step 2: Book your two-way flight tickets
Either you can book a ticket back to your country of departure or you can book an onward ticket from Qatar to the next GCC country.
Step 3: Book your hotel in Doha
For travellers from Bangladesh, India, Nepal, Pakistan, the Philippines and Sri Lanka, this should be hotel quarantine for the first 10 days (from 2nd August 2021) using the Discover Qatar website. Travellers from other countries can make normal bookings at any hotel.
---
NOTE: As Sinopharm is a conditionally approved vaccine, visitors vaccinated with both doses of Sinopharm should book a hotel quarantine package. Normal hotel booking is not allowed in this case. Upon arrival in Qatar, they have to undergo a COVID-19 antibody test. If the additional test returns a negative result, they will be refunded according to the Discover Qatar check out policy. 
---
Step 4: Do the RT-PCR Test 72 hours before reaching Qatar
This can be done from any laboratory / medical centre accredited by the local Ministry of Health in the country of departure. The test result should have your name and other details as per your passport. Proceed to the next step once you receive the negative test result.
Step 5: Register on the Ehteraz website for pre-travel approval
The pre-travel registration is compulsory for visitors and should be done at least 12 hours before travel. All the required documents should be scanned and uploaded to the Ehteraz website.
Make sure to check our detailed guide on how to do the Ehteraz pre-registration
After the registration is done, you will get approval within few hours and you are all set to travel.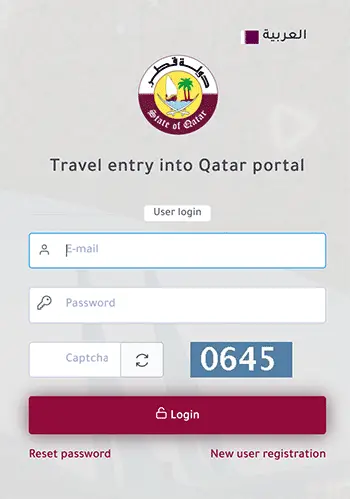 Step 6: Travel to Qatar with all the documents
Make sure to carry printouts of all the above documents including Ehteraz approval. You will not be allowed to board the flight without Ehteraz approval.
Step 7: Arrival in Qatar
Upon arrival in Doha, you may be required to do an RT-PCR test. This would cost you QR 300.
If you are vaccinated with Sinopharm, you may be required to do antibody test.
Buy an Ooredoo or Vodafone sim card (cost QR 35) from Doha airport as you need this for Ehteraz mobile app registration.
Download and register for the Ehteraz mobile app using your new sim card.
The staff at Hamad International Airport would assist you if required.
There would be a designated fast-track line for travellers with Ehteraz permit.
At the immigration counter, your passport will be stamped with a visa sticker.
You can collect your baggage and leave the airport. For travellers on hotel quarantine there would be special shuttle bus to the hotel. Others can use a taxi, metro service or hotel shuttle if available.
Step 8: Stay in Doha for at least 14 days before leaving to the next country
If your test results are negative you can stay anywhere in Doha for up to 30 days (this should be after hotel quarantine for those from 6 East Asian countries). Before going out of your hotel/residence, make sure your Ehteraz app is showing a green QR code. This QR code is required for entry to all shops, malls, restaurants etc.
Please make sure to check the MOPH travel guidelines from time to time.
READ NEXT: Complete Guide To Qatar Visa On Arrival
Copyright © DohaGuides.com – Full or partial reproduction of this article is prohibited.
---
You May Also Like:
---
Share This With Someone Who Needs It