1 SEPTEMBER 2022 UPDATE: Qatar has changed the travel and quarantine policy with effect from 4 September 2022. We have updated this article based on the new rules. Please check the latest rules here.
In the wake of the COVID-19 pandemic, most GCC countries had banned direct flights from South Asian countries like India, Pakistan, Srilanka etc. However, the State of Qatar had allowed its residents to enter under certain conditions. Since the mid of July 2021, Qatar has also resumed visa-on-arrival services to citizens of 90+ countries.
This article explains how GCC residents can travel via Qatar using this visa-on-arrival service. Note that the contents of this article may not be relevant in 2022 as all countries are now open to residents and visitors.
Requirements To Get Qatar Visa On Arrival
Below are the current requirements in place:
The traveller must be a citizen of a country eligible for a visa on arrival. Currently, 90+ countries like India, Pakistan, the UK, the US, and Canada are eligible for this. You can see the full list of countries here.
The passport must be valid for six months.
The traveller should have a return or onward ticket.
The traveller should have a hotel booking.
The traveller should have a negative RT-PCR test result within 48 hours of travel.
Additional conditions apply for travellers from India, Pakistan and Iran.
Documents Required To Travel Via Qatar
Passport
Two-way flight ticket
Ehteraz pre-travel approval
Negative RT-PCR test result
Hotel booking confirmation
QR 5000 in cash or International Credit / Debit card under your name with at least QR 5000 balance (for some nationalities)
In addition, if you are travelling to another GCC country, ensure you meet their entry requirements like a valid Visa/Residence Permit/National ID, Special Entry Permit if required etc.
Steps To Travel Via Qatar
Step 1: Ensure you are eligible
Make sure you are fully vaccinated and meet the eligibility requirements given above.
Step 2: Book your two-way flight tickets
Either you can book a ticket back to your country of departure, or you can book an onward ticket from Qatar to the next GCC country.
Step 3: Book hotel in Doha
Travellers from India, Pakistan, and Iran should book hotels for the entire duration using the Discover Qatar website. Travellers from other countries can make normal bookings at any hotel.
Step 4: Register on the Ehteraz website for pre-travel approval
The pre-travel registration is compulsory for visitors and should be done at least three days before arrival in Qatar. All the required documents should be scanned and uploaded to the Ehteraz website.
Make sure to check our detailed guide on how to do the Ehteraz pre-registration
After the registration is done, you will get approval within 1-3 days.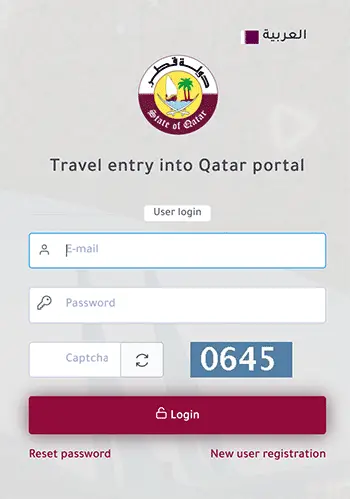 Step 5: Do the RT-PCR Test 48 hours before reaching Qatar
This can be done from any laboratory / medical centre accredited by the local Ministry of Health in the country of departure. The test result should have your name and other details as per your passport.
Step 6: Travel to Qatar with all the documents
Make sure to carry printouts of all the above documents, including Ehteraz approval. You will not be allowed to board the flight without Ehteraz approval.
Step 7: Arrival in Qatar
Download and register for the Ehteraz mobile app.
The staff at Hamad International Airport would assist you if required.
At the immigration counter, your passport will be stamped with a visa sticker.
You can collect your baggage and leave the airport. For travellers on hotel quarantine there would be special shuttle bus to the hotel. Others can use a taxi, metro service or hotel shuttle if available.
Please make sure to check the MOPH travel guidelines from time to time.
READ NEXT: Complete Guide To Qatar Visa On Arrival
Copyright © DohaGuides.com – Full or partial reproduction of this article in any language is prohibited.
---
You May Also Like:
---