What is Qatar Family Visit Visa?
Qatar Family Visit Visa is a type of short-term visa which enables expatriate residents to bring their father, mother, wife, children or relatives of the first and second grades to Qatar for a short visit. The visa is issued for one month and can be extended upto six months in some cases.
Please Note: This is a short-term visa for visiting purposes only. Foreign employees who wish to bring their families to live long term in Qatar should refer to the Family Visa Procedure.
This article explains the requirements, documents, application process, visa cost and other details of Qatar Family Visit Visa.
FEBRUARY 2021 UPDATE: Due to the global COVID-19 situation, entry into Qatar is still restricted to Qatari nationals, their families, permanent residency holders and Qatar ID holders only.
Documents Required for Qatar Family Visit Visa
If Applying Visit Visa for Wife
Husband's Qatar ID copy
Husband's Passport copy
Copy of attested marriage contract
Copy of wife's valid passport
Letter from husband's employer citing profession and salary
If Applying Visit Visa for Other Relatives
Only married expatriates with family in Qatar can apply to sponsor other relatives. Below are the required documents:
Sponsor's Qatar ID copy
Sponsor's Passport copy
Sponsor's Wife's Qatar ID copy
Sponsor's Wife's Passport copy
Valid passport copy of the visitor
Document to prove relationship (birth certificate, passport etc)
Letter from sponsor's employer citing profession and salary
Qatar Family Visit Visa: Online and Offline Application
Traditionally the process to apply for family visit visa was to visit any Ministry of Interior (MoI) Service Centre and submit the copies of the documents along with printed application form.
In 2018, Qatar introduced an online system using which residents can apply for family visit visas through Metrash2 or MOI website.
Through this service, you can upload all the required documents in the allocated fields, track the application status and pay the fees electronically once it is approved.
How to Apply for Qatar Family Visit Visa Online?
Step 1. Open Metrash2 app on your mobile and log in
If you haven't registered for Metrash2 see our comprehensive Metrash2 User Guide
Step 2. Click on the "Visa" icon
Step 3. Click on "Issue Visa" icon
Step 4. Click on "Family Visit" icon
Step 5. Select "Family Visa Application"
Step 6. Click on "New Application"
Step 7. Fill up details of the visitor
The details to fill up include Gender, Relation, Nationality, Date of Birth, Passport Details etc.
Step 8. Click on "Validate"
Step 9. Upload the required photos or scans of documents
It is very important that the document scans/photos are clear and readable.
When uploading passports, both photo page and bio page should be on the same side. You will need to combine both the photos/scans to create one JPG file.
Similarly, when uploading Qatar ID, both front and back should be on the same side of the JPG file.
Often a birth certificate is asked to prove your relationship with the visitor. If this is not available, you can also use any other document that proves the relationship.
Step 10. You will receive an update within 3 to 7 working days
If there are any missing or mismatching documents, the applicant will be notified about it to make the required changes. You will receive an application number to proceed for the fee payment after the application is verified and approved.
Step 11. Once the visa is approved you have to pay the visa fee online
Once the visa fees is paid via Metrash2, you can download the visa copy and send to the visitor.
Applying Family Visit Visa Offline
For the offline application, you would need a completed application form in Arabic [Download the form here] in addition to other documents mentioned above. If you are a non-Arab speaker, you may get this application form filled from any typing centre.
In addition to the documents listed above,
Take originals of your Passport, QID and Letter from Employer for verification if needed
Take a copy of your tenancy contract / Kahramaa bill, as a proof of where the visitor will be staying while in Qatar (often this is not required)
If you are on your spouse's sponsorship and the tenancy contract is in your spouse's name, then you will need to supply a marriage certificate to show proof of relationship
Take the required documents to any Ministry of Interior (MoI) service centre. Take a token number from Reception, and wait for your turn. When your number is displayed on the screen, go to the counter and submit the documents.
Sometimes they would write the comments on your application and ask you to meet the Captain for final approval. The Captain will decide if your application can be accepted. If found satisfactory, you would be given a receipt and asked to check after 2-3 working days.
After 2 days, check the status online through the link on the receipt. If you have Metrash 2 installed on your phone, you would be notified on the status change.
If the visa is approved, you can pay the visa fees online via Metrash2 or pay at the MoI Service Centre. The visa can be downloaded on this link.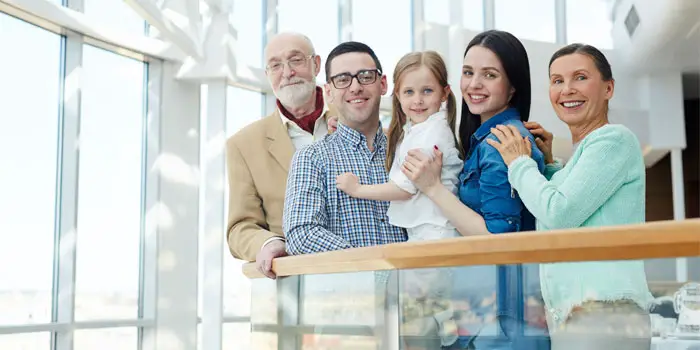 Family Visit Visa Duration
Qatar family visit visa is issued for one month. The visa can be extended for another five months for first and second degree relatives and in-laws (Father, Mother, Sister, Spouse and Children) and can be extended for only two more months in case of other relatives.
Relatives who wish to stay beyond one month has to undergo medical test within a few days.
Family Visit Visa Fees
A fee of QAR 200 applies for each visa, and QAR 50 for each registered dependent or companion.
The visa can be extended for QAR 200 per month (QAR 50 per month for the companion).
Medical check-up for visa extension costs QAR 100.
QR 200 per day is the fine for overstay beyond the allowed period.
Bonus Points To Note
Even if the visitor is planning to stay for more than one month, the return ticket should be within the end of the first 30 days.
Since the initial visa is for 30 days only, some airlines may not allow the visitor to board the flight if the return journey is scheduled after 30 days. Once the visitor reaches Qatar, the ticket dates can be modified.
Since this is an online visa, some airlines may require "OK to Board" status in their system before departure. You can get this status this by showing the visa copy at the airline's office in Doha.
---
FAQ on Qatar Family Visit Visa
---
What are the requirements for a family visit visa in Qatar?
The requirements include copies of sponsor's QID, passport, visitors passport, document proving relationship and letter from sponsor's company stating salary.
What is the cost of family visit visa in Qatar?
Qatar family visit visa costs QAR 200 (USD 55) per month.
How can I apply for family visit visa in Qatar via Metrash?
You can apply family visit visa online by filling up the visitor details and uploading the document scans or photos. Step by step instructions can be found on this page.
How can I extend Qatar family visit visa?
You can extend the one-month visit visa after completion of a medical check-up. There is a renewal fee of QAR 200 per month for each additional month.
Can I convert my family visit visa to residence visa in Qatar?
Yes, if you are eligible to sponsor your spouse and children, you can convert your family visit visa to residence visa.
---
You May Also Like:
---
Share This With Someone Who Needs It