Qatar's Government Communications Office (GCO) has announced that residents who are currently in Qatar and wish to travel and return to the country, will receive Automatic Entry Permits (Approved Return Permit) upon departure with effect from 29th of November 2020.
This move has made international travel much easier for Qatar residents as they do not have to wait for approval from the Ministry of Interior. This article explains how any Qatar resident can get an Automatic Entry Permit without having to wait for the approval.
25 OCTOBER 2021 UPDATE: Currently Automatic Entry Permit is not being issued and is not required for residents to travel back to Qatar. The procedures explained below are not needed anymore.
10 JULY 2021 UPDATE: From 12th July 2021, an exceptional entry permit will not be required for residents who have a valid residence permit and their stay out of Qatar is less than six months. If the residents have stayed out of Qatar for more than six months or their residence permit has expired due to some circumstances, they have to apply for an Exceptional Entry Permit.
Automatic Entry Permits: What is Changing
As Qatar has imposed restrictions on international travel due to the global pandemic situation, residents who are abroad were required to apply for an Exceptional Entry Permit to return to Qatar. Due to the high volume of applications, the approval process was often delayed – taking weeks and even months in some cases.
With the change in procedure, residents who travel out of Qatar after 29th of November 2020 will automatically receive an entry permit called Approved Return Permit.
Requests will no longer need to be submitted through the Qatar Portal website. The permit will be available automatically upon registration of the resident's departure from Qatar.
The resident or their employer will be able to print out the Exceptional Entry Permit from the Ministry of Interior's website at any point after the resident has departed Qatar.
Please Note: The Automatic Entry Permits will not be available for residents who left Qatar before 29th of November 2020. They are still required to obtain the exceptional return permit via the Qatar Portal website if they wish to return to Qatar.
How to get Automatic Entry Permits on email
Qatar residents who have already registered their email ID on the Metrash2 mobile app will receive the Automatic Entry Permit by email immediately upon completing the exit formalities at the airport. The sender name will be "moiadmin" and the subject line will be "Approved Return Permit".
If you receive the Approved Return Permit by email, you do not have to follow the below instructions. You can simply print the PDF file attached to the email.
If you did not receive an email, you can follow the below procedure to get an Exceptional Entry Permit.
NOTE: As minor children may not have an email ID registered in the Metrash2 app, they may not receive the Entry Permit by email. In such cases, a parent has to download the Entry Permit using the below procedure.
How to get Automatic Entry Permits
Given below is the step-by-step process on how Qatar residents can get the Automatic Entry Permits from the Ministry of Interior website.
Step 1: Login to Ministry of Interior website
Here is the link to the Ministry of Interior website
Step 2: Click on "Inquiries"
Step 3: Click on "Exit & Entry Permits"
The button can be seen on the left menu.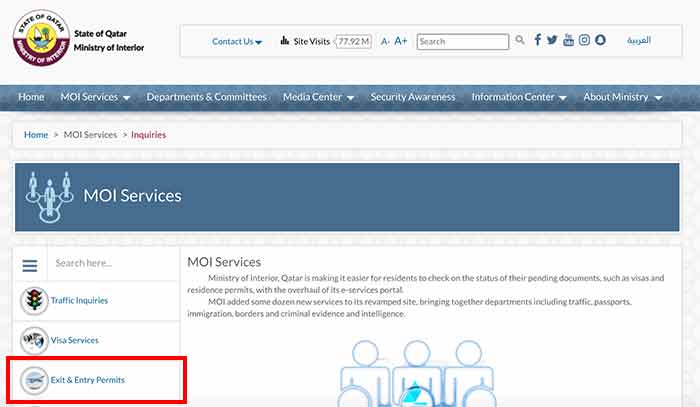 Step 4: Click on "Print Exceptional Return Permit"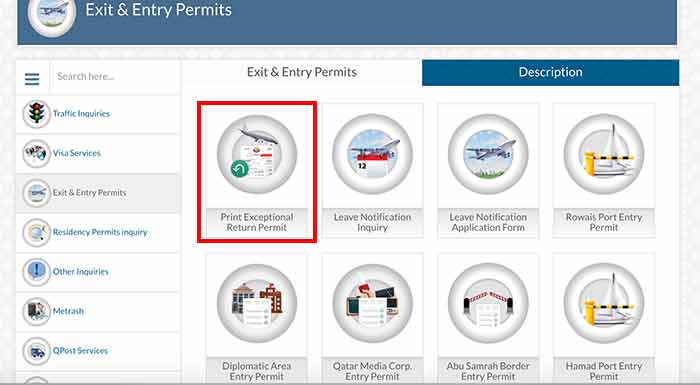 Step 5: Enter the details required
Fill up the Qatar ID number and QID expiry date.
Step 6: Print the permit
Enter the verification code and click on "Print". You can instantly print the Entry Permit and use it for return.
The permit can be printed any time after the resident has left the country.
Exceptional Entry Permit Sample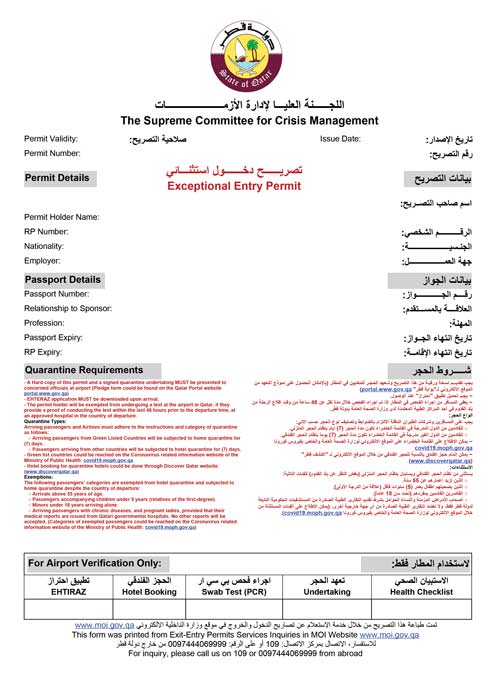 Unlike a regular Exceptional Entry Permit, an automatic entry permit does not mention the type of quarantine (hotel/home). However, it is compulsory for all residents to book hotel quarantine unless qualified for home quarantine (vaccinated, recovered or arriving from Green list country).
You can find more about the quarantine requirements here:
Copyright © DohaGuides.com – Full or partial reproduction of this article in any language is prohibited.
---
FAQ on Automatic Entry Permit
---
Do I have to apply for Entry Permit if I travel out of Qatar after 29th November?
No, Qatar residents who travel out of Qatar after 29th November will receive automatic entry permits.
Can I get an automatic entry permit if I travel before 29th November?
No, the Automatic Entry Permit is only available for residents who travel after 29th November 2020.
Is there a validity period for an Automatic Entry Permit?
Yes, The validity period is usually 6 months from departure OR RP Expiry date, whichever is earlier. The validity is mentioned on the entry permit.
Who can print the Automatic Entry Permit from MOI website?
Anyone (the resident or employer) can print the permit if they know the QID number and RP expiry date.
Is there a fee for Exceptional Entry Permit?
No, Exceptional Entry Permit is issued free of cost.
---
You May Also Like:
---